Fisher-Price provides the fun factor . . .
For as long as I can remember I've known the fun that Fisher Price can generate. My Mum swore by Fisher Price toys when I was growing up. I would say that at least 90% of my toys were Fisher Price. And testament to their quality and durability is that I still have a few key pieces from my childhood today and have passed them down to my children. I still have my shop till, my telephone, Jack-in-the-box and musical television.
Fisher Price has stuck with me and so I have naturally gravitated towards them for my children. When I began expressing breast milk for Daddy to feed Little Bean when she was 4 weeks old, I bought Fisher Price feeding bottles. I loved the colour coded teats which helped you to make the right choice for your baby's needs. During the weaning process we used the Fisher Price weaning set, as well as the bottle warmer and food warmer. She would only use Fisher Price dummies, not just because of their shape but they have textured edges and handle, great for a teething baby.
Her playmat was from the rainforest range, this has now been passed down to Beanie Boy. Most rattles, teethers and first toys were Fisher Price and even her first dolls pushchair was the Rainforest dolls pram – need I go on?
On Friday last week we attended a Fisher Price play date at Earls Court and it didn't disappoint. They had a representative of Fisher Price there to tell us a little of their background – can you believe they have been around for 80 years now? In 1930 Herman Fisher, Irving Price, Margaret Evans Price and Helen Schelle founded the company and combined two of the three surnames to come up with the Name that we know and love today.
In 1961 Fisher Price was the first toy manufacturer to establish an on site play centre. At the play lab children are free to play with hundreds of toys from all over the world. The staff are certified early years teachers who observe the children's interaction with the toys. From here the teachers are able to suggest ways of improving the toys to be age appropriate, for play value and quality. It is clearly a successful method of market research.
Toys and baby gear start their life as a drawing from which a mock-up is made, then a prototype before the finished product. Every aspect of the toy is thought through before the final product reaches our hands to make sure that we only receive the very best.
             
                                                  
At the play date on Friday Fisher Price showcased their new toy ranges which our children had a ball with. Little Bean seemed particularly drawn to Roll 'n' Racers Spinning Sound Raceway and Laugh & Learn Learning Kitchen. 
There were some fantastic play workers to entertain the children, they had so much energy I felt worn out just watching them. And the lovely Tamsin Outhwaite was also there with her beautiful daughter Florence.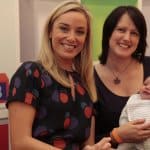 For more information and to check out their latest range of toys and baby gear with Christmas in mind, why not check out their site!