Fisher Price Poppity Pop Dinosaur
New from Fisher Price is the super colourful ball popping fun Poppity Pop Dinosaur. We were sent a Poppity Pop Dinosaur for Beanie Boy to put through its paces and it has been welcomed very quickly into the family playroom! When we first took it out of the box it required a little building (very simple and quick to do) but Beanie Boy seemed to think that it was a seat or perhaps even a potty.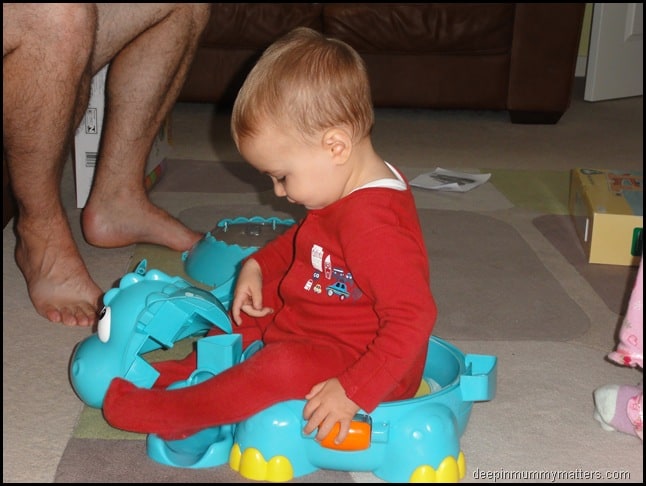 As with many toys these days I was a little disappointed that it didn't come with the required batteries but after a quick trip to the supermarket all was rectified and the Poppity Pop was ready to play. Beanie Boy instinctively knew what to do with his new toy without any instruction from us, immediately he began to place the brightly coloured balls onto the dinosaurs tale and watched with excitement as they rolled down, spinning the flap and setting off the popping platform shooting the balls randomly into the air. He tried catching the balls (with little success, well he is only 1!) and then started batting them around the room as they popped up over the top of the dinosaur. Some balls found their way out through the dinosaurs mouth which Beanie Boy quickly recovered and placed back onto the tale to start the whole process again.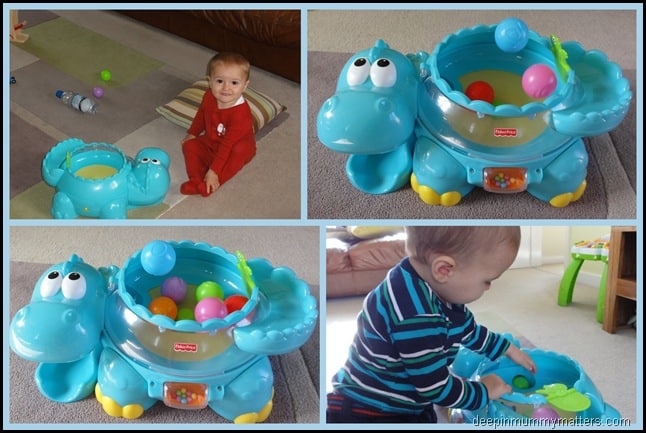 This is a great toy for improving hand-eye co-ordination and has catchy music which Beanie Boy loves to dance along to and because the balls can roll off in any direction they are great for keeping baby moving, encouraging them to crawl or maybe even walk if they are of the right age.
Poppity Pop Dinosaur is aimed at ages 6-36 months which means it is great from the moment they can start to sit up. Little Bean is 3 years old and she still loves it too although she is keen to see what else she can make 'pop' in the dinosaurs tummy!