Fisher Price Little Wheelies Stand 'n' Play Rampway
The Stand 'n' Play Rampway is a toy which will last your children for a good few years and my children are proof that it doesn't just appeal to one age group. Beanie Boy is just turning 11 months and he plays with this everyday. It isn't actually aimed at his age group but it is helping him with his co-ordination because he watches his big brother and sister playing with it and then tries to copy what they do. He is now getting very good at standing up at the Rampway and placing the cars at the top to be rewarded with them whizzing down the ramps and then trying to catch them as they come out the bottom.
Little Bean (3) hadn't really shown much interest in cars until we were given the Rampway but she will play contentedly with this for some time. We have a number of Little People houses and so she says this is the 'multi-park' (multi-storey car park) for when they go shopping (honestly I don't go that often!!). She loves putting the car on the lift at the side, zooming the lift to the top of the building and then watching as the car whizzes to the bottom ready to be refuelled for the next leg of their journey around the playroom. She loves the flashing lights and noises that are made as the cars pass certain points or the signs which spin around. It all adds to their imagination and game play.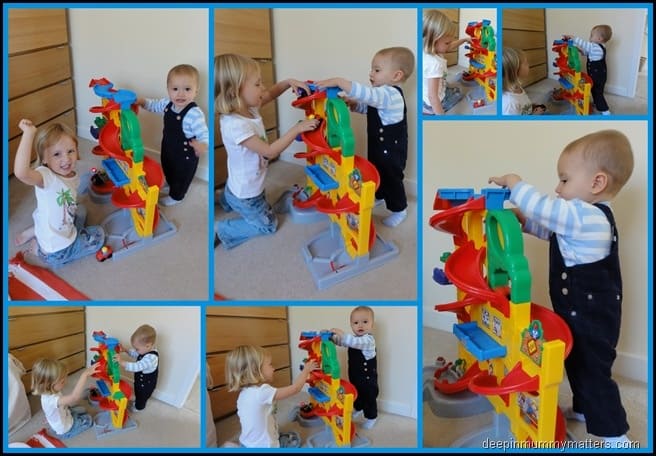 And then we have Curly (9) who enjoys playing with this little sister and brother on the Rampway too. A really good point to make about the Rampway is that it is double-sided which makes it easier for siblings or friends to play at the same time without a mass fight breaking out. All three of ours like to 'race' each other to see who's car can get to the bottom quickest, sibling rivalry is starting early! The Rampway itself comes with two cars but you can buy further cars separately, we spotted a pink 'penelope pit-stop' style car the other day so we will be getting that one soon.
The Rampway stands at just over 2ft tall but yet isn't so big that it takes up too much space to store and it has a handy carry handle so that you can pick it up and move it around easily. I love the bright colours which are attractive to little people and match our playroom perfectly.
Age: 18 mths to 5 years
Requires: 3 x AAA batteries
Self assembly but very easy to do.
For more information or to see further toys in the Fisher Price range click on the link in my side bar or the logo below.
Disclaimer: We were sent the Fisher Price Little People Wheelies Stand 'n' Play Rampway to review. All words and opinions are my own and may not be copied without my express permission.