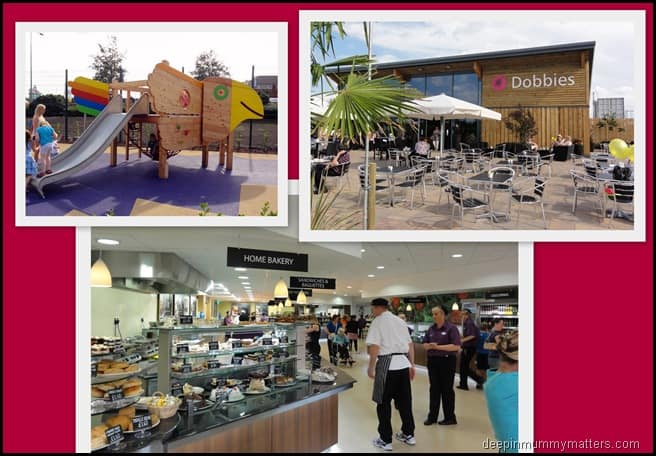 Dobbies Garden Centre Peterborough
The Mummy Matters family have spent a lovely afternoon with Nanny, Grandad and Auntie Emma at the new Dobbies Garden Centre in Peterborough. Throughout the morning we had batted around a few ideas of how we thought we would spend the afternoon and then I received a phone call from Nanny to say that she was at Dobbies and we should go and meet them as it was fantastic and there were all sorts of entertainment for the children. And so that is what we did . . .
Checking out Dobbies Garden Centre
Today wasn't the official opening date for Dobbies, that's next weekend but you wouldn't have thought so if you saw the car park. Despite the car park appearing full, there were lots of parking attendants to help you find spaces and they were very friendly and helpful, especially when it came to an incident with a wasp! As we were talking the parking attendant said to make sure Little Bean said hi to the chickens and that I should check out the men's toilets!?!? I didn't think I was looking particularly manly today but I could be wrong, so I just smiled and walked away as quick as I could!
Dobbies Restaurant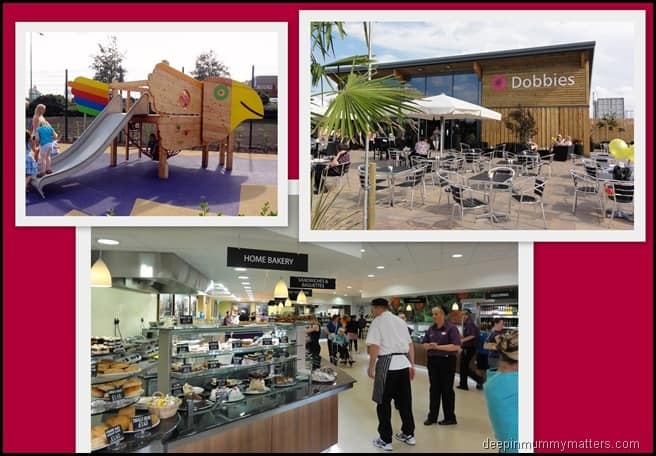 We quickly found Nanny, Grandad and Auntie E who had been enjoying (what looked like) a lovely lunch in the restaurant. The restaurant is nicely laid out with lots of separate areas so that it doesn't feel too vast and a nice outdoor area which overlooks the children's play area – great for relaxing with a drink and bite to eat whilst the children let off some steam. I'm sure this won't be a regular attraction but today diners were treated to the sound Intermezzo String Quartet who created a peaceful ambience for the diners.
Children's Entertainment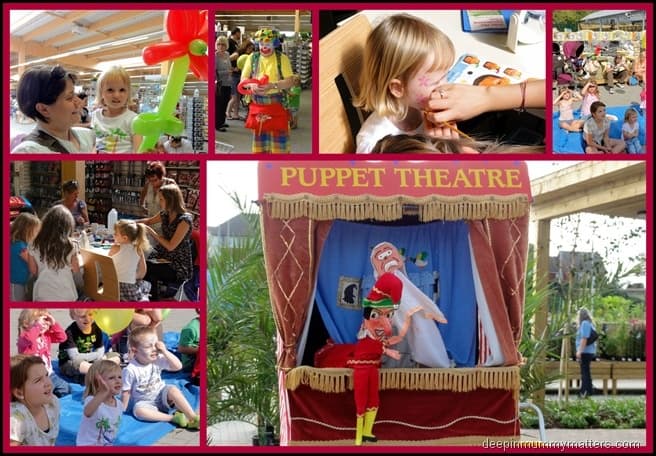 For the children, there were clowns doing balloon modelling, ladies doing face painting and outside a magic and puppet show played out throughout the day. For the adults (ok children too I suppose, but mine aren't interested!) there were tasters placed all around the huge Deli area, turns out my buggy wheels got stuck somewhere near the chocolate counter – could you blame me?
Food Hall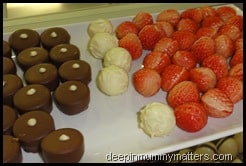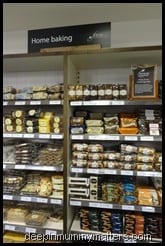 The chocolate raspberries were DELICIOUS!! Well so were the champagne ones, and the caramel ones for that matter  I offered to take the plate with me, to hand out but they politely declined.
Shopping Options
Within the garden centre itself there are lots of lovely goodies to spend your money on, from home furnishings to fish and aquatics, books to baked cakes, gifts and glassware, a lovely children's section and clothing for all. For the greener consumers, there is an Eco Living store where you can buy all manner of goods and get lots of useful information on how to live a greener life.
Outdoors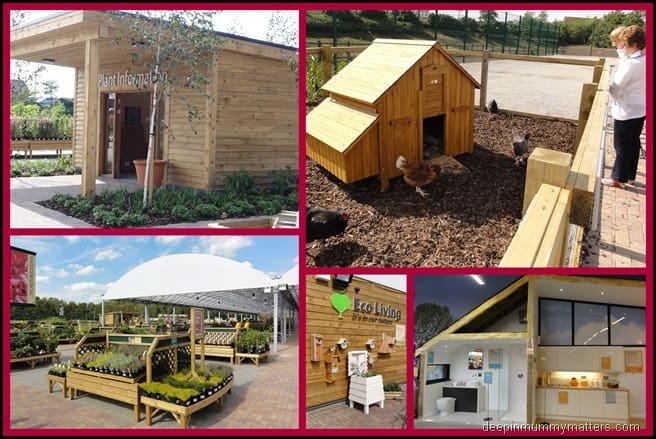 Once you head outside there are pots, plants and trees for every garden along with some beautiful pagodas and other garden structures. We found the chickens (which pleased Little Bean) and for anyone who needs to know how to care for their plants, there is a Plant Information Centre.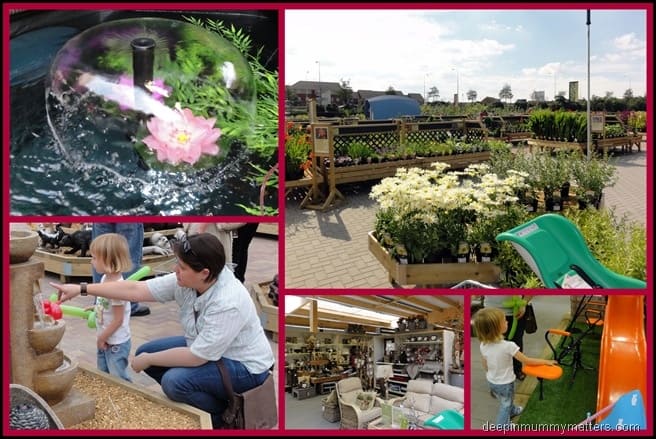 Fancy Toilets
As we were about to leave I ran into the Deputy Manager and was having a quick chat, before I knew it, he uttered those words "have you seen the gents toilets?". Erm, what is it with everyone at Dobbies? I pointed out that I was, in fact, a lady (well not quite but you know what I mean) and that I don't generally make a habit of going into the gents toilets. He suggested I call my Mother and Sister-in-Law because he really wanted to show us the gents toilets so we had to see what all the fuss was about . . .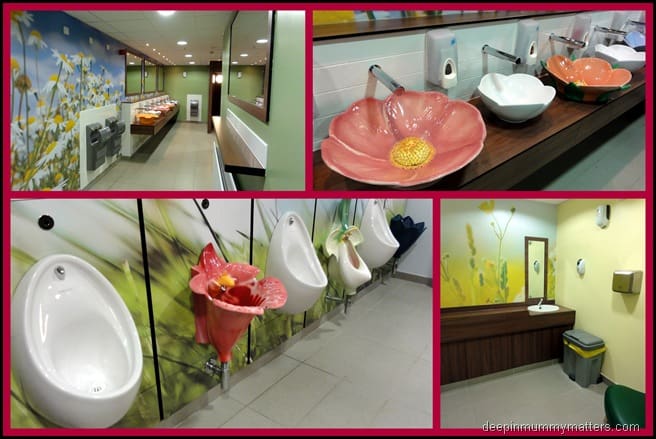 . . . so that's what all the fuss was about! The ladies toilets were just as impressive and the baby changing room was lovely, lots of space to get in with your pushchair and any older siblings and so bright and cheerful.
Dobbies might be new to Peterborough but they have actually been supplying keen gardeners with seeds, plants and inspiration since 1865 when James Dobbie resigned his post as Chief Constable in Renfrew, Scotland and began packeting and selling seeds. Over the years the business has changed hands and grown in size but the name has remained and become synonymous with quality.
Dobbies Gardening Club
Joining Dobbies Gardening Club couldn't be easier, for £12 annual membership you get the following benefits:
Save 10% on all plants, bulbs and seeds every day
Collect reward points and get money back reward vouchers
Enjoy two FREE cups of tea/coffee every month
20% discount at exclusive members' shopping events
Bi-annual newsletter
Plus additional member offers and events
Dobbies FREE Children's Gardening Club
Come along for monthly hands-on workshops
Learn fun facts about plants, wildlife and the environment
Open to children aged between 4 and 10 years
Receive a free membership pack including stickers and a special lunch meal deal
Workshops are held on the first Sunday of each month. Children must be accompanied by an adult for the duration of the workshop.
For further details and workshop times or to book a place, please visit the information desk in-store or contact your local Dobbies.