I couldn't even begin to hazard a guess as to how many hours I spent using a Spiral Designer when I was a child, I loved them because I never ended up with the same design twice. Little Bean has been sent the Ravensburger Spiral Designer and was excited to get started.
Last week on a coffee/play date with our friends Karin, Ella and Sam we had to change our plans at the last minute due to adverse weather. We were supposed to be going for a walk at Burghley House in Stamford after school but then it got extremely cold and windy so we switched to Van Hage in Peterborough so the boys could play in the soft play, Karin and I could have a coffee and a chat and the girls could comandeer a table to do drawing and crafts.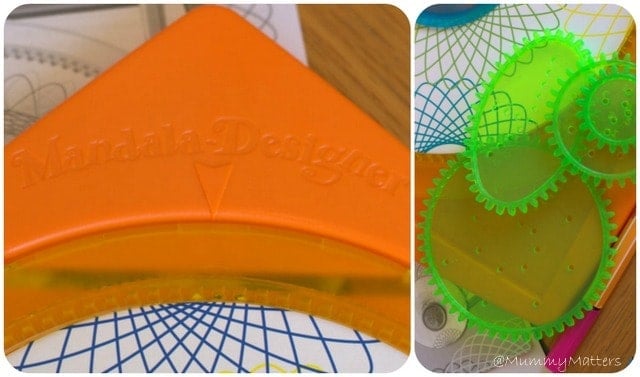 The kit comes with a drawing plate which holds the (included) pieces of paper in place, next you pop the circular frame into place over the paper by lining up the arrows then selecting the preferred design disc (4 included) and fine coloured pen (2 included), place the design disc teeth against the teeth of the circular frame and push the design disc around the paper by placing the pen into one of the holes. The only limitation with a spiral designer is your imagination. You can do as much or as little as you like. The Ravensburger Spiral Designer also comes with 1 Frame and 1 Mini Mandala Template so that you can add a mini-mandala for a special finishing touch – now this is something I didn't have as a child and I love it.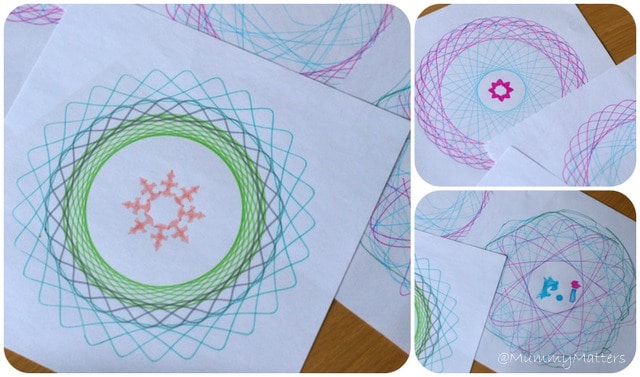 This is just the sort of craft kit which will come out again and again. I thought that only Little Bean would be interested in at the moment but how wrong could I be, both Beanie Boy and Curly have also given it a whirl and Beanie Boy surprised me by how well he handled it for a 4 year old.
As for me? Well, I couldn't resist having a go myself. When I get the time I will be doing a few of my own and colouring them in too, it's very therapeutic and relaxing.
DISCLAIMER: We were sent the Ravensburger Spiral Designer for the purpose of this post. All words, images, video and opinions are my own and may not be copied without my permission.
Latest posts by Sabina Green
(see all)