Easter Holidays in Lockdown
Our original plans for the Easter holidays had been to go away camping for the weekend in our new Coleman Weathermaster tent but the Covid-19 lockdown put paid to those plans pretty sharpish. People who know us though will know that we are rarely put off our camping plans so we decided to pitch our Coleman Oak Canyon in the garden instead.
Home Camping
Thankfully the British weather played ball and the sun shone brightly as we pitched the tent with the help of the Beans in the garden. As the evening drew in we zipped ourselves up in the tent with food, drinks and a few board games. It was a lovely evening with lots of laughter until our neighbour decided to have a bit of fun.
I would like to point out that we are very good friends with our neighbours and whilst I had heard him out on the drive I wasn't expecting him to start making 'ghosty noises' over the garden wall. The three children screamed and dived from their seats landing on Simon and I who were hysterically laughing. Yes I know, bad parents!! We tried telling them that it was just the neighbour having fun and he was apologising profusely over the wall.
Bedtime certainly took a lot longer than was anticipated but I'm pleased to say that they did all go to sleep eventually.
Happy Birthday Daddy!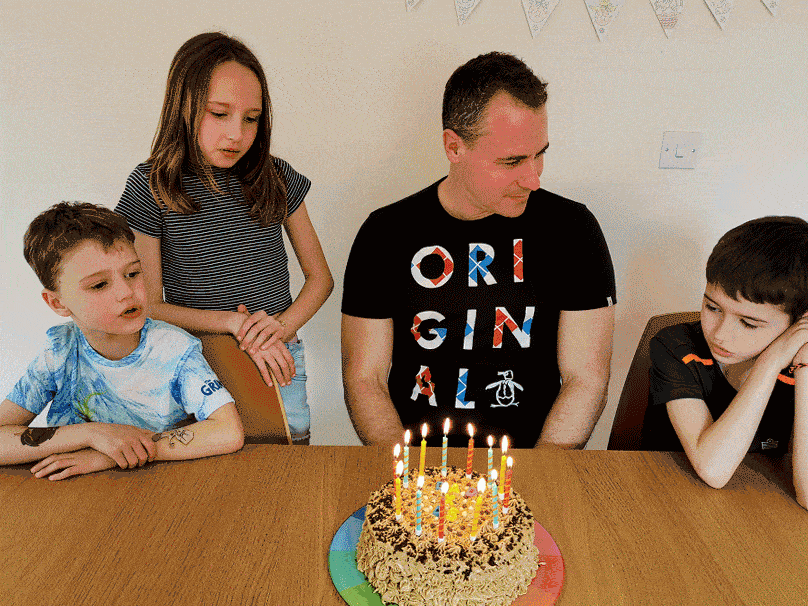 The following morning was Simon's birthday, the boys had woken early and wanted to go in the house to watch a DVD so I took the opportunity to take them in and sneak back up to my own bed to get another hour or so of sleep. Simon surfaced from the tent around 10am (the beauty of the blackout bedrooms in the tents) ready to open his presents and try a slice of the cake the Beans had lovingly cooked and decorated for him, chocolate and salted caramel!
The rest of the day was spent enjoying the glorious sunshine in the garden, the Beans played in the paddling pool or attempted teaching the dogs new tricks. Sadly, our last remaining bunny, Mango, passed away suddenly. Our puppy Dobby would often go and sit at her hutch and they would sniff each other. I watched as he approached her hutch and he started crying, I got to her hutch just as she had a fit and passed away. Naturally, the Beans were all very upset but we were able to bury her with her sister Maisie which gave them some comfort.
Socially Distanced Street Party
In the evening we held our first socially distanced street party with our neighbours which was a big success. Everyone moved their patio furniture to the front of the houses, our neighbour set his DJ decks up and we all had a party. After three weeks in lockdown this was just what everyone needed.
Easter Sunday
It's at times like Easter when you're in lockdown that you come to realise how different life has become. No family get togethers, no big family meals or barbecues. Both Simon and I felt uncomfortable knowing that our Mums were having to spend a 'family occasion' at home alone.
The Beans were still able to do their Easter Egg Hunt at home as they usually do and the rest of the day was spent relaxing and eating chocolate in the garden. Later in the day we went for a long walk along the River, something we were doing daily but felt like a haven away from the confines of lockdown life.
No Homeschool
Despite the fact that homeschool had been going pretty well, we were definitely all ready for a break from the routine of it all. That's not to say that I didn't keep aspects of learning going with the Beans throughout the holidays. We still made sure that did reading every day, we played with the Tackling Tables cards and followed online painting classes or had fun doing Stem experiments using a kit we had been sent from Twin Science.
One thing which has impressed me most during this time has to be how well the Beans have pulled together. They have helped each other with learning when any of them struggles to understand, they have played games with each other even when it might not be a game they particularly enjoy but the others do. They have helped around the house to enable me to continue working during the day so that in the afternoon we can go out for long walks as a family.
It's not always easy but I completely understand why this needs to happen and in many ways I am grateful to have this time to pull together as a family.