Awesome Twin Science Robotic Art Kit PLUS Discount Code
Twin Science is an ed-tech startup founded by an NGO, Young Guru Academy who design science kits for children. These kits are designed to inspire children's curiosity, encourage imagination and spark an interest in science from an early age. We were sent the Robotic Art Kit to have some fun with during the Easter holiday.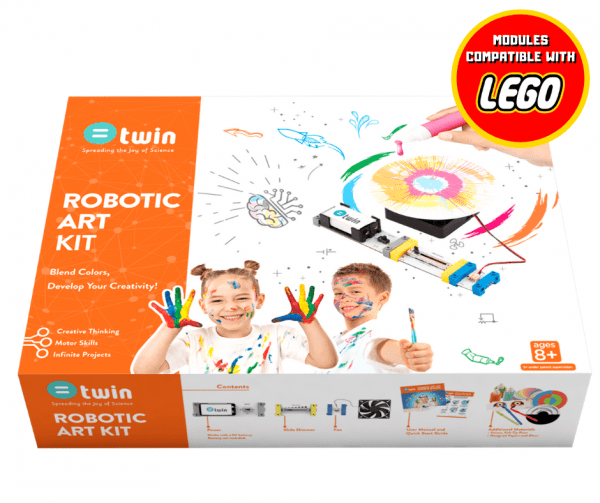 Robotic Art Kit
This is an introductory science kit which is extremely easy to set up. It contains everything you need to build a motor and a platform on which to place pieces of paper to create cool pieces of art. The Robotic elements of the kit are made using modules which are compatible with Lego so they could easily be incorporated into a Lego design. You do need to purchase a 9V battery to power the motor as the kit does not supply one. Luckily we had one lurking in our man drawer!
Easy to Build
We opened up the box and had a look at all the components. The Beans opened up the book and together they read the easy-to-follow instructions to build the 'robot' ready to have fun with colours. They took it in turns to add the different modules until they had created their first robot together. Initially, I worried that Albie would be too young to help in the building process but he picked it up very quickly and can now build the robot all by himself.
Colour Experiments
Along with all the supplies you need to create your works of arts, there is a guide book full of experiments you can carry out using the kit. The Beans worked through the book together and took it in turns to do different experiments with colour. The one which surprised us all the most was what happens when you draw black onto filter paper and then drip water onto it whilst it is spinning. I'm not going to tell you what happens because that would spoil the surprise.
Getting Creative
The Robotic Art Kit comes with four bottles of brightly colour paint and felt tip pens together with white paper discs and filter papers. We all had lots of fun squirting the paints and using pens. A word of warning though, the paint does fly off the edge of the paper so we found it best to stick our motor inside the cardboard box to prevent the paint covering our clothes and furniture.
So much more to discover
On our first afternoon, we used all of the paper discs which came with the kit so we now need to cut out some spares and get hold of additional filter paper discs, then the children will be able to continue to have fun with other colour experiments using the kit.
Our Thoughts
This is such a clever, well thought out kit which fired up the Beans and their imaginations. I have always been of the opinion that learning should be fun and Twin Science have nailed it with the Robotic Art Kit. When you're having fun and learning at the same time, the lessons you learn become more firmly embedded in your mind because you attach that learning to a fun memory.
More Kits to Review
As well as the Robotic Art Kit we have two further Twin Science kits to review which I am using as additional learning opportunities with the Beans during the lockdown. The STEM Starter: Curiosity Kit and the Coding Kit. The Beans are very much looking forward to putting both of these kits through their paces so we will be sharing them with you soon but if you want to get stuck in yourselves, you can check out all the kits available in the Twin Science Shop or online at Amazon.
FREE Online Coding & STEM Classes
As a result of schools closing due to the current COVID-19 situation, Twin Science recognises that families are trying to figure out the ways to continue the learning and development process of their children. To help them Twin Science is offering their premium coding and science classes online for free during this period globally in different languages. Those classes engage with their fun science app: Twing. Globally more than 50.000 students watched the lectures, and 10.000 students started using the app to create fun science challenges in one week. Why don't you pop over to check them out?
Discount Code
I have a special discount code for Mummy Matters readers to bag themselves £20 discount when they purchase the Curiosity Stem Starter Kit and/or the Coding Kit. Just enter code: MM2020TW when prompted at checkout to claim your discount.