Dyson Air Multiplier™; fans: powerful airflow, now up to 75% quieter
We use fans in every bedroom in our house, we have even used them sporadically through the winter months because our house holds heat after a sunny day. We don't like to leave the windows open in the children's rooms for their own safety and so it can become quite stifling.
The problem which this creates in the boys' room is that we still use a baby monitor for Jelly Bean and the resulting noise from the fan through the baby monitor is very loud 'white noise' which I have right next to my ear throughout the night.
I find it very difficult to get to sleep with the loud noise but I can't turn the monitor down in case I fail to hear Jelly Bean if he needs me during the night. Now if I had one of the new Dyson Air Multiplier™ fans I could sleep . . . like a baby too!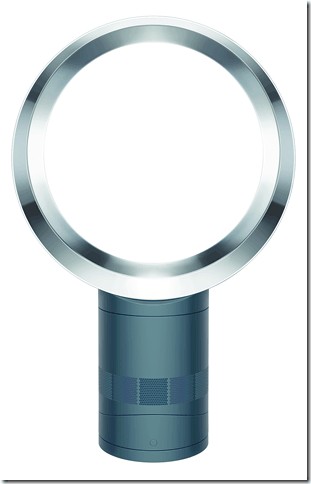 Dyson knows how annoying fan noise can be and so they have made more investments into acoustic engineering reducing the turbulence of high-velocity air, cancelling out specific tones making the Dyson Air Multiplier bladeless fans up to 75% quieter whilst maintaining the powerful airflow. As a result, The Noise Abatement Society awarded the Quiet Mark to the new Air Multiplier™ technology.
Tone – to eliminate tones of 1,000Hz (similar to the frequency of the noise produced by the wing beat of mosquitoes) a Helmholtz cavity in the base of the machine dissipates sound waves.

Tamed turbulence – a larger space at the loop amplifier base and reduced airflow obstructions means less turbulence and therefore less noise.

Testing – To optimise airflow, complex 3D models are used to map sound. Through a translucent Dyson Air Multiplier™ prototype and a high-speed camera, smoke and UV paint was passed through the machine's loop amplifier to chart airflow. To test the sound quality of the machines, Aero-acoustics engineers arrange 10 microphones in a hemisphere in semi-anechoic chambers.

Tough – Destructive, endurance, performance and reliability tests are carried out 24 hours a day, seven days a week. Every component is subjected to hundreds of tests and Dyson's unforgiving test team are tasked with finding fault and weakness. The engineers measure accurate and reliable airflow using a variety of different techniques. When more detail or accuracy is necessary, Dyson engineers use Laser Doppler Anemometry (LDA). This allows them to capture much more detail of the air flow pattern generated by Dyson machines.