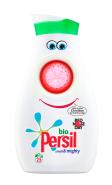 Donate to Comic Relief just doing your laundry with Persil
It's that time again where we join together in a formidable stand to raise money for those living incredibly hard lives in the UK and across Africa. For a limited time only, the Persil Small & Mighty will be swapping it's usual green dosing ball for a red one making the bottle into a funny 'Red Nose' face. I happen to think it's very cute. Together with PG tips, Persil are raising laughs and cash by teaming up with Comic Relief to raise a whopping £1 million for Red Nose Day 2015 (Friday 13th March 2015).
Persil are all about family fun and that's generally what dirty clothes mean because some of the best fun is messy fun! Children can learn so much through messy play and as much as Mums like to see our children looking all shiny and new, we want our children to have rich lives through experiences. Thankfully Persil makes the perfect partner in this plan because once the fun is over and they are tucked up in their beds, Persil can get to work on tackling the tough stains and making everything look all shiny and new once more.
The new Persil Small & Mighty bottles are equipped with an easy-to-open flip top lid (no more missing caps to worry about) and the spout provides mess-free pouring and the 'red nose' dosing ball is the really clever bit. Not only is it great for measuring out the exact dosage but it aids as a pre-treater against really tough stains. It's as simple as . . .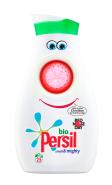 POP the stain eraser ball out of the bottle
POUR the liquid detergent directly onto the stain
RUB the stain using the eraser ball's dimpled surface before the main wash
If, like our house, you get through lots of wash detergent that's to your children having 'soooo much fun' then you could make something fun or useful with your new red dosing balls?! I would love to see what you could come up with.