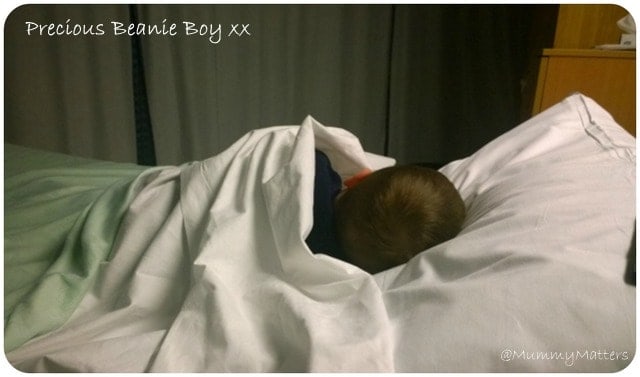 Beanie Boy's traumatic visit to A&E
After the high of a lovely day out with my Mum shopping on Saturday (a delayed opportunity to spend our Christmas pennies), Sunday came crashing down. The morning was pretty normal, we just stayed around the house getting the cleaning and tidying up done and then had a stressful trip to do food shopping in the afternoon (when will we ever learn?!?!).
As bedtime approached we gave the Beans their respective baths/showers and that's when it all changed. As I was getting LB out of the shower, Hubby called from the family bathroom to have a look at BB. As I walked into the bathroom I noticed a large swelling in his scrotum. Hubby was worried that it could have been one of his testes as he could only find one and the large swelling. We rang 111 but they didn't seem to think it was anything to worry about. Being the parents that we are, we did worry and decided we would take him to A&E at Peterborough City Hospital leaving Nanna at home to put LB and JB to bed.
We arrived at the hospital at around 8pm where he was assessed within half an hour. Their initial thought was that it was a hernia so we were asked to wait in the children's A&E department to be seen by one of the Doctors. Unfortunately it was REALLY busy with lots of small children with high temperatures and nasty coughs so we didn't get seen until around 10.30pm and then alarm bells started ringing. The Doctor was quite worried by the lump, it definitely wasn't his testes as he was able to locate both and they were both moving as they should but the lump didn't so he suspected a strangulated inguinal hernia. We were told that Peterborough Hospital doesn't anaesthetise children under the age of 5 so he would have to get the opinion of one of their Senior Surgeons before requesting a transfer to Addenbrookes in Cambridge.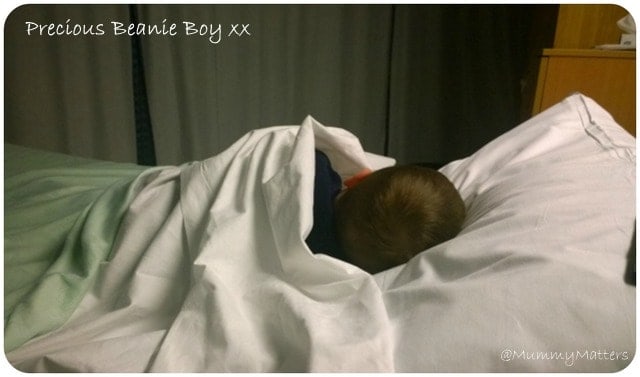 The Surgeon checked BB over and he too was worried about the lump so he made the call to Addenbrookes to see if they had a bed for him and prepared us for the fact that BB would have to have an ultrasound scan followed by an emergency operation. The staff at Peterborough were all brilliant with BB, he appeared very relaxed with them and they were gentle and considerate of him and his pain. We were transferred to the Amazon ward so that he could sleep until the bed was ready for us at Addenbrookes and thankfully he managed around an hour's sleep. At 3am we were advised that his bed was ready at Addenbrookes and told to make our way over there so we bundled him into the car and within 40mins I had him tucked up in bed on a fully occupied 3 bed ward at Addenbrookes.
Our nurse at Addenbrookes was lovely, when doing BB's obs she made every effort to be as gentle as possible so that he could continue sleeping and set up a bed for me or Hubby to get some rest. Within a few minutes the first Doctor arrived and he too took the time and care to assess and examine BB without disturbing him too much but that was where it ended. He was quickly followed by a Senior Paediatric Surgeon who introduced himself and asked us for the background information on BB's condition and then proceeded to examine him. Bear in mind we had been told at Peterborough that he would receive an ultrasound scan on arrival before the decision to operate was made. With no prior warning OR pain relief for BB the Senior Surgeon proceeded to try to push the suspected hernia back into the stomach lining. BB was sleeping at this point but his eyes flew open and he screamed out in agony. He continued to push as BB screamed, choked and writhed on the bed in pain. I looked in shock at the medical team around BB and then to Hubby who looked equally shocked. The nurse suggested that perhaps it would be better to give BB some painkiller before trying but she was ignored. I tried my hardest to keep my composure for BB's sake but after 5-10minutes of his screams I had to move out of the way so that Hubby could be by his side and I left the room in tears.
After a few more minutes BB's screams stopped and the medical team walked out of the room followed by Hubby carrying a very tearful BB. They had decided to move him to a treatment room so as not to upset the other patients in the room and to finally give BB some painkillers. The nurse apologised to Hubby and I immediately saying that she wasn't expecting him to do that there and then, she was soon followed by the first Doctor who was also very apologetic and said that he too wasn't expecting him to try doing that. The Senior Surgeon then came in the room and said that he needed to try to push the hernia in to avoid an emergency operation and insisted this was better for BB. Hubby and I disagreed. We suggested it would be better to do the scan first to see what he was working with but he insisted that he wanted to try once more when the painkillers had taken effect so reluctantly we agreed. I was asked to leave the room whilst Hubby and the Nurse tended to BB. I walked to the far end of the corridor and then the screams began again, I put my fingers in my ears and still all I could hear was my baby in agony. It was like torture. I walked back up the corridor with the intention of telling them to stop but Hubby beat me to it. He told them to stop, he said that it wasn't achieving anything and demanded an ultrasound scan. Thankfully the Surgeon agreed. We took a very tired and sobbing BB back to his bed where I laid with him to calm him down.
We must only have been laid there for 5-10 minutes before we were ushered by the Nurse and the Senior Surgeon to the Ultrasound room. BB was petrified they were going to hurt him again and was frightened to lay on the bed but thankfully the Radiographer was lovely. He took it very gently with BB and gained his trust enough that he could have a good look around to see what the lump was. After all that pain and trauma, the lump wasn't a hernia but an Irreducible Encysted Hydrocele of Cord so all the pushing in the world wouldn't have pushed that lump out of the way because it had nowhere to go. If they had just done the Ultrasound first then he wouldn't have needed to suffer like that and if they did need to push and shove the lump around then surely giving painkiller first would have been better for him?!
As the Radiographer finished up, the Surgeon suddenly reached across and tried once more to 'examine' the lump but again, he made BB scream and cry. The Nurse, Hubby and I all said, "no more" as BB screamed "stop you're hurting me". I readjusted his pyjamas and picked him up into the safety of my arms and carried him back to his bed at around 4.30pm. I settled him down, cuddled up beside him on his bed and finally he was able to sleep but even in his sleep he was still quivering in his sleep from crying so much.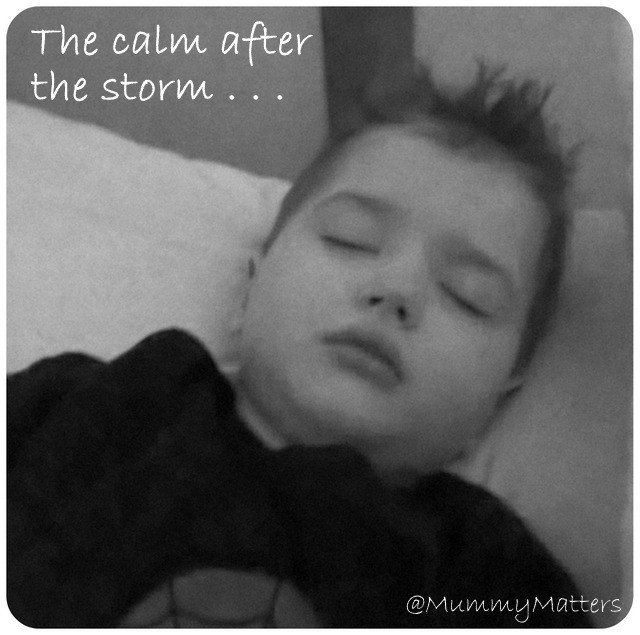 At 7.15 he woke up asking for water so I went in search of the nurse to ask if this was ok but I ran into the Surgeon. He said that he still wasn't sure whether he would be having an operation or not so he couldn't have water. He then asked if the swelling had subsided at all and I replied that I hadn't looked so I didn't know. He asked if I would look and let him know straight away. Back at his bedside I asked BB if I could look and before his trousers were even down the Surgeon was there again having a squeeze. BB immediately grabbed his hands and pulled them away, saying "stop it hurts" and so I too said, "that's enough".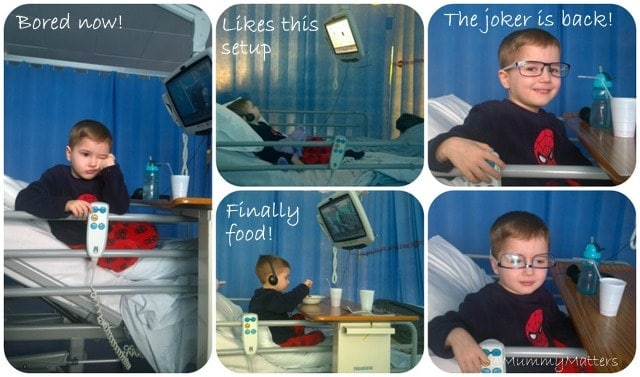 Thankfully that was the last we saw of him as it was the end of his shift. We saw his Senior Consultant who had looked at the scans and examined BB very gently before confirming that it was the Hydrocele and said that although he would need an operation to remove it, it didn't need to be done as an emergency so he could have some breakfast and go home to await an appointment. He was told to just get on with life as normal until the operation date so that is what he is doing although as parents we are of course mindful of how much 'rough and tumble' he gets up to. As a result of the 'examinations' BB is now a bruised little boy but I'm pleased to say the smile is back on his face – even more so thanks to the two Power Rangers he is now the proud owner of after Hubby made a promise to him during his 'examinations'.
Sorry this is such a long post but there was no short way to put it.