Do you feel censored?
When I first started blogging I didn't really think about 'who' would be reading my blog, it was just somewhere to write about life with my family from 'my' point of view as a wife, mother and stepmum. All three of those roles can be rewarding and frustrating in equal measures because that is family life. If it were always perfect it wouldn't be true family life, without the bad times how would we know to appreciate the good? The other thing about being a wife, mother and stepmum is that until you have been in that position yourself you really don't know what it's like or how it feels. Being a 'girlfriend' isn't quite the same as being a 'wife', being a 'mother' isn't the same as being an auntie and unless you have been a step-parent you have NO IDEA how it actually feels to be a part-time parent to someone elses child. But writing about life as a stepmum is something I have tried to avoid. There is soooooo much I could write about life as a stepmum but I worry about that backlash it would cause if I did, so I don't.
Disciplining your own child always feels different to disciplining your stepchild, to a certain extent it feels like you are being more harsh, like you are going to be questioned for scalding them for something they have done wrong. You wouldn't be questioned for telling off your own children but when it's your stepchild you are questioned, given 'excuses' for their behaviour and for this reason, and this reason alone I have pretty much always chosen to NOT blog about my life as a stepmum.
I am never worried about the thought of Curly's Mum reading my posts, she knows what life is like with Curly. The reason I don't blog about life as a stepmum is because a concerned relative follows me on Twitter and reads my blog. They can't help but worry about some of things they read on it, it's just their nature and I understand that. But they don't know what it is like to be a stepmum, to be a part time Mum to another woman's child. They worry that Curly is unhappy in either of his two homes, all normal worries concerning a child from a broken family. But this is MY blog, my place to write about what I want, when I want and somewhere to get support from people who do know what it's like to be in a similar position to me. I know that this relative will probably read this post and I am not writing it to cause more problems, I wouldn't write anything on here that I wouldn't be comfortable to say to them in person, they know that I am not a person to hold back and I think they recognise that this is something that we have in common. But my New Year's Resolution is to be more true to my blog and to my family. I know that there are other step-parents out in the blogosphere who go through difficult periods with their stepchildren. It doesn't mean that we love our stepchildren any less, it's just life. It was only last night that Curly gave me a hug and told me "you are the best stepmum in the world" and I didn't take that comment lightly, it meant the world to me. It isn't the first time he has said it and I'm sure it won't be the last. A step-parent and stepchild are always 'learning' how to live together and grow together, EXACTLY the same as any parent and child of the same flesh and blood.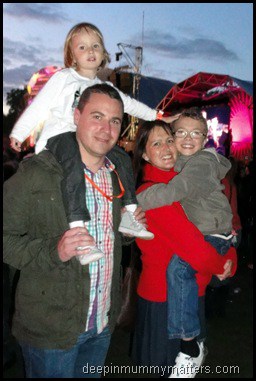 So why am I writing this post today on New Year's Day? Today has been a stressful day between Curly and me, anything that I have asked him to do he hasn't done and I feel like I have been banging my head against a brick wall, I have tried asking nicely, I have tried being firm, I have tried incentives and I have tried punishments but they are all met with the same responses from him. I don't doubt for a minute that he is any different to other 10 year old boys and I'm sure if I searched in the blogosphere I would find another 100 posts by other parents complaining about their 10 year old child in the same vain but that would be ok because it would be 'their son' or 'their daughter'. I posted a tweet tonight "some days being a stepmum is really hard. Today is one of those days :(" because that is exactly how I felt. For once I took down the barriers and didn't think about who would read that tweet until I received a response from my relative asking what was wrong. This was soon followed by a phone call which ended in a phone and text fallout all because of my comment. Obviously this wasn't my intention when I posted my tweet but it is night's like this which make me consider deleting my whole blog and never setting foot in the blogosphere again and that isn't right is it? The thing is, I am well within my rights to make these comments, this is about how 'I' feel and today I felt like being a stepmum was hard work. I love my blog, I want my blog to be there for my children, ALL of my children to read when they are grown up, a 'memory book' for them to look back on in year's to come and I want it to be true. But how do I decide between a true blog and something which has the ability to cause arguments within the family?
So come on bloggers, do tell me, do you ever feel like you are censored on your blog?