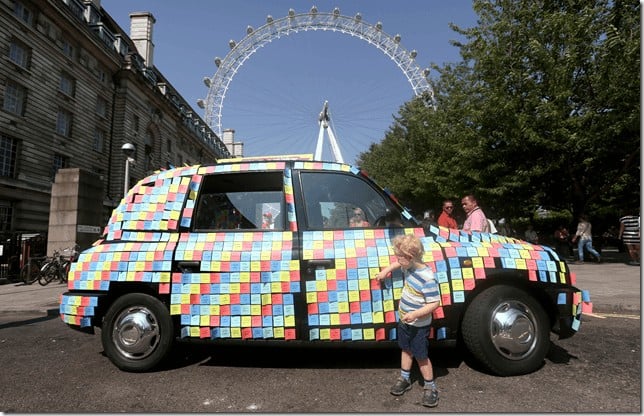 Did you spot the 3M Super Sticky Post-It Cab?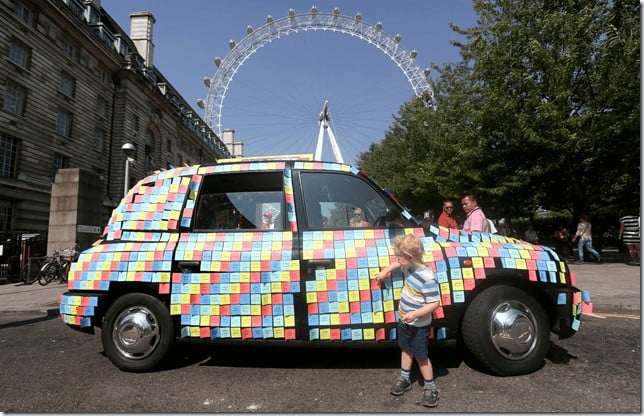 If you were out and about in London last Thursday and spotted this black cab covered in Post-It Super Sticky Notes from 3M but you hadn't seen the posts about it online beforehand you probably wondered if you were seeing things! Well you weren't!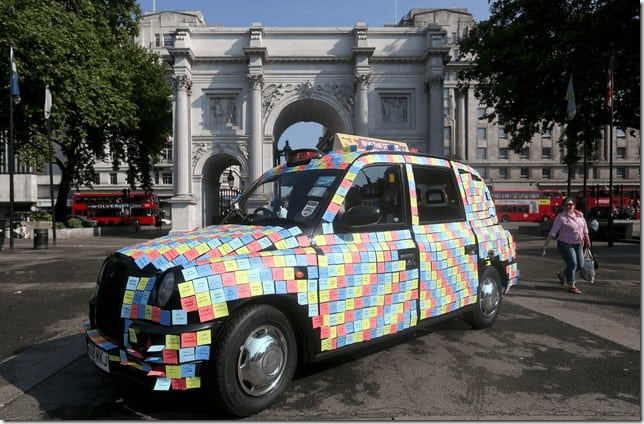 New Post-It Super Sticky notes are so sticky they were able to withstand being stuck to a black cab and driven around major London tourist attractions over the course of the day. Each note bore the name of those who had entered the 'Ideas That Stick' competition where the one family could win a holiday and 5 runners up could each win £100 high street shopping vouchers. Throughout the day members of the public were asked to select the 6 winners by removing their Post-It Super Sticky Note from the cab. Sadly, they didn't select mine!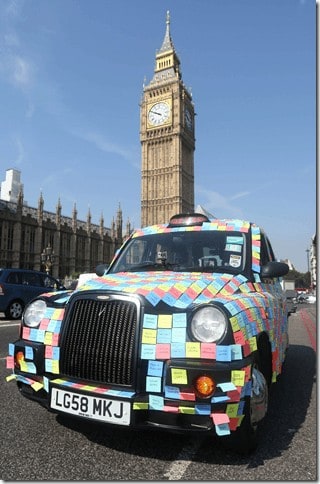 Post-it from 3M
DID YOU KNOW THAT….
1. More than 25 million Post-it brand products are sold in the UK every year
2. Post-it Notes are available in 62 different colours
3. There are more than 1,000 Post-it brand Products
4. Post-it Notes are available in 25 different shapes and eight different sizes
5. It would take approximately 506,880,000 Post-it Notes to circle the world once (based on the Earth's circumference of 24,000 miles and using 3-inch square Post-it Notes)
6. The adhesive used on Post-it Notes was created in 1968 – but the first product was not launched until 1980
7. The original Post-it Note was created in Canary Yellow color because that was the only colour paper the inventor had available
8. In the hit US comedy-drama series Sex and the City, Carrie Bradshaw was famously dumped with a message on a Post-it Note
9. In popular US medical drama, Grey's Anatomy, two of the characters – Dr McDreamy and Meredith Grey – married and used a Post-it Note to exchange their vows
10. A Post-it Note featuring a charcoal and pastel drawing by artist RB Kitaj sold for £640 during an online auction for charity in December 2000, creating a Guinness World Record for the most valuable Post-it Note.