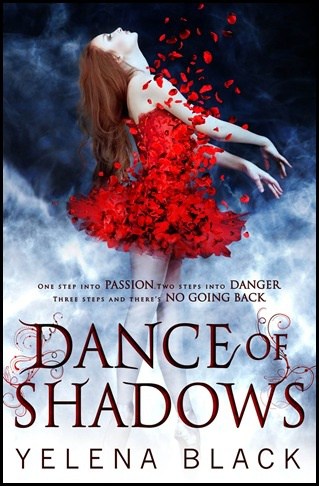 Book Review: Dance of Shadows by Yelena Black
Vanessa doesn't believe that her sister is a runaway. She wouldn't leave her family behind without saying a word. The only way Vanessa can discover the truth behind her mysterious disappearance is to follow in Margaret's footsteps, but to do so she risks her sanity and maybe even her life . . .
About Dance of Shadows
Vanessa Adler is one of the talented few to get a place at the acclaimed New York Ballet Academy. Between backbreaking rehearsals for the school's production of The Firebird she desperately tries to find out what happened to her sister before she vanished. There are rumours that the pressure of performing the lead role, the same role Vanessa is now rehearsing for, drove her mad. Other girls have gone missing too. Can the role be cursed? Vanessa's new relationship with leading-man Zep only seems to complicate things further. What is he hiding from her and can she really trust him?
Mystery and Suspense
I guess I should start this review by saying that this isn't the sort of book that I would ordinarily pick up, I like ballet, I earned myself a Grade 1 when I was knee-high to a grasshopper and I have seen the odd ballet but reading about it? I wasn't so sure. There was something else about this book that grabbed my attention just from the excerpt above. I like a book centred on a mystery, I like the suspense, the mind-games, I like to try to work it out for myself and this book did not disappoint me one bit.
Hooked from the start
When the book arrived I had just started another book and was about three chapters in. I picked up Dance of Shadows and thought to myself, I will just read the first couple of pages and then go back to my other book. I didn't! I was hooked from the very start. Dance of Shadows was one of those books that you find yourself reading in the early hours of the morning when your eyes are stinging and you know you should be asleep but you just need to read the next page, the next chapter . . .
Travel Companion
Luckily for me, I had a couple of lone journeys to London on the train so I made sure to select the slow routes and sat back to enjoy my book. Within one week I had finished the book and was thoroughly entertained. I can't tell you too much about the book or I would give it all away. It has been dubbed as Black Swan meets Gossip Girl but since I haven't seen either of those I am unable to confirm or deny it. What I can say is that Dance of Shadows is a very well written, thought-provoking book and I can't wait to read the sequel due out in 2014.
About Yelena Black
Yelena Black holds an MFA in fiction from Columbia University. Dance of Shadows was inspired by her love of ballet. As a child, she studied dance and fell in love with the art form despite not having much in the way of innate dance talent. Her talents lay elsewhere—with words and books and storytelling. Though she never pursued ballet professionally, her interests in dance and performing—and in all things dark and spooky—have blended together in her paranormal debut, where she is able to do pirouettes vicariously through her characters. She lives in New York with an aloof black cat.
Twitter: @TheYelenaBlack
DISCLAIMER: I was sent a copy of Dance of Shadows for the purpose of this post. All words and opinions are my own and may not be copied without my permission.
A CONVERSATION WITH YELENA BLACK
The world of ballet is a fascinating one that few people really get to see firsthand. What drew you to write about this world?
For me, the world of ballet is this old, ancient place tucked away in the modern world. Every time I went to the ballet, I felt like I was stepping back in time. It's so regimented and rooted in tradition: the positions, the costumes, the mastery of the human body. I loved how elite and mysterious it was. I think this book was a way for me to explore that.

The music played a huge role for me. I still remember the first time I listened to Stravinsky's Rite of Spring. It was so bizarre and unnerving and chaotic. Later, when I heard the story about its premiere in Paris, and how the audience erupted in a mad rage when the music began and the dancers came on stage, I knew I had to write about it.

What kind of research did you do for this book?
This book was fun to research because it mostly involved watching old recordings of ballets and wandering around New York. I also listened to the scores that Vanessa dances to in the book every day while I wrote, and did a lot of reading about ballet and its history. I also spent a fair amount of time snooping around Lincoln Center.

Have you ever tried ballet?
Yes, though I'm almost ashamed to even talk about it. I was a disaster. I couldn't even put my hair in a bun. It was just a floppy mess of bobby pins. Very embarrassing. I was so bad that in our winter performance of The Nutcracker, they had me and a few other less graceful dancers just walk on stage with horns and then walk off. I eventually quit when they told us we had to learn to do the splits by New Years.

Do you see yourself, or anyone you know, in any of your characters?
Definitely. All of the characters have a little bit of myself in them, and TJ, Blaine, Steffie, and Justin all share similarities with my friends. When I took ballet lessons, I had a male teacher who was charming but firm, like Josef, and who shares a lot of his physical characteristics. Though ultimately, all of the characters are singular.

What were your favourite books when you were Vanessa's age?
I read a lot of Kurt Vonnegut, and a lot of horror stories. Poe, Shirley Jackson, Stephen King. I also really enjoyed 19th-century novels. Jane Austen, the Bronte sisters. Jane Eyre was one of my favourites because it had equal parts of romance and mystery, just like Dance of Shadows.

If you were directing the film version of Dance of Shadows, who would you cast in a few of the main roles?
I'd love to see Emma Stone as Vanessa. Zep is hard . . . maybe Taylor Kitsch? And Chace Crawford as Justin?

What's next?
I'm working on the sequel to Dance of Shadows, which I'm really excited about. I actually think it's even better than the first. It has a lot of surprises, and an amazing scene at the end that I cannot wait to write.