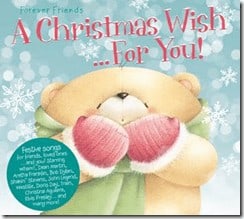 Forever Friends launches its first Christmas themed album with Sony Music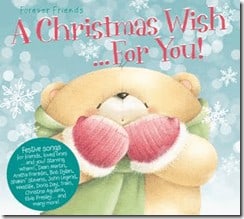 Forever Friends has teamed up with Sony to launch the first festive themed album from the world's cutest bears. 'A Christmas Wish …For You' is available now and includes a sleigh load of Christmas classics chosen especially to get listeners into the festive spirit.
The album, which will be available for download as well as on a three CD pack, includes 63 heart-warming songs by some of the most popular artists of our time. The track listing includes classic Christmas songs such as 'Merry Christmas Everyone' by Shakin' Stevens and 'Last Christmas' by Wham! combined with more festive favourites from Train and Westlife to Dean Martin and Elvis to get the whole family dancing around the living room!
Emma Read, Brand Manager of Forever Friends, commented "We really wanted to make sure that the first Christmas album from Forever Friends hit the right balance of nostalgic festive charm and contemporary music. This is the perfect gift for yourself or your loved ones , it will get the whole family in the festive mood and is the perfect CD to play while wrapping presents, making mince pies or, even better,  eating them!."
This is the sixth album Forever Friends has worked on with Sony Music, with previous albums reaching sales of over 250,000 copies across the UK and Ireland, and also producing a number 1 Gold album.
Lisa McErlain from Sony Music added: "Forever Friends has proven time and time again that as a brand it really resonates with the British public. Once combined with Sony Music's rich heritage, acts and catalogue the brand can deliver impressive sales figures and chart positions. We're certain that 'A Christmas Wish For You' will also prove to be a chart topper this Christmas."
Forever Friends 'A Christmas Wish for You' will available from all major supermarkets, HMV, BHS, Amazon and is downloadable from iTunes, and costs around £5.
DISCLAIMER: I have not been compensated for this post.