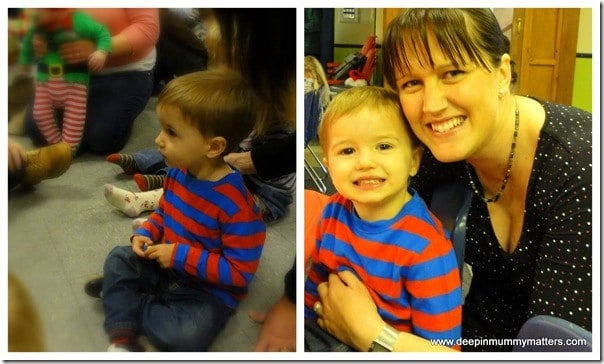 Christmas Fun at Playgroup for Beanie Boy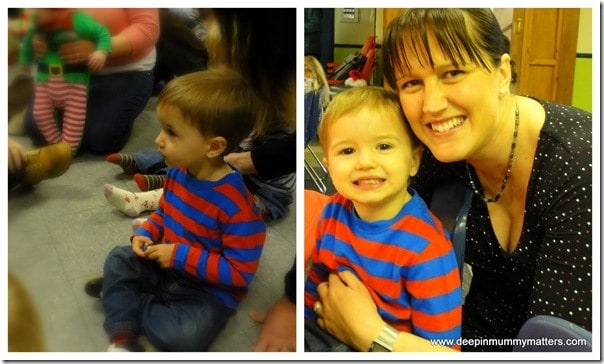 As I arrived at Playgroup with Beanie Boy this morning it occurred to me that this was to be his first Christmas party without Little Bean there to rely on. Did this bother him? Did it heck, he loved all the attention he received from the ladies, one flash of his big brown eyes and he has most ladies melting at his feet, he's going to be a bit of a ladies man when he is older let me tell you!! He really knows how to twist them all around his little finger but who am I to talk, he has me permanently wrapped around that finger!!!
This is Beanie Boy showing off his first prize, a chocolate coin for finding one of the 8 hidden reindeers. He was impressed when he thought it was just a coin, but when I peeled the wrapper back to reveal white chocolate he was beside himself with joy. Honestly, he has had them before, I don't let them have many sweets but I certainly don't deprive them.
After "hunt the reindeer" he played "Pass the Parcel" and was over the moon when the music stopped on him and removing his layer of paper revealed . . . yes you guessed it, more chocolate!!! What a bumper morning he was having. It always amuses me though when you sit back and watch the children playing, once they have had their turn to open a layer of the parcel and found some sweets they lose interest and the funniest of all is the child who wins the main prize who gets upset because they only won a pack of crayons and they wanted sweets like everyone else. Oh to be a child again and for life to be just about the fun stuff like sweets and chocolate!!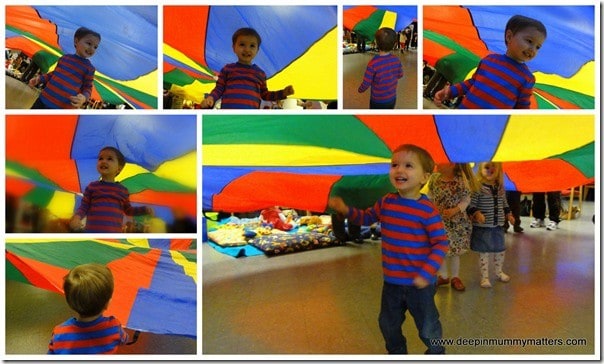 Beanie Boy had lots of fun singing songs and playing with everyone else waving the parachute and running underneath it. We never had anything like that when I was little and I'm always slightly jealous when I see it come out because it looks like so much fun and the children just love it. Beanie Boy was a little apprehensive about going under it to start with, I think he thought he was going to get trapped but he soon let his inhibitions go and was laughing along with his friends, falling over and acting the clown.
The children played "pin the tale on the donkey" but Beanie Boy just wanted to be blindfolded (sorry no pics – I was trying to stop him from crashing into everything) he wasn't really that worried about sticking the tale on anything but he was very funny to watch. Next up was present time, Beanie Boy sat patiently waiting until his name was called out and then he ran across the room to collect his present, thanking the ladies nicely and giving them his best cheesy smile before sitting down on the stage to open his gifts.
Finally the children were unleashed on the party food and this is the part I actually enjoy now, whereas in the past I have just had to sit back and watch as Little Bean munches her way through a plate of crisps and breadsticks, Beanie Boy happily ate his way through a plate of mostly healthy food. He tried a cherry tomato (he didn't like it), he tried cucumber (he didn't like it), he ates lots of grapes and he ate lots of cheese and then filled himself up with sandwiches, breadsticks, chicken nuggets and crisps. The most disgusting thing though was that he decided that since he didn't have a biscuit to dunk in his drink he would dunk his chicken nuggets instead. He ate all of them AND he drank all of his drink, chicken nugget crumbs and all! He definitely doesn't take after me, my stomach was turning just watching him but for now I'm happy to let him experiment as long as he is eating.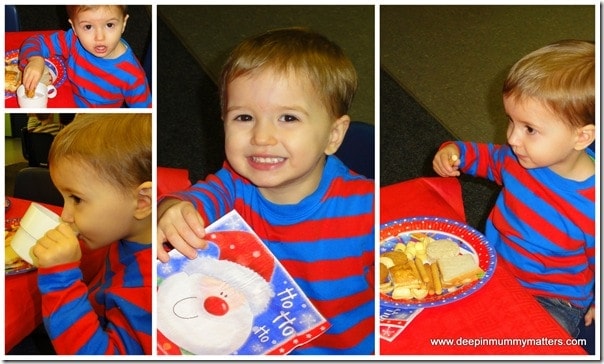 Before having children I never thought I would attend a Mother and Toddler Group. I had it in my mind that it was a cliquey place where I wouldn't fit in and I would feel like I was being judged but I have to say, after going now since Little Bean was just a toddler herself I like the community that socialises there, I have made some good friends and so have the children. Beanie Boy really looks forward to his mornings and the little routine they have there so if like me you're not sure about going along I would say, give it a try, you might just be surprised!