Christmas Cards from Bonusprint
At the beginning of this year when the snow was heavy on the ground I grabbed Little Bean, Beanie Boy, wellies and my camera and went out for lots of lovely walks near our house. There's something about the snow that makes everything look magical, like Narnia. We live on the edge of a small town so we are close to wide open fields and trees, all the things which have added beauty when the snow falls. As we returned from one of our walks I decided to try out the 'sweep' technology on my camera to take a photograph of the close where we live. The last of the houses had only just finished being built and since I had taken photographs at different stages of the development, this felt like the final piece in the puzzle. I liked the photograph so much I remember saying to Hubby that it would make a good Christmas card for the neighbours so I would have to remember it when Christmas came around. And guess what, I forgot all about it! Until one day last week I received an email from Bonusprint asking if I would like to review their Greetings Card service.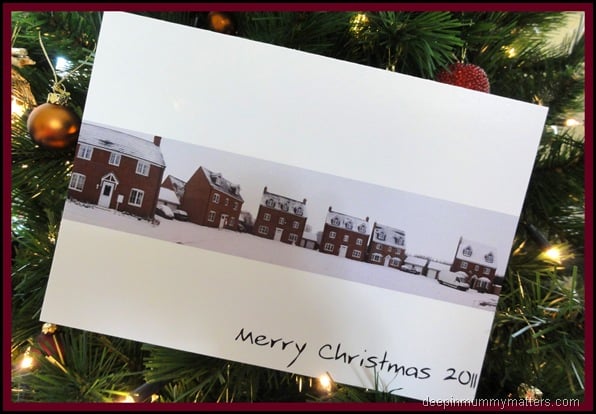 The service was really easy to use, it took just a few seconds to upload my photograph, then I could personalise the card however I liked. There are lots of different sizes to choose from, different frames, backgrounds, colours, fonts – you name it, you can do it. I wanted to keep the card really simple so that the focus was the photograph but I wanted it to be a 'keepsake' card for my neighbours too so I decided to put "Merry Christmas 2011" on too.
I enjoyed making the card for the neighbours so much, I decided that we could do something similar for our relatives who live at the other end of the country. Every year when we send them a card we always put a family photograph in so this year I decided to make our photograph into the Christmas card (saving trees and all that!). This time I went for a Christmas border and no writing, although I did put writing on the inside of the card.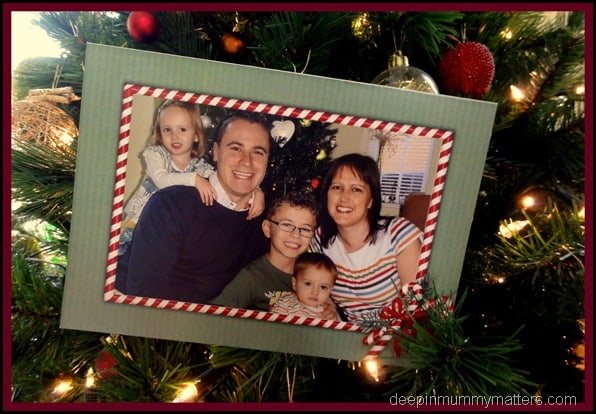 Through each step of the order process I was kept informed by email so that I knew when I could expect my cards to arrive. On Monday I received an email to say that the order was complete and ready to be dispatched and this morning my cards arrived and I am so pleased with the final product. The cards are really good quality, not the sort that will bend and warp when left on the windowsill for more than a day.
I am sure that the recipients will be really pleased with their cards and this is something that I would definitely consider doing again for any occasion.
To see more of the range available from Bonusprint then check out their website, and if you're quick you've still got time to get your orders in for Christmas. Last order day is 16th December, that's this FRIDAY!!! How about a photobook, mug or mouse mat? I guarantee they will make someone's Christmas a very special one!