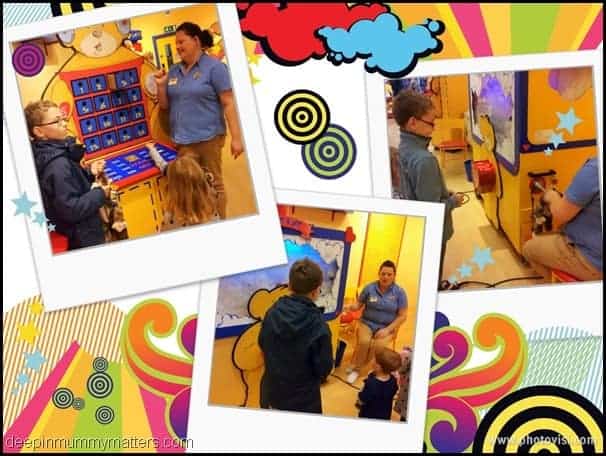 Building a furry good friend was soooo much fun!
Yesterday morning I hit the road at 9am with Curly, Little Bean and Beanie Boy on board and collected my Mum on our way to Highcross Shopping Centre in Leicester for a date with Build-a-Bear Workshop. When we arrived, our host Kelly (the Store Manager) was waiting for us with a big smile and promise of lots of fun. The children were made to feel extremely special.
Kelly explained how choosing a bear is about so much more than just looking at it and thinking it looks cute, you need to see if the bear is the one for you by rubbing noses with your bear and asking the bear if it was the one for you and I was very surprised when the children all happily joined in when selecting their bear. Next it was time to start adding a bit of personality to the bears by selecting sound boxes for them, Curly declined as he thought he would probably frighten the life out of himself in the middle of the night if he rolled onto his bear in bed. Beanie Boy chose a giggle which was perfect for him as he is such a little giggler himself, Little Bean chose "I love you" for her Hello Kitty whilst Nanna and I opted for Brahm's Lullaby in the hope that the children might be encouraged to sleep by their bears (hey we can live in hope!!).
With all the sounds chosen it was time to 'get stuffed' so to speak. Before the stuffing began, the bottom of the barcode from the children's bears was taken off the tag and placed inside the bears so that if the bears are lost they can be returned to any Build-a-Bear Workshop who will happily retuKelly was a true natural with the children and really encouraged them to get stuck in and help her. It's important to make sure that your bear is EXACTLY how you want it to be, right down to how cuddly it is. Some people like a floppy bear, some like a squidgy bear and some like a firm teddy bear. Kelly controlled the bears whilst the children used the foot pedal to operate the machine and then put their sound boxes in exactly where they wanted them to be.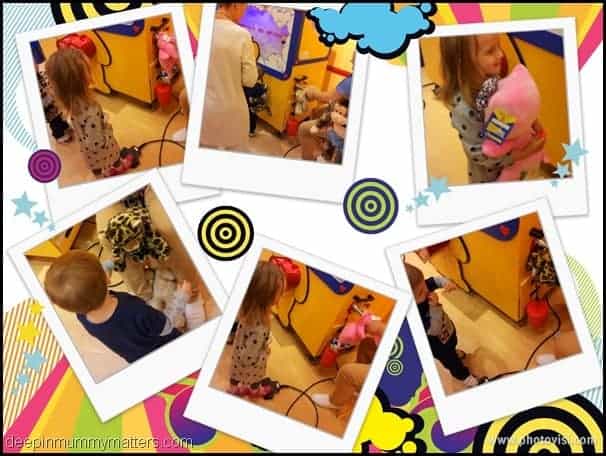 Having had a go at Build-a-Bear myself in the past I knew what was to come next and I really wasn't too sure whether the children (and Nanna) would join in but they did and I was so proud of them. A bear can't be a real bear if you don't give it a heart and bring that heart to life so we had to perform a special Bringing the Heart to Life Ceremony. Everyone joined in although Beanie Boy decided to stand behind Mummy to do his as he became a little camera shy part of the way through. Once the hearts have been brought to life, they need placing inside the bears to work their magic and then the bears receive a final stitch up before heading over for a bit of a puff and fluff with the bear brushes.
Choosing the outfits for our bears is probably the most fun/hardest part of the whole process. There are SOOO many outfits to choose from it's hard to know where to begin. Beanie Boy was hilarious, he was adamant he wanted his bear to wear only Wellington Boots! Says quite a bit about Beanie Boy if you ask me but after a little persuasion I did manage to get his bear into shorts and a rock star t-shirt. Little Bean and Nanna set to work on dressing Hello Kitty, Kelly was appalled when Nanna dressed Kitty in just a coat and trainers, I think she wondered what I must have looked like as a child with only my Mum to dress me so Kelly helped Little Bean by giving Kitty a spot of modesty with some pants, a skirt, a t-shirt and handbag. Curly actually was the hardest to please, he just couldn't make up his mind and kept changing his monkey's outfit over and over again, it was definitely worth the effort though as he looked like the coolest monkey ever when he had finished. Kelly then suggested he needed a camouflage tent, glasses and hiking boots to complete his look.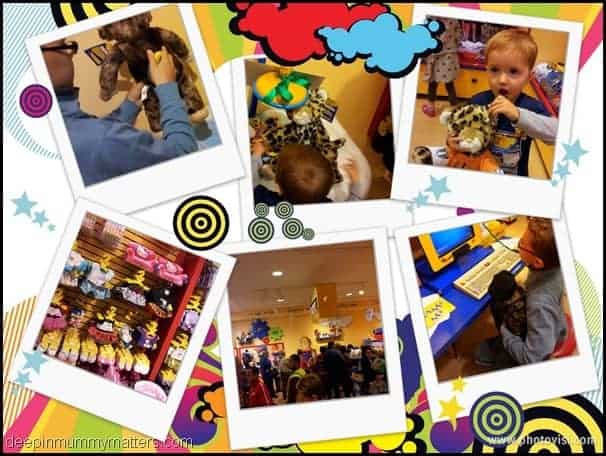 The final task in Building a bear is to register the birth of your bear and get their very own Birth Certificate. I really love how the keyboard is very child-friendly with bright colours and big letters because it means that they are able to do a lot of the work themselves with only the minimal guidance from Mum.
By the time we had finished our bears the store had opened and filled up very quickly. This was my first trip to Leicester shopping and I have to say I was extremely impressed, the Build-a-Bear Workshop store was very spacious which I really liked and all the staff were so helpful and child-friendly. Kelly said that they are always busy on a weekend and during holidays with a steady flow of customers in the week. As we were leaving a child's birthday party was just beginning and the staff were making it such a magical experience for the children it's hard not to get drawn in as an adult.
Our three were completely over the moon with their new furry friends and haven't let them out of their sights since they got them, as I type this post they are all snuggled up in their beds with their new pals and a smile on their faces. In total we spent nearly 2 hours at Build-a-Bear and I don't think we stopped smiling the whole time we were there. I lost count of the number of times that Curly thanked me for taking him, he said that he had been to a Build-a-Bear before but it was only to buy an outfit for a friend's bear, he hadn't actually experienced it for himself and even though he turns 11 in just a few weeks time, he STILL loves his bears and thoroughly enjoyed his time there today.
Even when you get home the fun can continue because you can bring your bear to life online at Bearville on the Build-a-Bear website, there are all sorts of games, printables, e-cards and desktop images to keep the experience going.
Kelly really made our experience, she provided excellent customer service and puts smiles on the children's faces. I asked her what was her favourite part of the job and she commented that she loves the Heart Ceremony because the children really get into it and believe in their bears, she feels touched to be a part of something special.
If you haven't visited Build-a-Bear then I really can't recommend it enough, the choice of bears, clothing and accessories change all the time so there is something there for everyone and with bear prices starting at just £9 it doesn't have to cost you the earth. Why not find out where your nearest store is, OR you can even shop online.