If there's one shop you can rely on at Christmas time and throughout the year it's Boots. Earlier this year I had the great pleasure of attending their Christmas in July press day which was a rather bizarre feeling, walking off the street on a scorching hot summer's day into a gorgeous house filled with Christmas decorations, presents around a large fireplace and a beautiful big Christmas Tree – oh and did I mention Gino D'Acampo?!
Boots buyers really should be commended for the range of gifts that provide for customers to choose from, sometimes they should also be stood in front of a firing line because there is so much to choose from you can spend hours just trying to make the right decision. In my case, that's normally buy one of each of the ones I like, give some for Christmas presents and keep the rest for myself – I'm pretty sure that's not how it's supposed to work but I'm useless at making decisions (well that's my excuse anyway!!).
So to help make your Gift selection a little bit easier, here is my pick of some of the best buys to be had in Boots this Christmas!!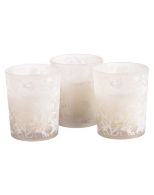 Fresh Linen and White Blossom Votive Candles
How about these fresh smelling candles as a little stocking filler, also great for a romantic evening in or a luxurious bath!
RRP £8
Deeply Nourishing Sanctuary Collection
I absolutely LOVE the Sanctuary products, they remind me of days spent relaxing at a Spa being pampered and preened into a state of sheer relaxation. What could be better? This collection contains Mande Lular body souffle, body butter and relax body butter (all 100ml) so you can recreate that feeling at home.
£12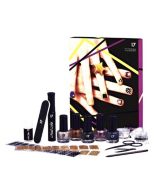 17 Nail Clash Complete Collection
The must-have nail collection with everything you need to create your own unique style. Includes 5 nail polishes, 3 sets of nail foils, 2 pots of gems and 1 nail art pen. Now let the imagination run wild!!
RRP £20
Mark Hill Salon Professional Wicked Waver
I have had my eye on this little beauty ever since I first saw it in July. Mark gave me a demonstration of what it could do and I love it, the unique barrel shape means that no two waves or curls are the same creating a really unique and natural look. Ceramic barrel with variable temperature up to 200C. Automatic shut-off and 3m cord.
Was £59.99 now £29.99!!! (Please feel free to mention this to my husband!!)
Champneys Spa Manicure Kit
I fell in love with this kit as soon as I saw it, the vanity case is so cool and chic it will make even the dullest of bathrooms look classy this Christmas. They say if you want to tell the age of a woman look to her hands so I have really started to take care of my hands now and this kit can do it all with softening hand scrub, cuticle softener, overnight hand therapy, 2 nail polishes, moisture gloves, 4 way buffer and emery boards.
RRP £35
Fearne's Favourites Hatbox
A gorgeous keepsake hatbox filled with bodywash, body scrub, body lotion, mini body spray, mini hand lotion, eye compact with 6 colours, black mascara and a cute drawstring bag with body polisher.
RRP £35
Estee Lauder – The Make-Up Artist Professional Colour Collection
This is a MASSIVE bargain and will gain you serious brownie points if you buy this for the most important lady in your life. Not only is it a gorgeous RED bag, it is packed full of gorgeous makeup compacts, brushes and individual items of makeup.
RRP £50 when purchased with any Estee Lauder fragrance.
Latest posts by Sabina Green (see all)