Best Portable Outdoor Cooking Gear
What could be better than eating, than eating al fresco!
Whether you like to sit and eat outside your RV, or in your backyard, or maybe grilling some burgers or steaks as you go tailgating, or even going for a simple picnic.
Enjoying a warm meal after a day of being outdoors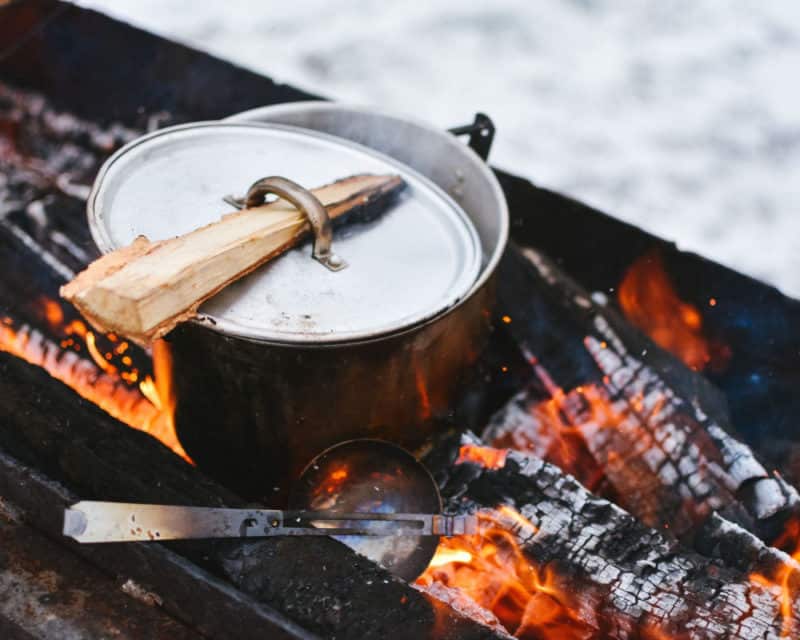 But it's a little different when you decide to head out into the wilderness, hiking to your favourite camping spot and stopping for a bite to eat midday or gathering around a campfire to eat under the stars.
The true benefit of portable outdoor cooking gear is that at the end of a long day's hike (or other adventure) you all get to sit down together and enjoy a nice warm meal. And that's just so much more warming and comforting than a cold sandwich that got squashed to the bottom of your backpack.
Weight of the cooking gear
But when deciding what cooking gear you need for your backpack, you can't just take your regular pots and pans, regardless of how much you like them. They'd be way too heavy, and frankly unnecessary.
For this kind of adventure, you need cooking gear that's super lightweight and portable. With ultralight backpacking to hand, you can happily carry all the cooking gear you need for your trip, without having it weigh you down too much or risk you hurting your back from carrying too heavy a weight.
Planning your meals and cookware
The key is in the planning. And we recommend basing your outdoor cooking purchases based on meal planning. You begin by noting how many people you will be cooking for, and what they like to eat.
If you plan on using the outdoor cooking gear on several different occasions, then the more versatile this cooking gear is the better.
And it's clear that some outdoor cooking gear is more popular than others, because of this versatility.
What types of portable cookware gear are you most likely to need?
Kettle
We would argue that one of the best pieces of cookware you can take outdoors is a camping kettle. Quenching thirst is almost always more urgent than feeding tummies, especially after a long day out in the sun.
We're not saying that you need to carry jars of instant coffee on your outdoor adventure, but you could pack a few sachets of your favourite instant coffee. Or tea bags are just as light. Or perhaps packets of instant soup for something a little more savoury. Perfect for warming everyone up on a windy day.
Stove
You may also want to invest in a stove. Because how else are you going to get your food and drink heated up? All you need to look for in such a stove is a compact design that you can place some dry wood into that you can light with a match. The stove has to allow in enough air for the fire to breathe, but at the same time not let too much wind through that might put out the fire.
Pot
Next is a simple pot. Once the fire in the stove is lit, all you have to do is empty your tin of food inside, stand the pot over the fire, and when sufficiently hot you can simply sit back and eat straight from the pot.
Pie Iron
The other thing to consider is a pie iron. If you haven't heard of them before, they're kinda like a toasted sandwich maker but on a stick that you hold over the stove. This way you get to enjoy simple, cheap, warm food without getting dangerously close to the fire.
Materials for your portable outdoor cookware
In order for your outdoor cooking gear to be sufficiently portable and lightweight to carry around all day, it must be made of suitable materials.
You can forget about materials such as stainless steel – that's usually way too heavy for our liking. But you will need them to be metallic in order for them to heat up adequately and transfer the heat to your food.
Good examples include titanium or aluminium. Both of these are very lightweight, but if you had to choose between the two, we'd go for titanium because it heats your food more quickly.
Don't forget the bowls and cutlery!
Unless you're a toddler, you're probably going to want something to eat with, so be sure to also pack enough cups and spoons for everybody.
Final Word
I guess all that's left to say is, enjoy eating al fresco!