Best Children's Products for The Bathroom
With thousands of children's toys on the market, choosing the right ones for the tub can be a difficult decision to make. First and foremost, you want to choose toys that are safe for your bathroom drains and for your children. For example, some toys easily harbor mold and mildew. Those rubber duckies you love so much? Because they harbor water inside of them, they make for perfect germ breeding grounds. And as you know, kids are prone to squirting the water in those toys directly into their mouths. For this reason, you want to choose toys that can't hold water in unreachable places.
You also want to stay away from toys that can easily go down the drain and cause further plumbing issues. Australia-based Fix It Right Plumbing, https://www.fixitrightplumbing.com.au/plumber-geelong/, advises parents to be especially careful with toys that contain small parts. "These toys can easily snake their way down your drain and become lodged there," they say. "Overtime, it can prevent other items from fluidly making their way down the drain, like hair, pieces of soap, and other toys, resulting a serious blockage that can be costly to fix."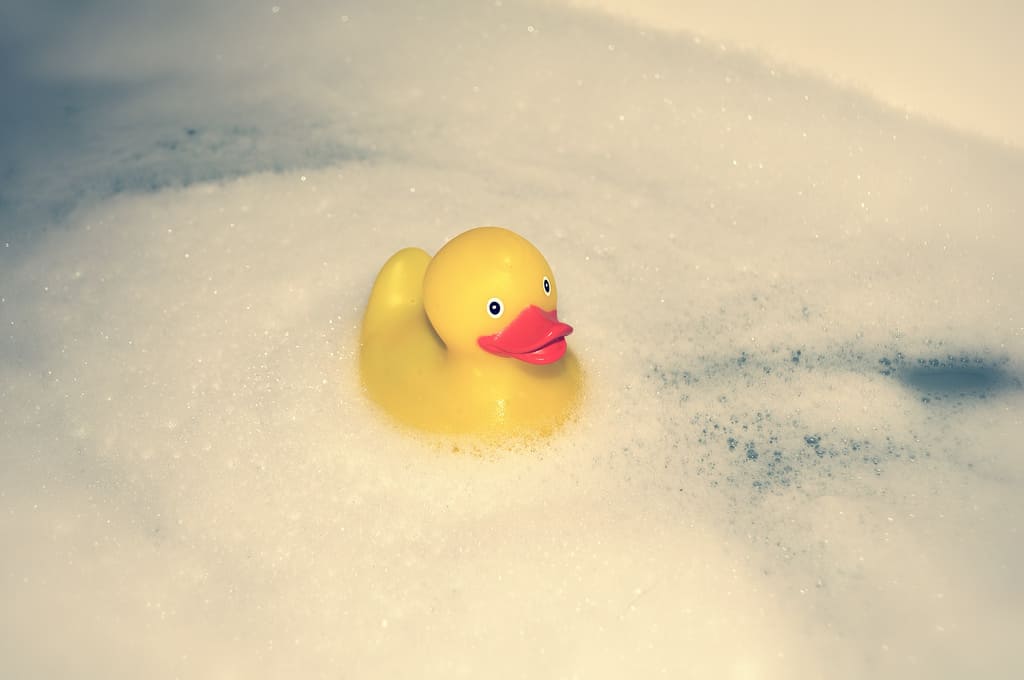 Now that you understand the importance of choosing the right toys, here are a few solid bathroom playtime ideas that you should consider:
Letters & Numbers Foam Bath Stickers
With these Letters & Numbers Foam Bath Stickers, your kids will have fun while getting a bath-time education. These non-adhesive foam letters and numbers stick to bathtub walls when wet, and act much like magnets on a refrigerator. It also comes with an inflatable waterproof book and toys organizer for easy cleaning up afterwards. Lastly, they're 100% BPA free and safe for young children to play with.
ALEX Toys Rub a Dub Dub Music Symphony
ALEX Toys Rub a Dub Dub Music Symphony is perfect for the future music prodigies in your homes. Or the kids that just like to make some splashy noise, of course. This set comes with three water instruments: a xylophone, drum set, and water flutes. Kids can play the water flutes when they're filled with water at the appropriate level (marked on each flute), while the other two instruments come with mallets and drumsticks to play with. The set also comes with seven sets of sheet music that stick to the bathroom wall. Kids can play along to the tune of the water sheets, or make their own music.
Boon Building Bath Pipes Toy Set
For the future handy child in your home, the Boon Building Bath Pipes Set is the perfect choice. It comes with a complete set of plastic pipes that use suction cups to stick to the bathroom tub wall, and can be rearranged to create different pipe setups. Each pipe shape can be used individually or combined to create a chain to pour water through. The tagline: "Leaky pipes have never been so fun." On Amazon, the toy has received 750 5-star reviews. And another fun fact: Khloe Kardashian actually added this toy to her own baby registry.
Nuby Tear Free Rinse Pail
The Nuby Tear Free Rinse Pail is both a fun and efficient toy in the bathroom. First and foremost, it's a great way to make your children feel comfortable when washing their hair. The large whale-shaped toy has a soft outer edge that allows parents to hold it comfortably to the child's forehead, and direct the flow of water from the base straight to their hair and away from their eyes. It also comes equipped with an add-on toy scooper that makes it easy to gather up all the toys and hang them all up to dry on the tub wall.
Colorful Plastic Mixing Bowls & Colander Set
Your children likely love to pour water from one place to the other, and the Colorful Plastic Mixing Bowls & Colander Set will make it easy to do just that. It comes with several basic mixing bowls, colanders, and measuring cups—each its own vibrant color. Each is designed to stack neatly into one another, and this nesting setup makes it easy to store and use time and time again. One of the best things about this toy is that it's highly versatile: use it in the tub, or use it for kitchen play time.
Crayola Washable Finger Paints
Washable Finger Paints are a surefire way to keep your children's creative minds flowing while making it easy to clean afterwards. With this toy set, your kids can finger paint on the wall, and the paint will wash away easily with some water—and isn't harmful for your drain. It even works on rough surfaces like stone, or on tiles with bigger grout lines. Each paint color comes in a squeezable tube, and is even safe on kids clothing.