Beanie Boy loves his Bobux!!
I've never been a great lover of shoe shopping when it comes to buying for myself, given the choice I'd rather be barefoot, flip flops or boots (but I am trying). When it comes to my children, it's a whole different kettle of fish! Little Bean has almost as many shoes as Daddy (he loves his shoes) and now Beanie Boy is beginning to follow suit, I don't know if it's because they are so small and cute but I just love buying shoes for my children.
Beanie Boy was sent a gorgeous pair of Bobux shoes to review and as you can see from the photograph, he was all smiles when he put them on. Bobux is a leading innovator of children's shoes based in New Zealand who worked with globally renowned specialists and natural health researchers to bring us eco-friendly footwear which provides unrestricted development as our children grow.
From birth to three years, children's feet undergo massive changes whether they are crawling, toddling or walking and they need footwear to support these changes. For this reason Bobux offer three ranges of footwear to support the key stages of development; soft sole, pre-walk and i-walk.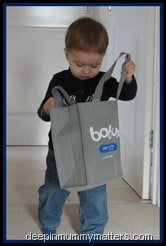 Soft sole are the shoes that stay on! Pre-walk are designed for the crawling, cruising and walking stage and I-walk for the little adventurers! Beanie Boy was sent a pair of I-Walk navy sports shoe. Shopping on the site was really easy as you can refine your selection by price, colour, size and type of shoe. The sizing is in continental which threw me to begin with but there is a really easy to follow sizing guide available on the site and you can even download a pdf file to help you further.
When the shoes arrived they were came well packaged and were in a cute shoe box which was in it's own little Bobux fabric bag, another winner for Beanie Boy!! The shoes were gorgeous quality and had a firm but flexible sole on them. I would definitely recommend Bobux to others looking for quality shoes for their children – Beanie Boy loves them, so do I!
Why not head over to Bobux yourself and be sure to look out for Bobux's new Step-up range launching this Spring.
DISCLAIMER: We were sent a pair of Bobux shoes for the purpose of this post. All words, opinions and photographs are my own and may not be copied without my permission.