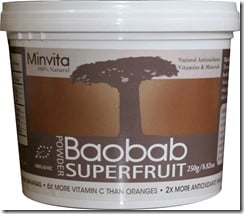 Baobab: The New Superfruit
Health junkies the world over are always in search of the next great thing and Baobab could be just what they are looking for. I have to say I'm quite dull when it comes to fruit; apples, bananas, strawberries, raspberries and melon – that's about all that I eat and I'm ashamed to say I don't eat those very often. I'm just lazy when it comes to food, I see them sitting in the fruit bowl but I never go so far as to actually pick them up and eat them unless I can't find anything else in the house when I'm starving.
The Baobab Tree is also known as the Upside Down Tree, an ancient tree of life the Baobab fruit contains:
. . . 6x more vitamin C than oranges, 6x more antioxidants than blueberries, 6x more potassium than bananas and 2x more calcium than milk, it is easy to see why Baobab has been used for thousands of years in its native East Africa to pack a vital nutritional punch. It also contains 0.2mg more iron than red meat – a perfect supplement for vegetarians.
Baobab Fruit comes in a powder form which can be made into a drink or added to tasty food to sneak in the good stuff, this is great for someone like me who has fussy eaters although you do need to be able to prepare your children's food without them peering over everything you do (like mine do!). I have successfully managed to sneak a bit of the Baobab Powder into Little Bean and Beanie Boy's yoghurt without them noticing and I can't help but feel a little smug that I have managed to get them to eat a superfruit without them evening realising it. It can be added to yoghurts as I have done, rolled into flapjack, sprinkled into fruit juice, cereals or smoothies. It is recommended that 1 tablespoon is the typical daily serving so you can spread it out through the day to make it less noticeable for the super taste spotters and one tub contains approximately 50 servings which at £14.69 is a pretty good price, that's only 29p per serving!
It is 100% natural, organic and sustainably sourced so you can feel good that you are being kind to the environment as well as looking after your children (or yourself).
To find out more about this great new Superfruit visit http://www.minvita.co.uk/
DISCLAIMER: I was sent a tub of Baobab to review for the purpose of this post. All words and opinions are my own and you may not copy them without my permission.