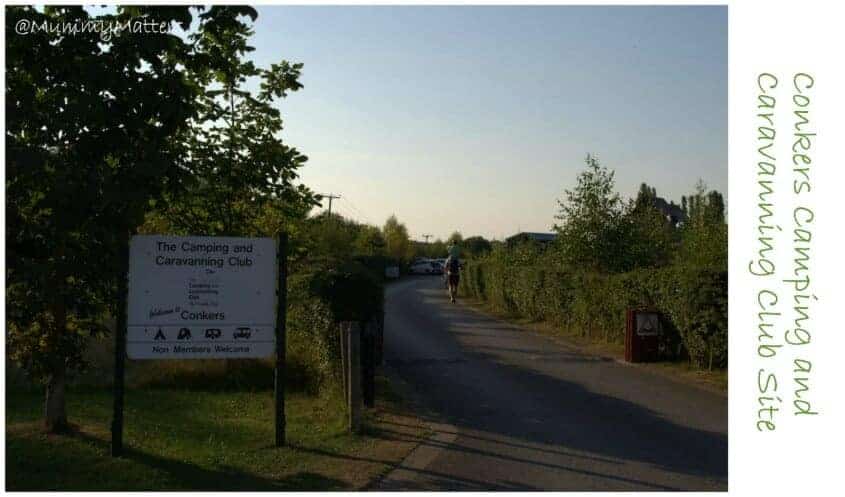 We found the Conkers Camping and Caravan Club site by doing a search on the group website to narrow down our choices. We knew we wanted to go somewhere in Derbyshire, we wanted a site with a play area, with electric pitches, showers and good places to walk nearby. When we put in our available dates our search narrowed down to a more easy selection of sites. Conkers stood out for me immediately as I had heard good things of the Award Winning family-attraction of the same name, Conkers Discovery.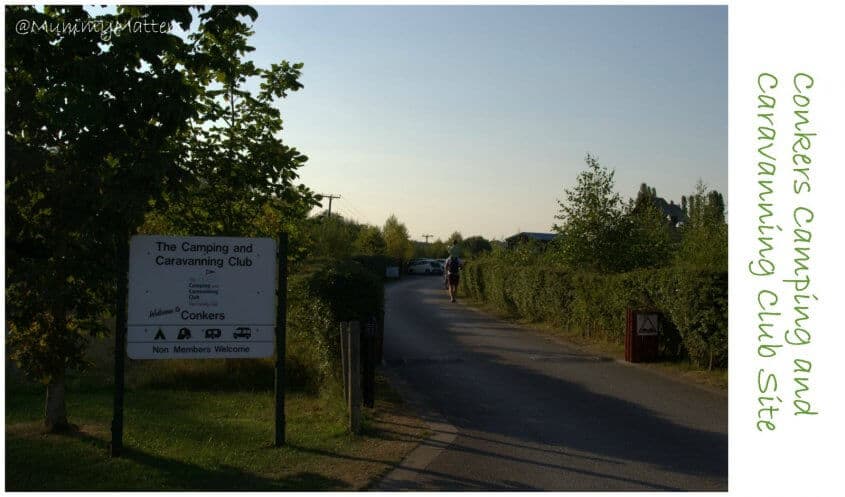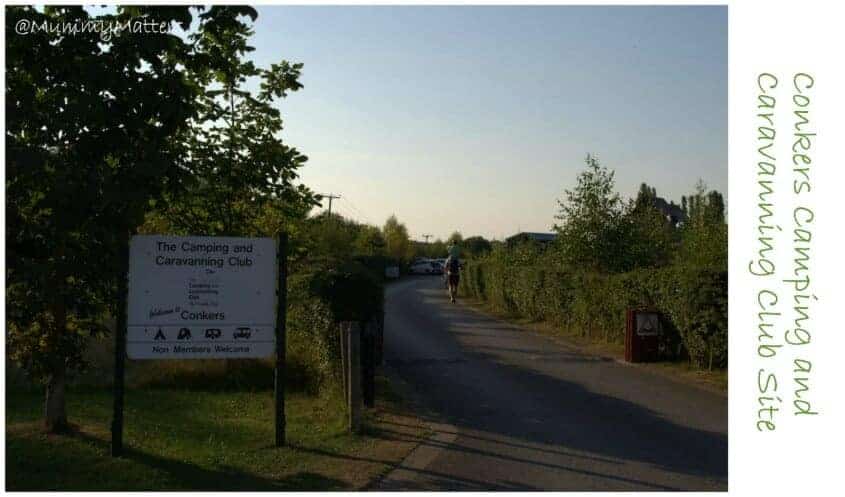 Finding the Site
We popped the details into the Sat Nav and set off on our way. Hubby was in charge of driving this time so I sat back and got my head stuck into a good book. Before we knew it we were within minutes of our destination, the journey (according to Hubby) was a very straightforward one and we soon found ourselves pulling into the drive for Conkers Camping and Caravanning Club site.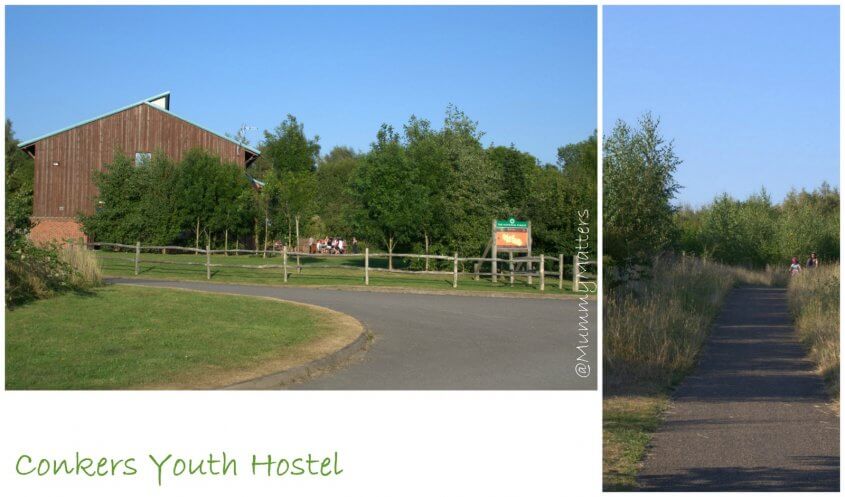 As you arrived on site, you drive first past Conkers Discovery attraction and then past Conkers Youth Hostel. There was a car park to the left hand side where you can park if you arrive once the gates are locked. We arrived just after check-in time and so were able to get straight in.
Checking In
We arrived at the same time as a couple of other families but there were a few members of staff on Reception so we were dealt with very quickly and received a warm welcome. Despite being very busy they said they had a number of pitches available to us so we could choose the pitch we suited us best. We chose to be next to the fence just up from the play area so the Beans could play whilst we pitched the tent and going forward, we would hopefully relax whilst the children played.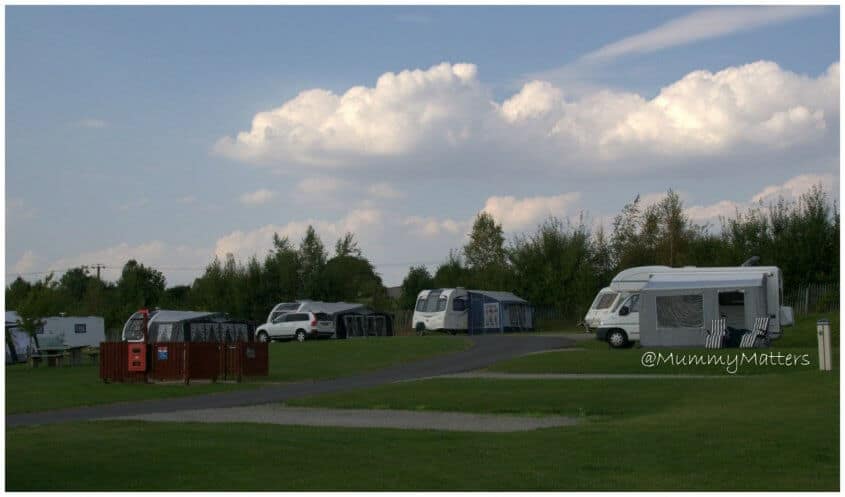 I had read online when we were booking that hard-standing pitches would require rock pegs. Being on a grass pitch I assumed that we would be ok but actually the ground was really hard and we ended up folding more than half of our tent pegs so go prepared. It had been particularly warm weather in the lead-up to our break and whilst we were there (until the last day when it rained non-stop) but even removing the pegs when we were taking the tent down we needed guns of steel.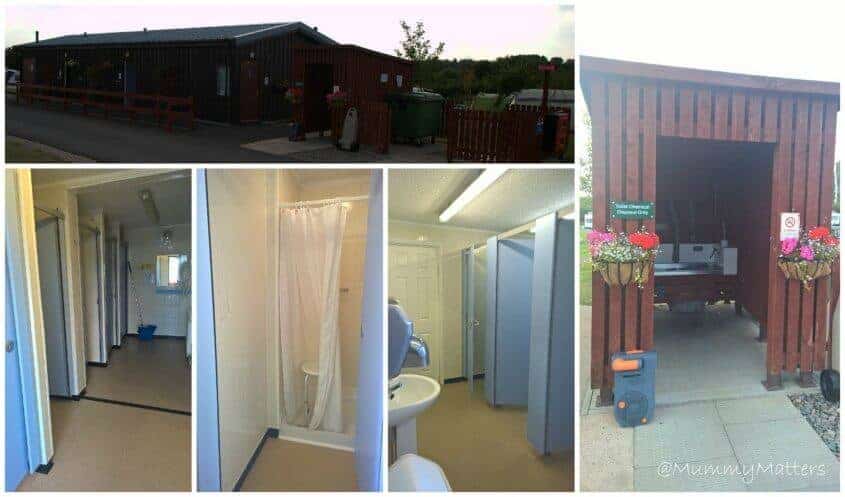 Facilities
Amenities Block – the amenities block is situated right in the centre of the site and was slightly smaller than I expected. I would point out though that I didn't queue for a shower/toilet even once during our break and when speak to the site staff, they said that they were virtually at full capacity so that was impressive. The shower cubicles were slightly smaller than I would have liked and in the Family Shower room I felt it needed a lid on the toilet as there was more than one occasion where a rather curious little person nearly lost their toothbrush down the toilet.
Water Points – the water points are quite regularly spaced. We were situated just 200 yards from our nearest point which was perfect and at night-time they were well-lit up.
Play Area – the children's play area was situated in the bottom corner of the site not far from the main entrance. It was made up largely of a big wooden playcentre which had swings, slides, climbing frame and scramble net. To the side there was a picnic table and a basketball net. During the afternoons/evenings it was always well attended and I'm pleased to say that the Beans made lots of lovely friends who they were sorry to leave behind at the end of our week away. My only slight concern about the play area was that it was situated right next to the entrance road, albeit separated by a thinning bush and wire fence which had been bent out of shape. I would have like a more secure form of fencing for such an area.
Parents be warned, don't let you children head to the Play Area in their best clothes. I'm not sure if it was the safety tarmac or the climbing frame itself but the Beans returned with black clothes so we sent them down in play clothes to avoid disappointment.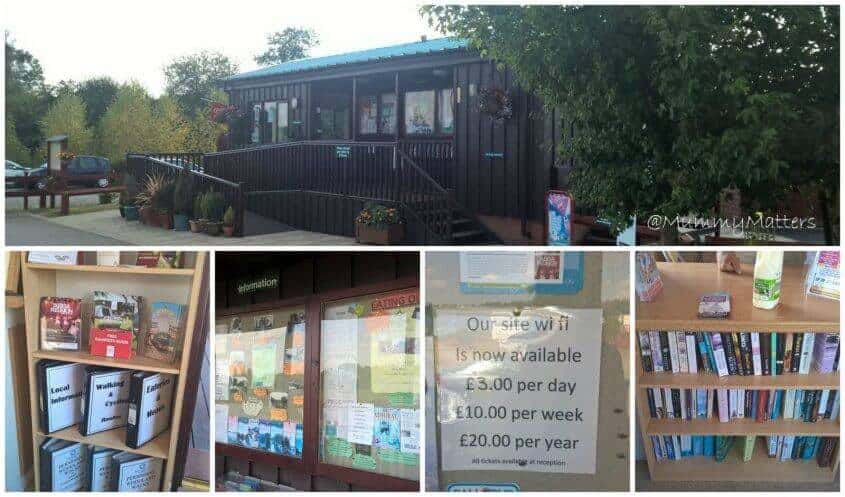 Lending Library and Information – the Reception building at Conkers Camping and Caravanning Club site had extensive information boards which could be viewed at all times with further leaflets and folders available from the office during opening hours. There were also local attraction leaflets available in the main amenities block which could be accessed at all times.
The lending library is located in the Reception Office so this is only accessible during opening hours.
Night Lights – the Amenities block was well illuminated at night but we found the rest of the site to be quite dark so used torches to move about the site after dark.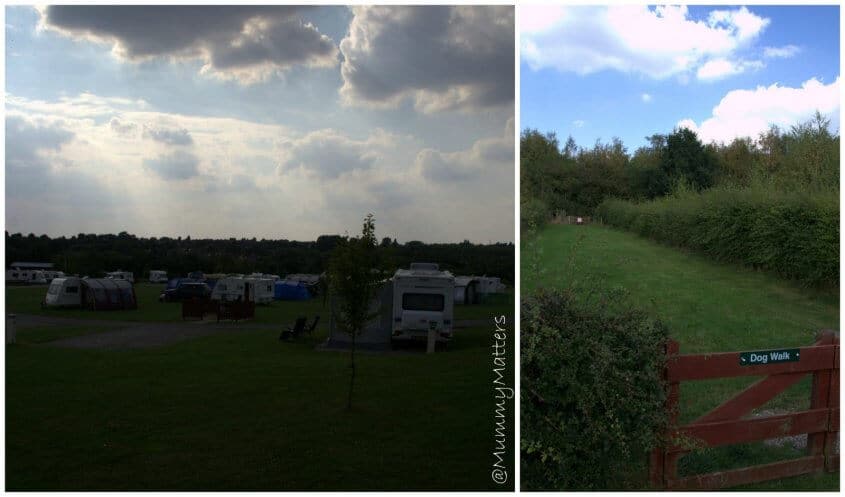 Dog Walking Area – obviously we do not have a dog so I didn't explore this area thoroughly. From what I could tell the Dog Walking Area was just a small fenced area in the top corner of the site BUT there were lots of areas to walk around the outside of the site so exercising your dog would not be an issue.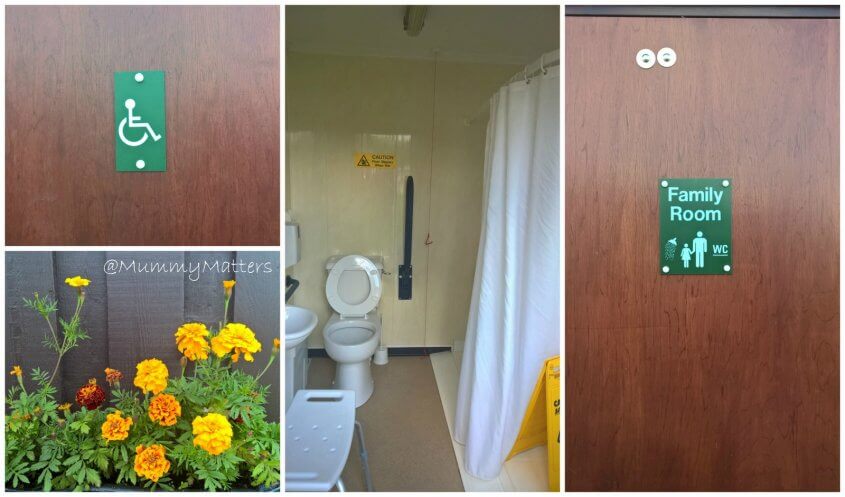 Refuse Disposal – situated in a fenced area to the side of the amenities block were two large bins which were emptied regularly. They do not offer a recycling option. The area was always kept clean and tidy and did not spoil the aesthetics of the site at all.
Disabled Facilities/Pot Washing/Toilet Chemical Disposal – the left hand site of the amenities block had a small Pot Washing room with a few sinks/drainers, a laundry room with an outside rotary clothes line and to the right hand site was a Family Shower room and a Disabled shower/toilet facility.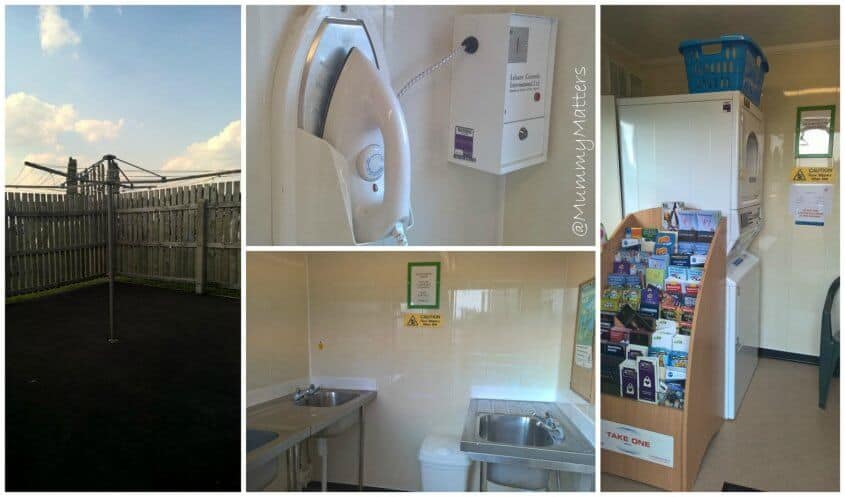 General Thoughts
I should start this section by saying that we will definitely be returning to Conkers Camping and Caravanning Club Site so although a few of my comments here might seem a little negative, they are not negative enough to put us off returning.
Noise Level
The site is located just 10 miles from East Midlands Airport so there was fairly frequent air traffic throughout the day until around 10pm at night. That said, not all planes went directly over the site, some were in the distance or the vicinity with only a handful going directly over the site. After the first day we barely noticed them.
As I mentioned at the beginning of this post, the campsite is located next to Conkers Youth Hostel. We were staying during the Summer Holidays and I suspect there were perhaps groups of Year 12 leavers staying at the Youth Hostel. During the day/early evening you didn't hear very much but between the hours of 7pm and 9pm it was very noisy. The good news was that we had worn the Beans out so much in the daytime they didn't stir at the noise and it did stop at 9pm when they seemed to take their activities indoors.
Staff/Cleanliness
The site was beautifully maintained and the pitches were well spaced to give everyone ample room to relax. The staff were all very friendly, approachable and helpful. We really enjoyed our stay here.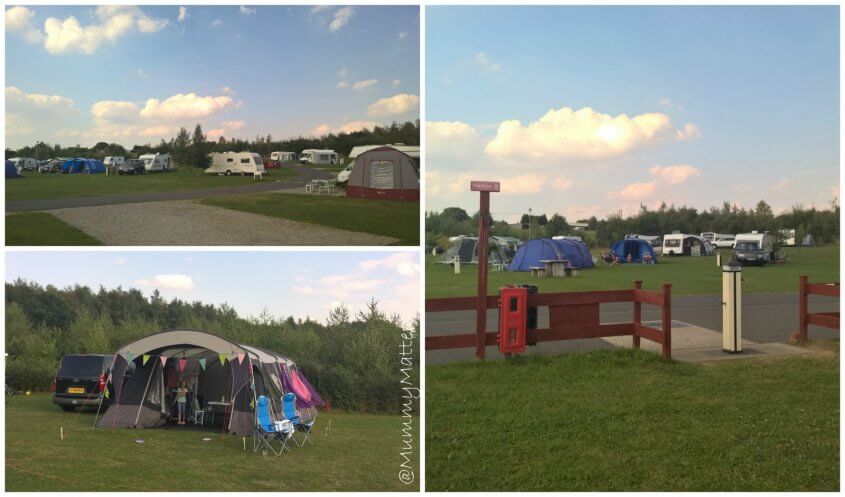 Local Area
Award-winning Family Attraction Conkers Discovery is situated next door to the site and is well worth a visit, we had a brilliant day there where we actually ran out of time to do everything and considered returning for a second day. We didn't return because we felt that we should explore the area a little more but we will be going back again.
Within walking distance we also discovered the little gem that is Moira Furnace. We only visited because we thought it was a children's play area in a town park. In fact it is a lovely museum set on the bank of the canal system with a beautiful woodland path dotted with sculptures and surprises. We recommended it to our neighbour who visited it and loved it so much she decided to stay on an extra night and relocate there the following evening for a musical festival they were holding.
Nearby Attractions
Ashby Woulds Heritage Trail
Donisthorpe Woodland Park
Ashby de la Zouche Castle
National Trust: Calke Abbey
The National Brewery Centre
Catton Hall
The National Memorial Arboretum