Baking success with Little Bean
Do you remember my posts from last week This Is Big . . . and Whooppee to Tommee Tippee well this post kind of follows on from both of them. Little Bean really seemed to enjoy baking her cookies at Little School and at the Tommee Tippee event so I decided to harness that enthusiasm and do some baking with her at home.
It's been a while . . .
Usually, if I'm going to do baking I will bake cakes, I haven't baked cookies since I was a teenager so that was only 5 or 10 years ago . . . ahem!
I asked Little Bean in the morning if she fancied baking some cookies in the afternoon after her nap and she very enthusiastically said yes.
My little elephant
Nothing more was said about it, even before she went for her nap. I hadn't forgotten I just wanted to see if she would remember – I don't know why because I knew the answer before the thought even entered my head. As I heard Little Bean stirring from her nap, her first words were "Mummy we do baking now!". I had to laugh in spite of myself, she's like an elephant my little girl, she NEVER forgets anything!!
Baking with Little Bean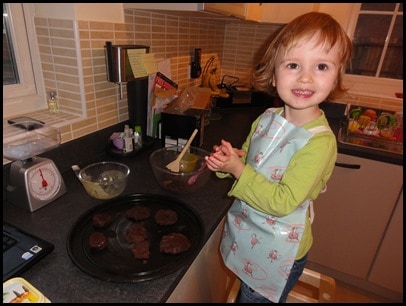 I set up the kitchen ready for her and she got stuck straight in. She had remembered the whole process from making her cookies last week. She knew the exact order she needed to do things in and didn't really need my help at all other than to do a bit of the stirring for her.
When it came to rolling the mixture into little balls to go on the baking tray I had prepared myself for doing this bit as Little Bean doesn't like getting her hands sticky but this is where she totally surprised me – she put her hands in the bowl and touched the mixture (her hands were clean – she had used the new Tommee Tippee Antibacterial Gel) and as she did so she declared "urgh it's sticky".
I said to her that it didn't matter because we could just wash her hands afterwards. With this tiny snippet of reassurance, she began pushing her fingers into the mixture rolling up balls of cookie dough and putting them on the baking tray. My heart skipped a beat I was so proud of her, this is something that she would never have done before. I think we are making baby steps in the right direction, what a clever girl.
Little Bean's Tasty Treats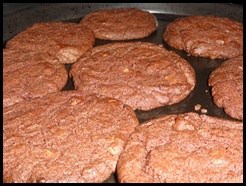 This was her very tasty result and my pride didn't stop there. On previous baking expeditions, this would be Little Bean's final journey with her baking. She would never eat anything which she had made but she couldn't wait to get stuck into her cookies this time. She pestered me to eat one from the second they came out of the oven. This is something which I intend to make a regular activity in our house as hopefully the more I can involve her in baking and cooking the chances of her trying new foods might actually become a reality. You just can't imagine how excited this makes me feel!