42/365–Whooppee to Tommee Tippee!!
Whooaaa I'm tired!  My day started at 6.30am today (far too early in my diary!) when Beanie Boy woke me up for his first feed of the day.  He must have been excited at the thought of heading down to London for some fun with Tommee Tippee.  Its always nice to be invited to a Blogger Event, we get to do something different, meet new people, catch up with fellow bloggers, tweeters and friends (not that they can't be all three!).  We were going to find out about Tommee Tippee's new hygiene range but I will write more about that in a separate post.
I have to say, from a parent's point of view this was one of the most well thought out blogger events that I have been to for a while.  They catered so well for the children which meant that the Mummies were happy too and able to focus more attention on the product.  The event was held at Maggie and Rose Kensington Club which is a Members Club for families in Kensington.  On first sight my initial reaction was "this is a bit small" but once we were invited to go downstairs I was pleasantly surprised to find a larger room set out with five tables of activities.  Little Bean and Little Miss didn't waste any time in getting stuck in with the Playdoh.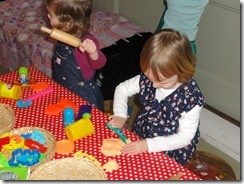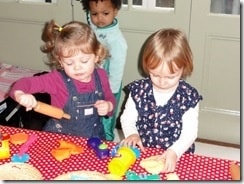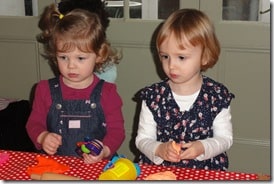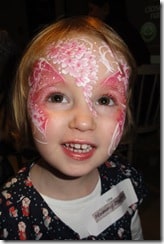 Whilst the children had fun with the play supervisors, the Mummies were able to go through to a separate room to hear all about the developments in the world of Tommee Tippee.  As I listened with interest I was greeted by this face.
You've got to admit, the face paint was very clever, for one thing I can't believe she managed to get Little Bean to sit still long enough to have it done.  As I wasn't in the room there is the possibility that she was strapped to the chair but I don't think so.  It does look pretty but I can't help but think she looks like a Klingon?  Do you see it?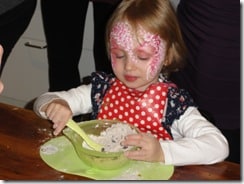 After the fun of face painting, the children were then taken into the kitchen where they made chocolate cookies, two days in a row for Little Bean.  She loved doing all the stirring but the second the cookie mix got sticky she passed it over to one of the helpers with her well used phrase "you do it".  I can see that I need to do more baking with her at home though, because when we got home tonight she didn't hesitate to tuck into her cookie (like yesterday) – happy Mummy!!
And then to finish off Little Bean went back to the play room and made sequined clay stars.  She wasn't very impressed with me when I tried to sit on a stool next to her, totally missed it and landed in a heap on the floor next to her with Beanie Boy clutched tight to my chest, such an embarrassment!
A note to PR's – if you want to hold a successful Mummy Blogger event, make sure the children are well entertained and you will have the parent's full attention!!