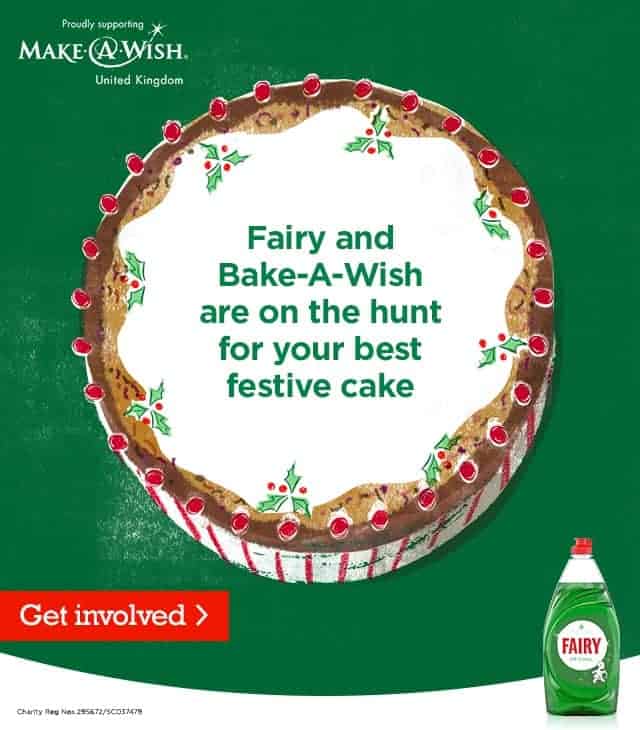 Baking inspired Brits are ditching traditions and Christmas cake
Fairy launches a nationwide search for the best festive cake recipe
Gone are the days of getting together with the family on Stir up Sunday to mix the Christmas cake and make a wish for the year ahead. As a nation we're not baking traditional Christmas cake anymore, in fact, 35% of us don't even like Christmas cake and only 16% of us know what Stir up Sunday is.
A poll by Fairy has found that 64% of us are turning to alternatives like red velvet cake and chocolate cake, or adding a twist to traditional recipes. The majority of those surveyed will be going for an alternative cake or are likely to be adding exotic fruit, blueberries, vodka or carrots to their traditional mix.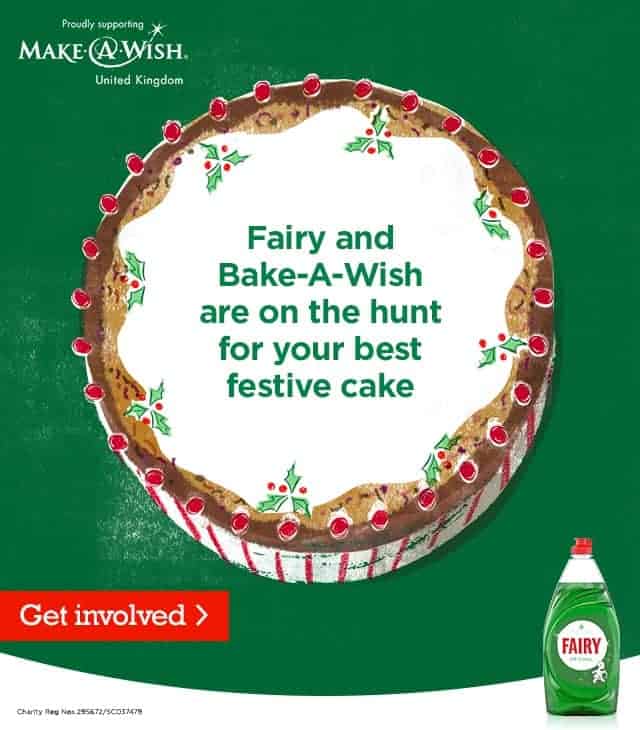 The nation's favourite alternative festive cakes are:
Yule log (21%)
Chocolate cake (20%)
Victoria sponge (17%)
Cheesecake (13%)
Red velvet cake (12%)
Gateau (10%)
Alternative ingredients that the nation now like to add to their Christmas cake include:
Unusual fruit like blueberries, pineapple or mango or vegetables like beetroot or carrot
An alternative to brandy like vodka, rum or whisky
Melted chocolate and mint to add a touch of quirkiness to the centre
The nationwide search by Fairy is to support the annual Bake-A-Wish® fundraising effort by Make-A-Wish UK, the charity that grants magical wishes to enrich the lives of children fighting life-threatening conditions. The winning recipe will go on show in Westfield, London, the weekend of Stir up Sunday (20th-22nd November) and hungry punters will be asked to make a £1 donation for a piece of the cake. For every plate washed over the weekend, Fairy will donate £10 to Make-A-Wish UK; they aim to wash 12,000 plates.
Joanne Micklewright, Head of Wishgranting at Make-A-Wish UK commented:
We're really proud of our partnership with Fairy. Baking at Christmas is a great way of bringing families together. Funds raised from the bake sale will really make a difference to the lives of seriously ill children and young people."
Assistant Brand Manager for Fairy UK, Emily Rose Williams said,
We've been working with Make-A-Wish UK for more than 11 years now. Our giant bake sale really brings home the message of what the funds from the Bake-A-Wish fundraising initiative will do for so many children. The aim of the event in Westfield is to not only raise funds for Make-A-Wish UK but demonstrate the power of the bake sale and encourage people up and down the country to host their own. We're looking forward to providing a lot of cake for hungry shoppers and, of course, we're going to clean up the mess with one 780ml bottle of Fairy."
To get involved, click here for more information: https://www.supersavvyme.co.uk/home-and-garden/cleaning/entry-screen/fairy-make-a-wish
You've got until 23rd October 2015 to register your entry so what are you waiting for?!
*Stir-up-Sunday is the day families would typically get together to mix their Christmas cake, stream it and make a wish for the year ahead.