Asmodee – Ticket to Ride Europe
From the craggy hillsides of Edinburgh to the sunlit docks of Constantinople, from the dusty alleys of Pamplona to a windswept station in Berlin, Ticket to Ride Europe takes you on a new train adventure through the great cities of turn-of-the-century Europe.

Will you risk a trip through the dark tunnels of Switzerland?  Venture aboard a ferry on the Black Sea?  Or erect lavish train stations in the great capitals of the old empires?  Your next move might just make you Europe's greatest train magnate!  Pack your luggage, hail the porter, and climb aboard!
Introducing Ticket to Ride Europe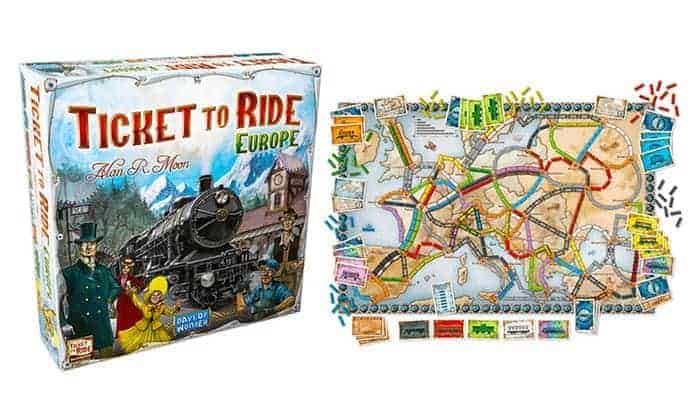 [easyazon_link identifier="B000809OAO" locale="UK" tag="mummmatt-21″]Ticket to Ride Europe[/easyazon_link] is a board game aimed at families aged 8 years and upwards for 2-5 players.  When we first opened it, Will and I assumed that it might be a little like Monopoly.  Well, you know what they say about when you assume!  The Ticket to Ride Europe game board shows a world map with various destinations highlighted as train stations and routes mapped between the destinations in different colours.  Throughout the game, you will use your train car cards to claim routes with your trains or to claim train stations.
What's In The Box
Inside the Box you will find:
1 Map of Europe Game Board
240 Coloured Train Cars
15 Coloured Train Stations
110 Train Car Cards
46 Destination Ticket Cards
1 Summary Card
1 European Express Bonus Card
5 Wooden Scoring Markers
1 Rules Booklet
1 Days of Wonder Online Access number
Setting Up
Setting up is very straightforward, we followed the instruction booklet the first two times that we played but now that we have played it regularly we are able to set up in 5 minutes without referring to the booklet.  Each player is given 45 coloured train cars, a matching set of 3 coloured train stations and a scoring marker which is placed on the Start space on the bottom left corner of the game board.  Players are then given 4 train cards, one long destination ticket and three regular destination tickets.
Game Play
I have to admit, the first time we played the game we were very confused by the instructions.  There just seemed to be too much to digest.  I kept telling myself that it was aimed at children from 8+ so it couldn't be that bad.  Nonetheless, I handed the instructions over to Will who is 17 and he found them just as confusing.  In the end, we decided the best thing to do was just play and learn as we went along.
The Aim of the Game
The aim of the game is to claim a route on the board between two adjacent cities, successfully completing a continuous path of routes between the two cities listed on your destination ticket(s), completing the longest continuous path of routes to win the European Express Bonus Card and for each Train Station kept in reserve at the end of the game.  Once gameplay is finished, you add up the points for each section of the journey completed according to the Summary Card (also shown on the game board).  Players then move their counters around the outside of the board the requisite number of spaces and the person who receives the European Express Bonus Card receives a bonus 10 points.
What we thought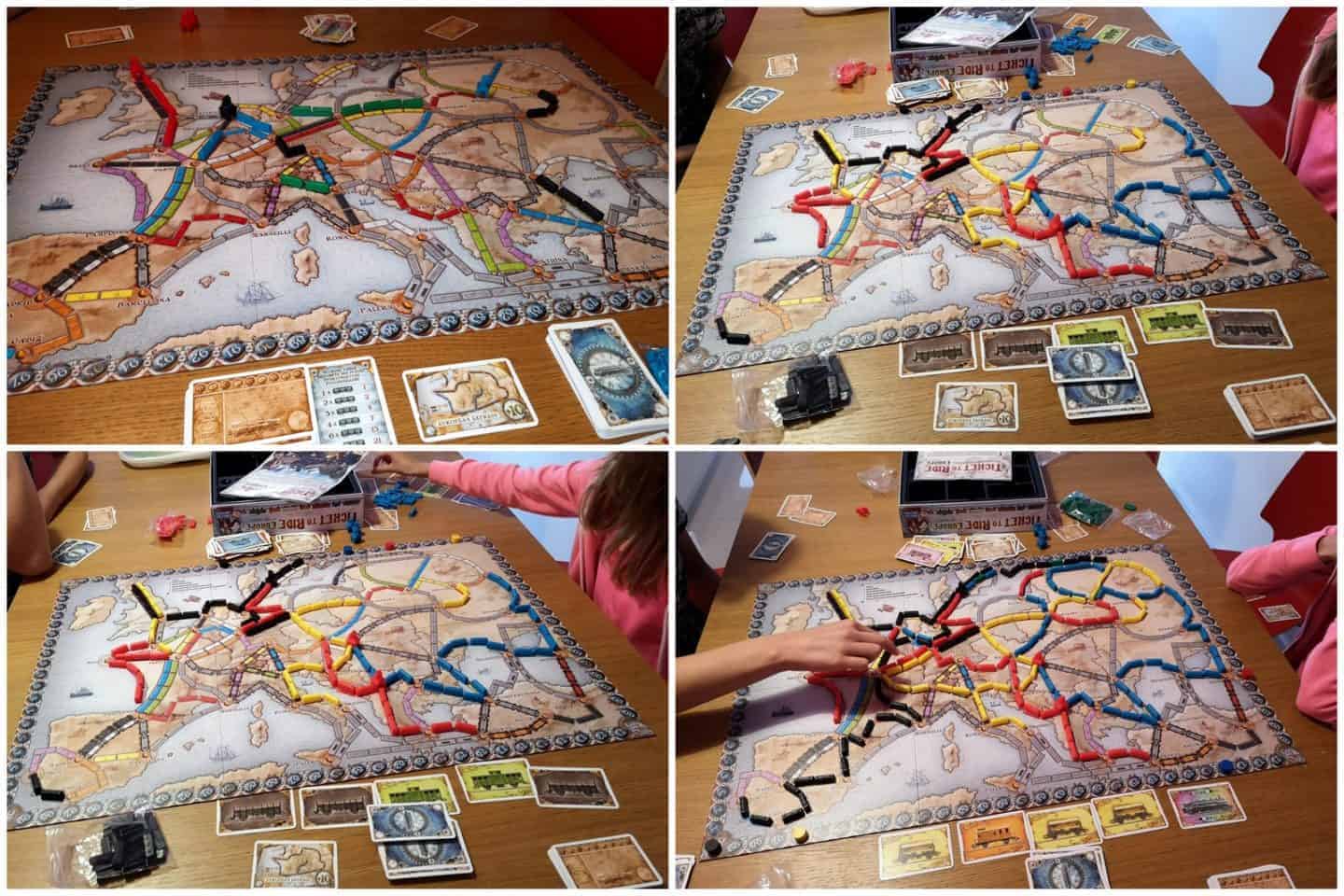 Will, Ollie and I very quickly grasped the concept of the game once we started playing, with Will and I doing our best to foil each other's attempts to claim routes.  Unfortunately, this didn't go down well with Lillie who threw in the towel when someone prevented her from completing her route.  It's a strategic game which involves some forward thinking and isn't for those who are easily flustered.
In a world where we have technology at our fingertips throughout every waking hour of the day, it can be a welcome respite to play a game which doesn't involve a screen.  We have played this game numerous times when Will is home.  It always raises a giggle or two and is a fun way of spending time as a family.