Are Public Children's Playgrounds Safe to Use?
This blog addresses whether children's public playgrounds are safe to allow children to enjoy outdoor play and reap the many benefits of playing outdoors.
Outdoor play is one of the most important activities children can participate in. It promotes a wide range of benefits, including development, health and physical growth. Allowing kids to play outdoors really changes how they grow. One of the area's children can enjoy outdoor play are children's public playgrounds.
Children's public playgrounds are excellent at facilitating outdoor play, which comes with a wide range of benefits.
The safety of children in a playground has become as equally important as outdoor play itself. It is reported that hundreds of thousands of children are treated for playground-related injuries in the UK every year. So it is easy to see why parents, teachers and carers are focused on children's safety.
Playground Equipment Supplier
Let's start with the suppliers of playground equipment. The number one priority of Manufacturers, suppliers and installers of playground equipment is the safety of the children when playing in a playground. Suppliers go out of their way to ensure safety is a factor when play equipment is manufactured and installed.
You can find more information here on how we guarantee the safety of all children in public playgrounds.
Creative Play supplies top-quality playground equipment for public playgrounds. We also offer a professional installation service to help eliminate any errors that can lead to accidents.
Safety standards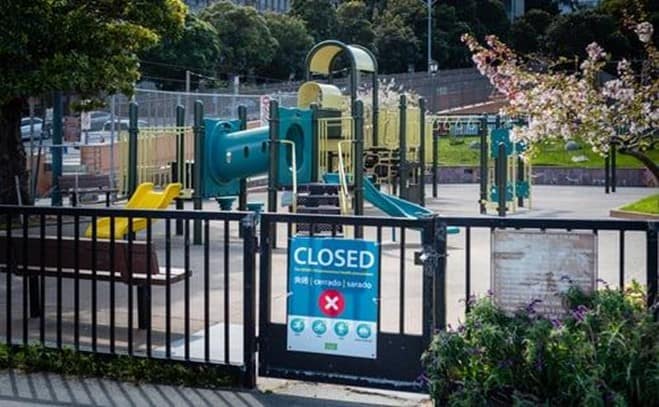 We ensure every piece of equipment we supply and install in children's public playgrounds, comply with the British Standards EN 1176 Playground Safety Standards. These are the standards required for equipment to be installed in commercial playgrounds or parks. Public playgrounds fall in this category in the sense that they serve a lot of children.
Safety standards are important as they ensure the equipment installed features the correct fall height for each piece of equipment whilst considering the various ages of children.
Our company will evaluate the playground and equipment installed to help determine whether a safe surfacing material is required. You can find more information on our website about our excellent flooring safety material.
It is worth noting that most of the injuries in public playgrounds occur when children fall from the equipment onto the ground. Flooring safety material is another factor you should consider when looking to identify if a specific public playground is safe.
If the equipment is in seemingly dangerous areas and doesn't have the correct safety surfacing material, children should stay away. Having said that, safety surfacing material is only required for specific playground equipment.
If your children are playing in a public playground installed by us, rest assured they will be safe playing in the playground.
Public playground safety checklist
Another reassuring point to consider children's public playgrounds is that these areas always have a public playground safety checklist.
Below are a few examples of both public and personnel responsibilities:
Ensure playgrounds have surfacing either from safety-tested rubber or similar material, mats, 12 inches of pea gravel, wood chips, sand or mulch
Make sure the protective surfacing extends all around from the play equipment at least 6 inches.
For swings, the surfacing length should extend twice the height of the suspended bar front and back.
Ensure play structures with over 30 inches of height are placed at least 9 feet apart
Inspect for hazards such as protruding bolt ends or "S" like hooks
Check for sharp edges or points in equipment
Ensure openings between ladder rungs, guardrails and other spaces that could trap children have space less than 3.5 inches or 9 inches
Make sure to inspect for tripping hazards such as exposed concrete footings, rocks, tree stumps.
Ensure elevated surfaces such as ramps and platforms have guardrails to prevent fall
Regularly check playgrounds to ensure their condition can not cause accidents.
Supervise children on playgrounds to ensure they're safe
Legal aspects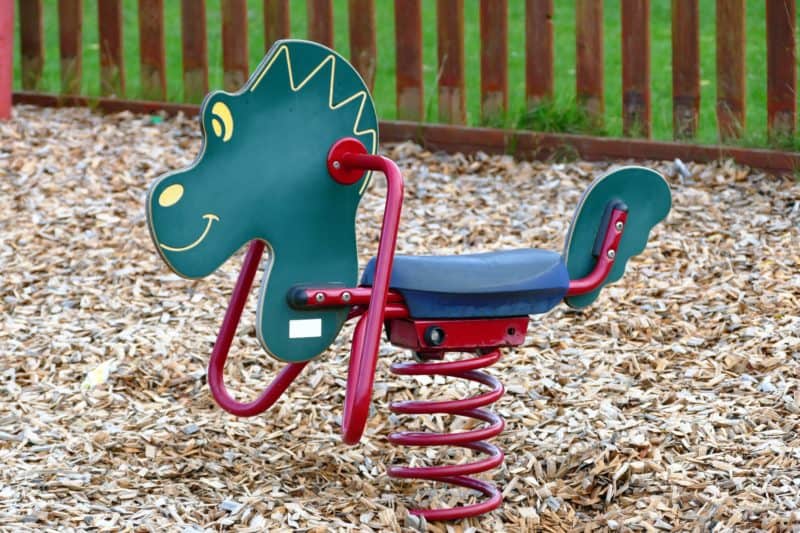 You should know that all children's playgrounds, including public playgrounds in England and Wales, are governed by a range of legal aspects that generally focus on safety.
Here are a few examples:
Standards (The BS EN 1176, BS 7188 and EN 1177)
Statute Law
Consumer Protection Act (1987)
Children Act (1989)
Reporting of Injuries, Diseases and Dangerous Occurrences Regulations 2013 (RIDDOR 2013)
Health and Safety at Work etc. Act (1974)
Management of Health and Safety at Work Regulations (1999)
Conclusion
We believe at Creative Play, children's public playgrounds should be safe to use. Please find more information on how we work together with organisations and companies to ensure the safety of public playgrounds. You'll also find that all our equipment is made in compliance, with all safety standards in mind.