Annoying Monsters – I wonder how they got their name?

Burping, screaming, farting, giggling and mimicking what you say – couldn't that just be the most annoying toy in the world? Of course it could, and it could also be one of the most well suited toys we have ever given to Curly. He is at that age (well has been for the last 5 years) where he thinks burps and farts are the most hilarious thing in the world (and yes we do tell him that it's not socially acceptable) but I have to admit these furry funny faced creatures are actually quite loveable too. With a name like Annoying Monsters you kind of know what you are getting before you open the packaging so be warned if 'annoying' doesn't fit well in your household.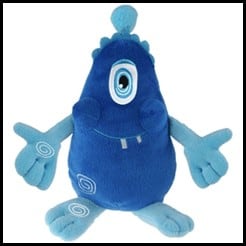 The Annoying Monsters have landed on earth with only mission, to annoy everyone they meet. We were sent Bothersome Boris who is actually a rather freakishly cute one-eyed monster with chubby cheeks and a goofy smile. His favourite meal is strawberries and cream (but only the rotten strawberries and 10-day old cream. He's a ticklish little dude who will laugh until he shakes if you tickle his foot.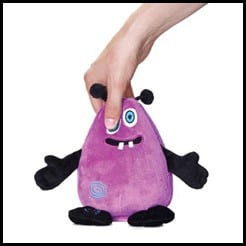 There are currently 6 monsters to choose from, each with 5 annoying functions and all you have to do is press the swirls or poke them in the eye to hear them. Annoying Monsters don't like to be left alone, they fall asleep and start snoring loudly when they feel like they have been ignored for too long.
As is the fashion with many new toys these days there is a great website to accompany the Annoying Monsters where you can paint your monsters, read stories about them, enter competitions, check up on the latest monster news and watch them and of course buy them.
What more reason do you need to buy one of these for the little sweetheart in your life, or even better for your favourite niece, nephew, godchild – basically a child that doesn't live in your house so you don't have to put up with the annoying behaviour 😉