Annabel's Kitchen DVD
Annabel's Kitchen is a TV series and now DVD too aimed at teaching children to cook and love healthy food. The fun characters capture the children's attention whilst at the same time bringing food into play. For someone like me who has had very little success in getting Little Bean to show interest in food, both eating and preparing, I'm hoping this DVD will provide a starting point for a new relationship with food.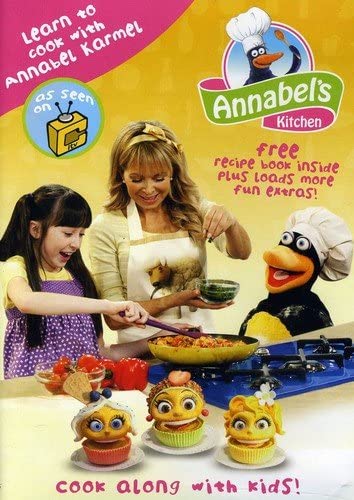 Immediately after watching one of the episodes, Little Bean asked if we could test our eggs to see if they were good or bad as it was an experiment she saw Annabel doing. I know she didn't get to eat them but it's a start as far as I'm concerned! She also took a liking to the melon pig so perhaps that is something we will try doing next. The idea is to make food fun, which I have tried before but sometimes the addition of characters such as Jimmy and Pearl can make all the difference.
Children love the characters Jimmy and Pearl, Jimmy creates crazy inventions like the vegetabliser which chops up the vegetables and then the food is placed into the Cookatron which is an instant oven cooking the meals in seconds! If only we could have one of those!!
Annabel's Kitchen DVD
Release date: 19th September 2011
RRP £19.99
Certificate: U
Also includes a 30 page cookery book