Additions Your Child's Bedroom Needs
If you're looking to make some improvements to your child's bedroom but you don't really know where to start, we're going to talk today about some of the ideas you might want to consider. Their bedroom is obviously important to them, so be sure to consult them on any ideas you have before you go ahead and implement them. But read on to get some inspiration first.
A Study Desk
First of all, you should consider installing a study desk in the room. If your child is starting to grow up and they have more homework to complete in the evenings before they go to bed, a study desk will be a must for them. It'll help them to get into the habit of studying and completing homework independently and in their own space. And that's something that'll only benefit them moving forward in their educational life.
Protection for the Flooring
A good rug is a must in the bedroom for a wide variety of reasons. In many cases, it's all about offering an extra layer of protection to the room's flooring. But it can also be about adding an extra layer of comfort to the room that might be missing. Both of those things are important in a child's bedroom. Kids tend to drop things and cause damage, so protecting expensive flooring is a good idea.
A Lamp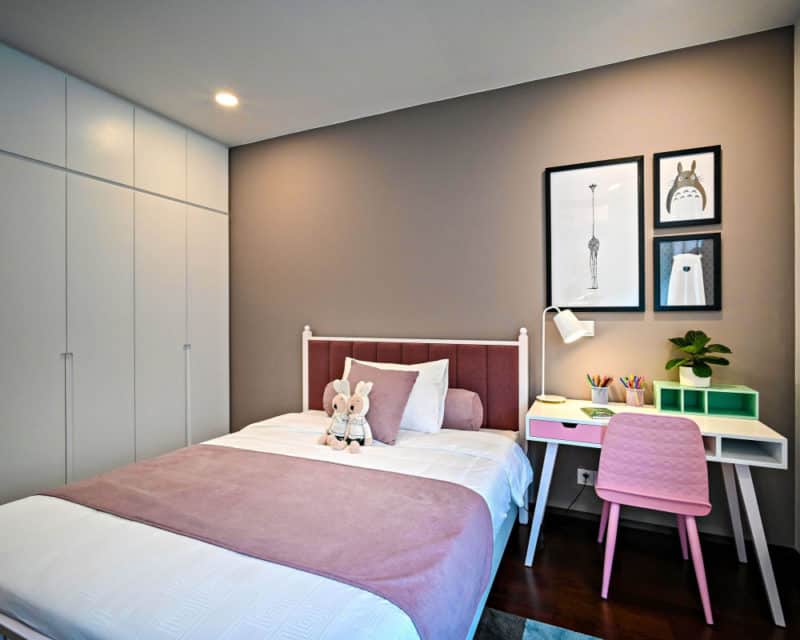 A good lamp will give the space more light and ensure the bedroom can be used functionally during dark evenings. If they're using their bedroom and their desk to complete homework or to read, they're going to need that source of artificial light when the sun goes down. So be sure to find a tall lamp that'll offer them that extra light source when they need it most. Every bedroom needs one.
Well-Stocked Bookshelves
As your child starts to get a little older, you'll want to make sure you're doing everything you can to encourage them to read. That's why you should install some bookshelves and make sure they're always well-stocked with reading material. They'll also bring better organisation to your child's bedroom, meaning books won't be left lying all over the room making the space look disorganised.
Toy Storage
Finally, you should think about finding the right toy storage in the room. If there's one thing that most children have plenty of; it's toys, and that means you end up with their bedrooms being full to bursting with them. You should be creative with the storage solutions and find ways to ensure the bedroom doesn't become too overwhelmed with clutter and old toys that are no longer played with.
Each of these additions will help you to add something important and useful to your child's bedroom. Be sure to work with them to make these changes and respect that this is their private space as well so you should always tread carefully. But if you work together, you should be able to create a space that works for them.