A Weekend at YHA Boggle Hole
Disclaimer: We were given a complimentary stay at YHA Boggle Hole for the purpose of this review. All words, images and opinions are my own and may not be copied without my permission.
YHA Boggle Hole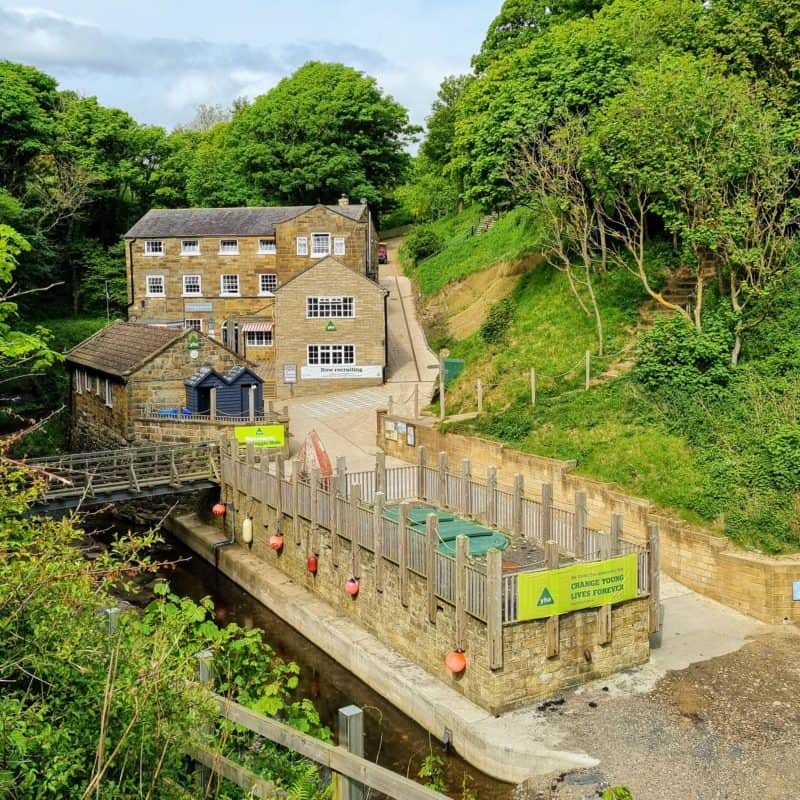 YHA Boggle Hole can be found nestled in a smuggler's cove just half a mile from Robin Hood's Bay in North Yorkshire and is full of charm and character. The main building is an old mill offering beautiful sea views, treasure trails and woodland perfect for a bit of exploration. We fell in love with Boggle Hole and did not want to leave!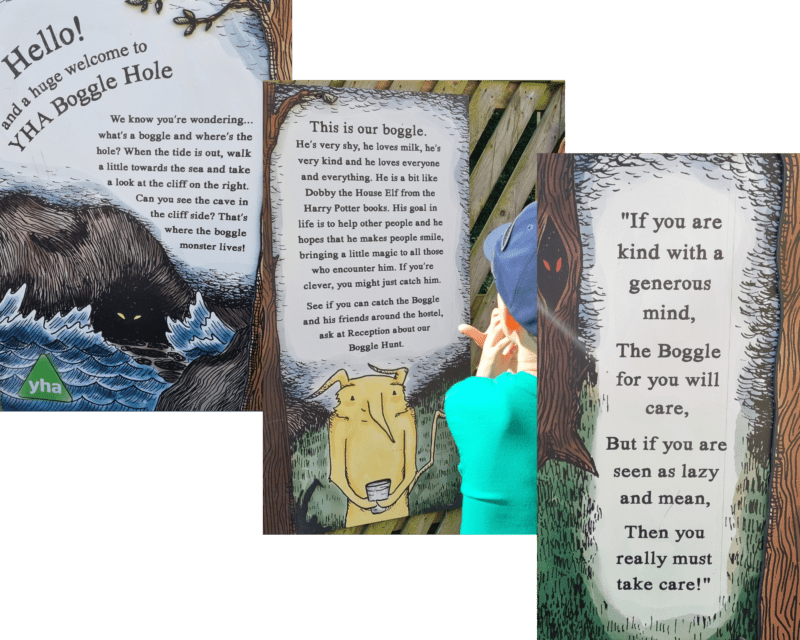 It is named Boggle Hole because there is a Hole in the cliff face at the entrance to the cove which legend states is inhabited by Boggles or Goblins which are said to haunt the Cove. It isn't frightening for little ones, Albie loved it and it was the highlight of his stay being able to get out to the Boggle Hole was the tide was out.
Why we chose YHA Boggle Hole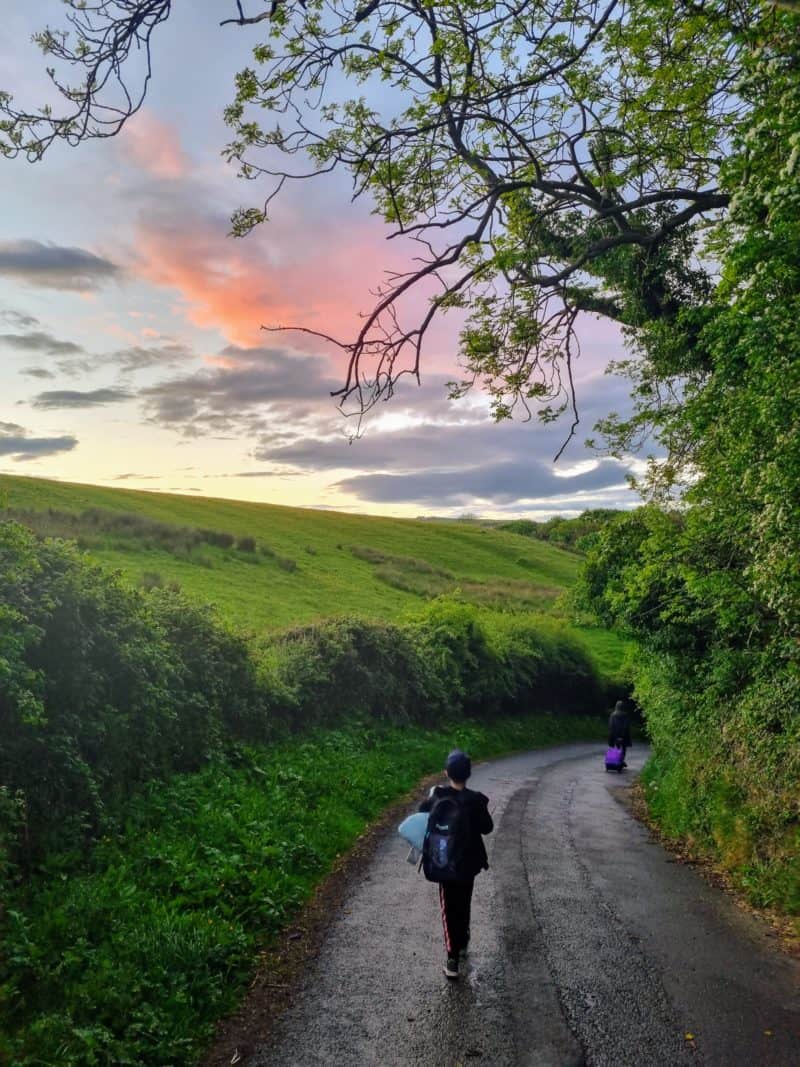 Despite having visited many areas in the UK, North Yorkshire is probably the one we have explored the least. When we were invited to stay with YHA we looked through the options available and the children instantly loved the look of Boggle Hole (and I think the name helped too – it certainly sounds intriguing).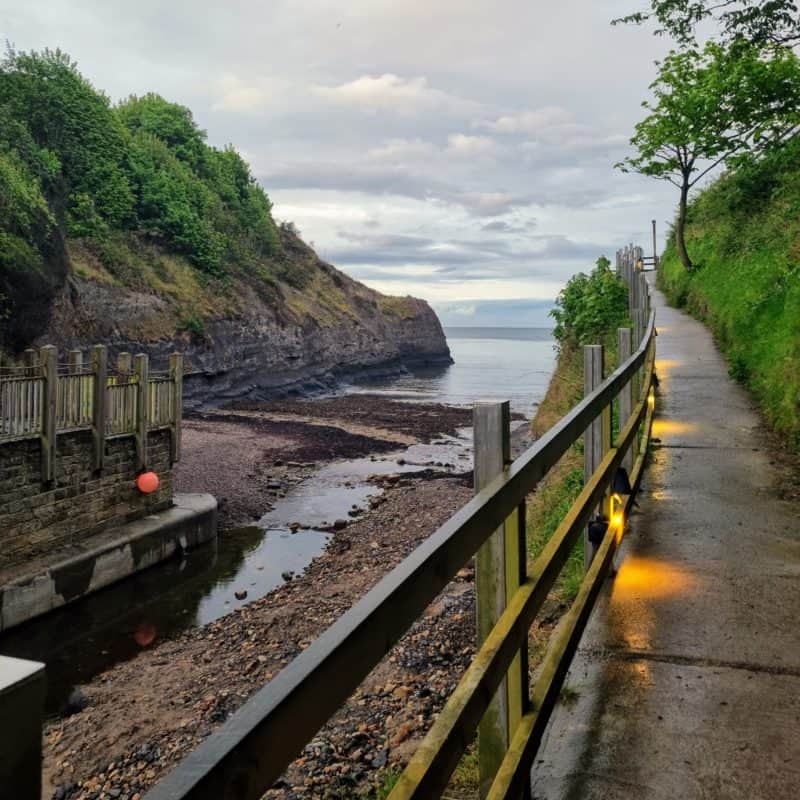 We arrived around 8 pm just as the sun was setting to see beautiful pink skies over the sea. Since Boggle Hole is situated down in a cove, the car park is approximately 500m from the YHA. The walk down was exciting as we began to see glimpses of the beach and the sea beyond.
The theme is very nautical (kids read this as a pirate-themed and that was fine by me). The main cafe is called the Quarterdeck Cafe, the breakfast room was The Brig, our lodgings were at the top of the cove on the far side named The Crow's Nest and so on. This really added to the magic for the children as well as the decor throughout the Old Mill.
Checking In
On arrival, we were greeted by the super-friendly receptionist who quickly and efficiently checked us in and explained how to get to our room in the Crow's Nest. Her instructions of the 'just up the concrete steps' didn't quite prepare us for the trek but we looked on the bright side and figured we would be much fitter by the end of our stay. It's worth noting there is a ramp to the Crow's Nest too so it is suitable for families with pushchairs.
Family Accommodation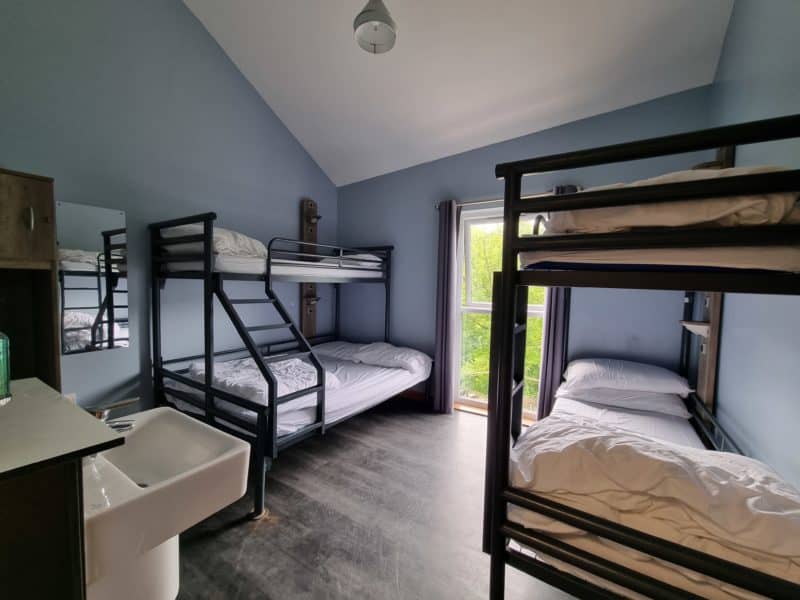 We were staying in a family room for five people. This included a double bed with a single bunk over and a standard bunk bed. Each bed is made up of a single pillow, bed sheet and duvet. I wouldn't say the mattresses are the most luxurious, we did find them a little too hard for the metal mesh underneath but we were so tired from our adventures that we all slept well regardless.
There are two lockable cupboards in the room (you need to take your own padlock for this), a sink with a mirror over it, a full-length mirror and hanging hooks on the wall for coats, towels and/or clothes. We chose to live out of our suitcases which were easy to store under the bed leaving the floor space free.
Crow's Nest Facilities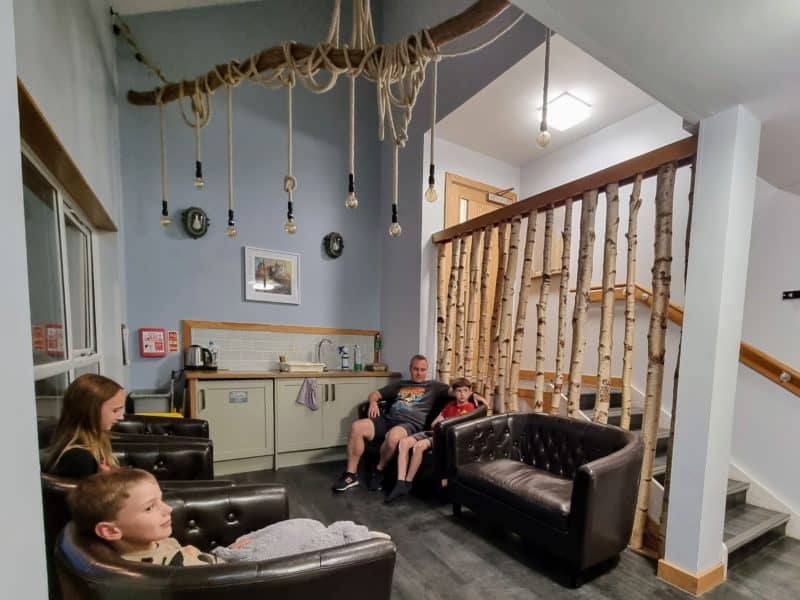 The Crow's Nest is separated in the middle by a self-catering kitchen where you can make tea/coffee and relax. Entrance to the building and to the accommodation and bedrooms on either side is via a digital keycard. There is also a drying room situated off the kitchen area.
There are two showers and two toilets to share between four bedrooms. Despite the Crow's Nest being full during our stay, we never had to queue for a toilet or shower. They were always extremely clean and fresh.
Self-Catering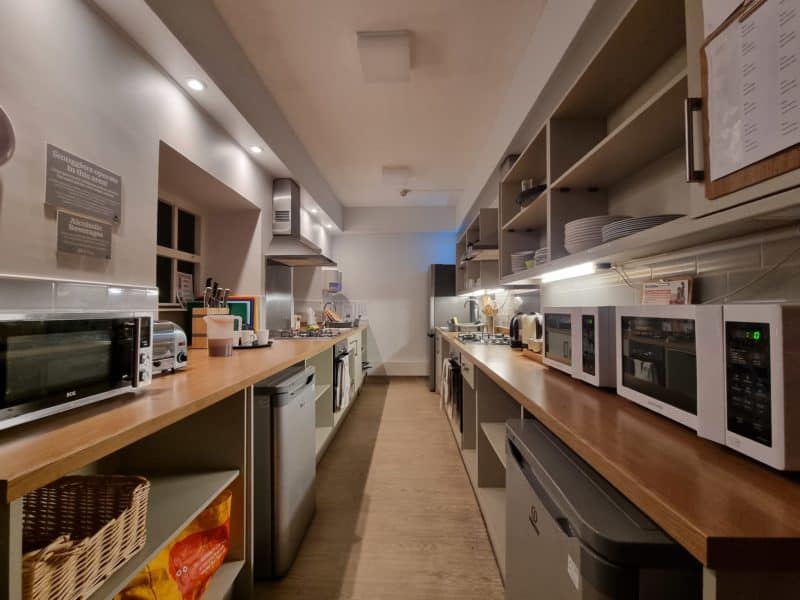 Situated just off The Quarterdeck Cafe in the main building is a fully functioning self-catering kitchen equipped with two cooker/ovens, two microwaves, fridge/freezers, kettle and fully stocked shelves of cups, plates, bowls, jugs, pots/pans, cutlery and cooking utensils. Guests are required to wash and put away anything they use during their stay so that the kitchen is always ready for the next guest to use.
Having the option to use self-catering is perfect for families and guests who are looking to keep their expenses down. We chose to split our meals between eating in the Quarterdeck and The Brig and self-catering for the full experience.
Dinner at The Quarterdeck Cafe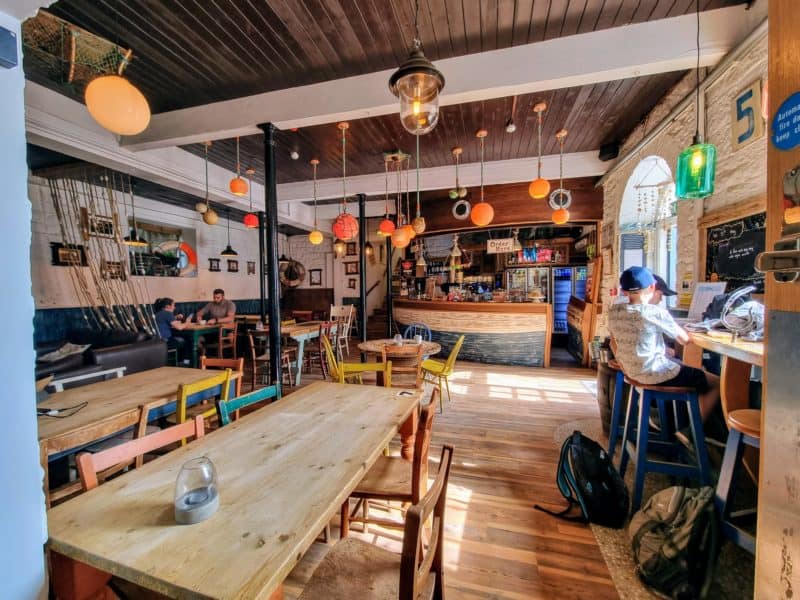 After a full day exploring Whitby and Robin Hood's Bay, we were too exhausted to contemplate cooking so we opted to eat in the Quarterdeck Cafe. What an awesome decision this was, the food was delicious and affordably priced. It's worth noting that children under 10 eat free at YHA.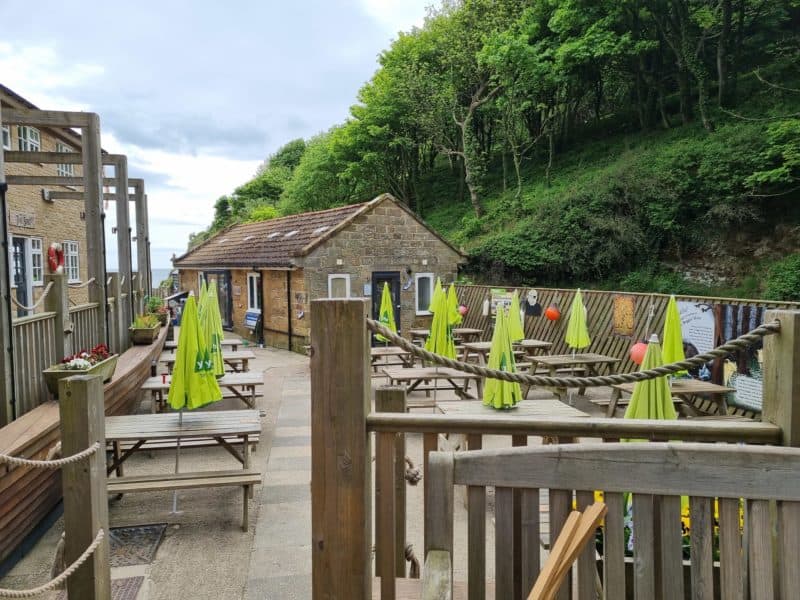 Simon and I both chose the Lasagne which was a mouth-watering home-cooked lasagne served with salad and garlic bread, it was soo good we could have eaten it twice. Ollie chose sausages and chips (the menu is sausage and mash but Ollie asked if he could switch to chips and they were happy to accommodate). Lillie and Albie both chose pizza but in hindsight, we could have ordered them one between the two as the portion sizes were so good. They were able to provide us with a pizza box so that was Simon's lunch sorted for the following day!
Breakfast in The Brig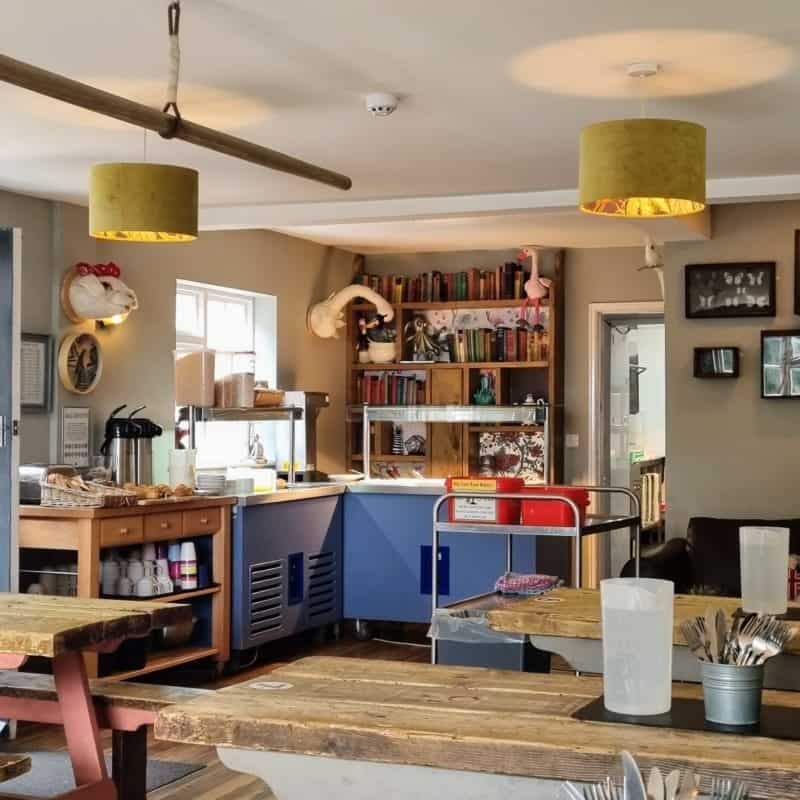 Breakfast needs to be booked the evening before and is £9.95 for adults. We both had a cooked breakfast, whilst the children opted for continental (apart from Ollie who couldn't resist more sausages). The Brig is a cosy room filled with long tables and benches. You can make your own toast and help yourself to pastries, cereals and juices. Our breakfast really helped to set us up for the day of adventure ahead.
Evenings at YHA Boggle Hole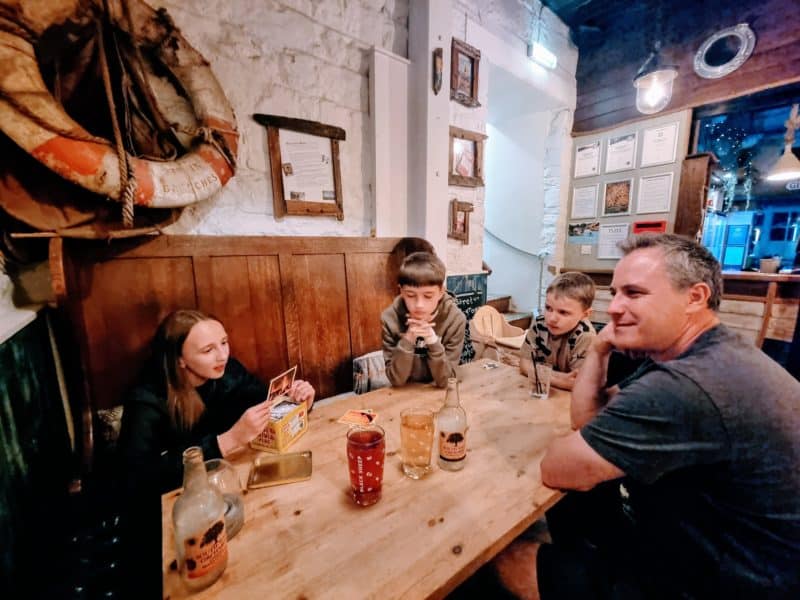 After we had finished our evening meal, the children raided the games area to find family games we could play together. After a few rounds of Dobble, Uno and Pick-Up Sticks a family we had seen a few times throughout the day asked if our children would like to join their children for some games. They all jumped at the opportunity, whilst we moved to sit with their parents to enjoy a relaxing drink.
Book your next break at YHA Boggle Hole here.
The lady behind the bar even commented "this looks like a picture-perfect magazine cover, the children are over there playing together nicely whilst the parents are relaxing with a drink". It was the perfect evening and something which we have found to be really nice about staying at the YHA. It provides you with the opportunity to mix with other people or keep to yourselves if you so wish.
Things to Do near YHA Boggle Hole
Top of our list when we made plans to stay at Boggle Hole was a trip to Whitby which was a short car journey away. We chose to park in the Abbey Car park at the top of the hill so that we could walk down the 199 Steps into Whitby.
Whitby Abbey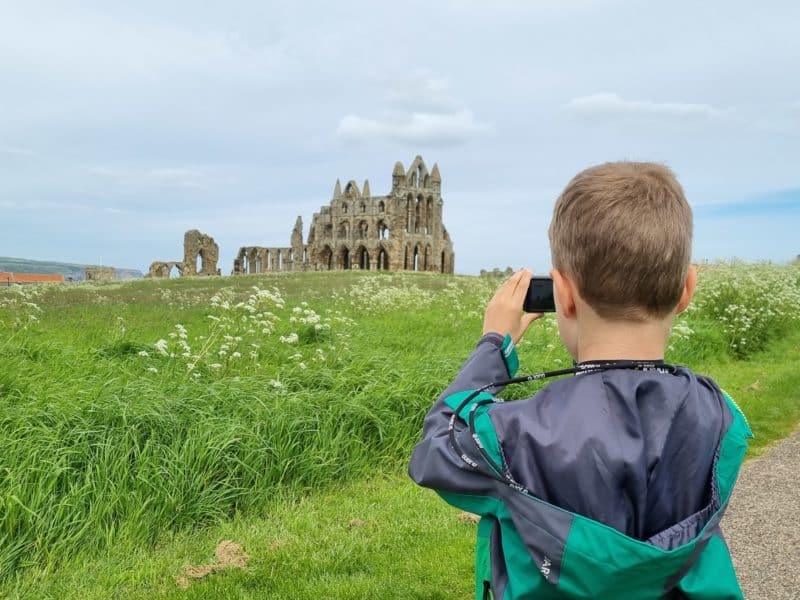 We visited Whitby Abbey which costs £29 for a family of 5 if you book online at least 24 hours before your visit. We loved exploring Whitby Abbey and listening to the interesting history on the audio tour which is included in your entry ticket.
Walk to Robin Hood's Bay Via Coastal Path or Beach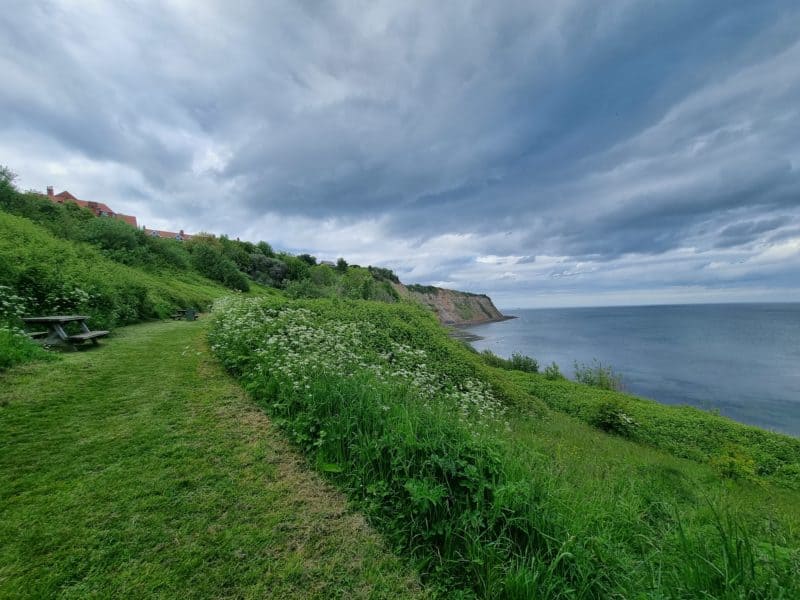 There is a footpath which takes you up a flight of stairs near the end of The Brig towards Robin Hood's Bay. The path is approximately half a mile and offers stunning views of the sea. It is worth mentioning that there is one section of the path which is very close to the end of a crumbling section but the fence has been moved back and new paving added. Just keep a close eye on little ones and don't let them run ahead.
We walked to Robin Hood's Bay in the morning whilst the tide was in, spent a few hours looking around the shops in Robin Hood's Bay and then had a slow walk back along the beach when the tide was out searching for Whitby Jet, Sea Glass and any other treasures we could find.
The staff at Boggle Hole warned us that if our plan was to walk back we needed to leave at least three hours before high tide as the Boggle Hole gets cut off before the rest of the beach.
Free Museums in Whitby and Robin Hood's Bay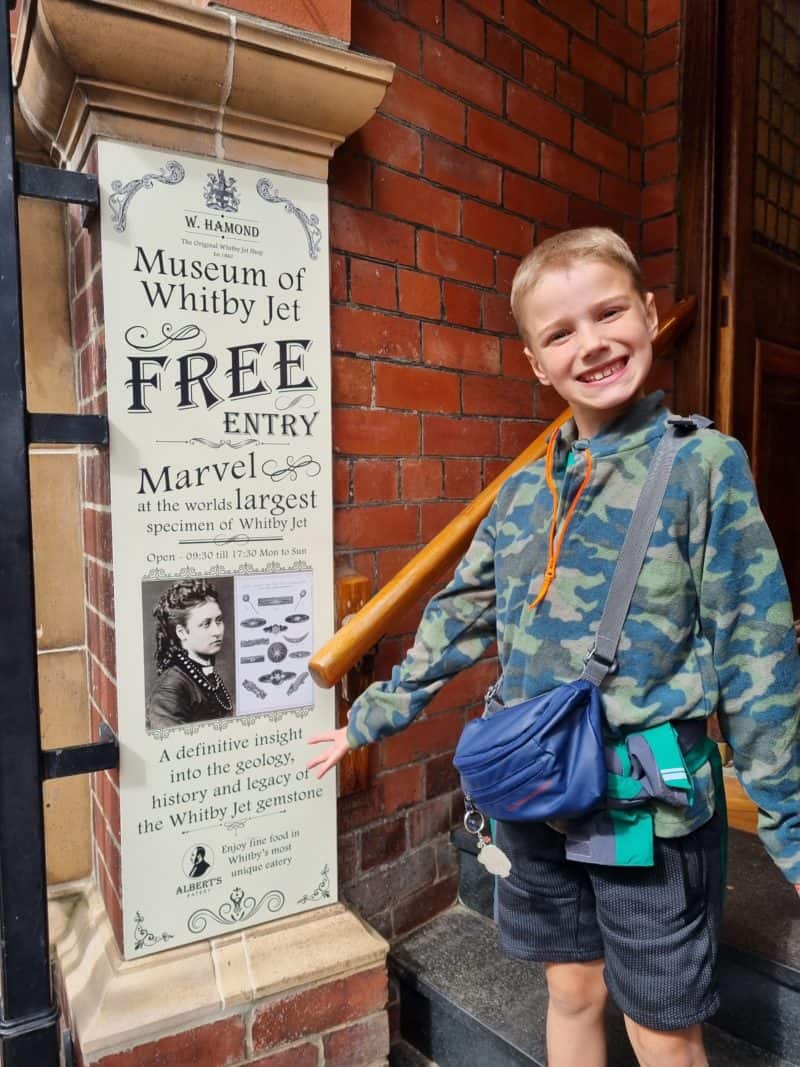 We found two free museums during our stay. In Whitby, there is the Museum of Whitby Jet which details the geology, legacy and history of Whitby Jet. We were lucky enough to find a few specimens of it on the beach.
I spotted a lady searching and asked her if she was looking for the jet. She said that she made silver and jet jewellery so showed us where to look and how to tell if it is jet or not by rubbing it on a white stone. If it leaves a brown streak then it is Whitby Jet.
Yorkshire Coast Dinosaur and Fossil Museum, Robin Hood's Bay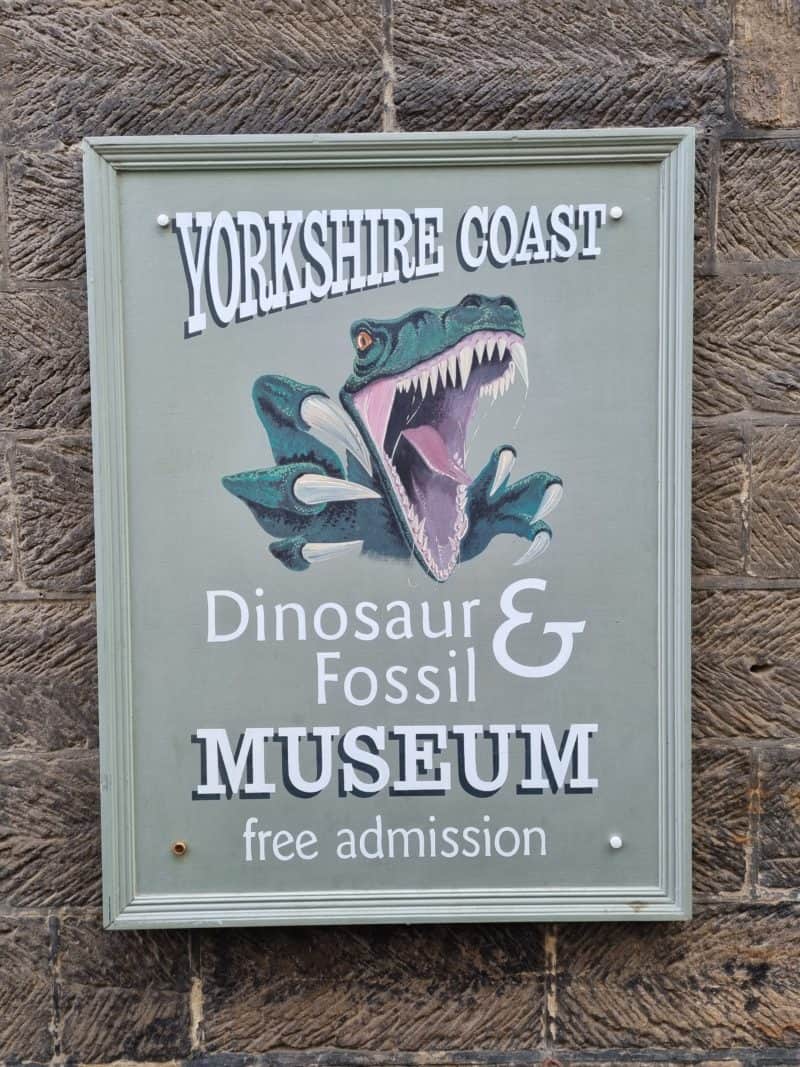 The Beans loved visiting the Dinosaur and Fossil museum as they were able to see dinosaur skulls and bones and spend their money on lots of lovely crystals too.
We had the best time staying at YHA Boggle Hole, it was only for two nights but we all commented on the way home how we felt like we had been away for a week. Despite all the hills and the steps, it was such a relaxing and fun time to reconnect as a family. They certainly haven't seen the last of us, YHA Boggle Hole has been added to our list of happy places!!
Check out our previous trip to YHA Stratford-upon-Avon too!