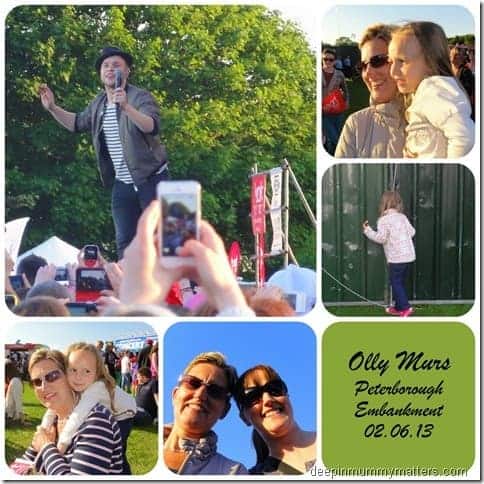 A girl's night out at Olly Murs Concert!
Last weekend before we made our way down south for our holiday in Bognor Regis, I was supposed to be spending my Sunday evening with my cousin and her daughter on Peterborough Embankment for the Olly Murs concert. M had bought my ticket as a birthday present to me. Unfortunately they were both struck down really ill and couldn't come. Keen to not let the tickets to go to waste my lovely cousin suggested that I take Little Bean as a treat for her birthday and my Mum too. Little Bean was beyond excited as we set off in the car. We arrived just as one of the support acts, Tich, was performing and to our great luck the sun was shining (a bit of luck for an outdoor concert).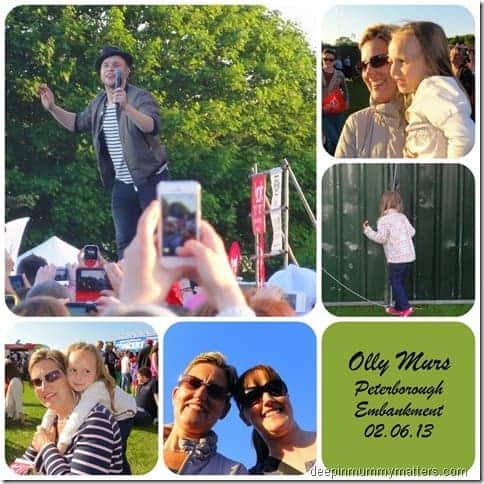 We had a really fun time, although Diana Vickers was a bit disappointing. She just didn't seem to be able to motivate the crowd very much. Olly on the other hand didn't disappoint at all, he was ever the charmer and a brilliant showman. Little Bean LOVED him, she danced and sang along to more songs than I realised she knew. Unfortunately the evening ran over a little and was a bit late for her so her behaviour started to dwindle and so we left half way through his last song, Troublemaker.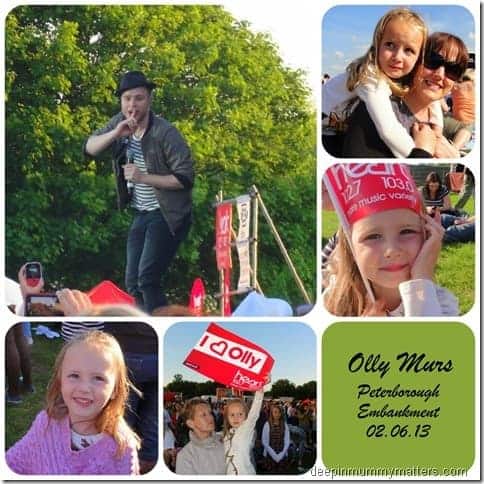 I do have one complaint about these events though, why do the refreshment stalls have to be so flipping expensive? Little Bean asked if she could have some chicken nuggets and chips, I couldn't believe my eyes when I saw it would be £6.50!!!!! Is there really any need to charge those sort of prices, surely they would sell more if they lowered their prices a little, they do have a captive audience at the end of the day?
Message to M: I am so sorry that you were both poorly but thank you for giving Little Bean and Mum your tickets, we had a brilliant evening and you were very much missed xx