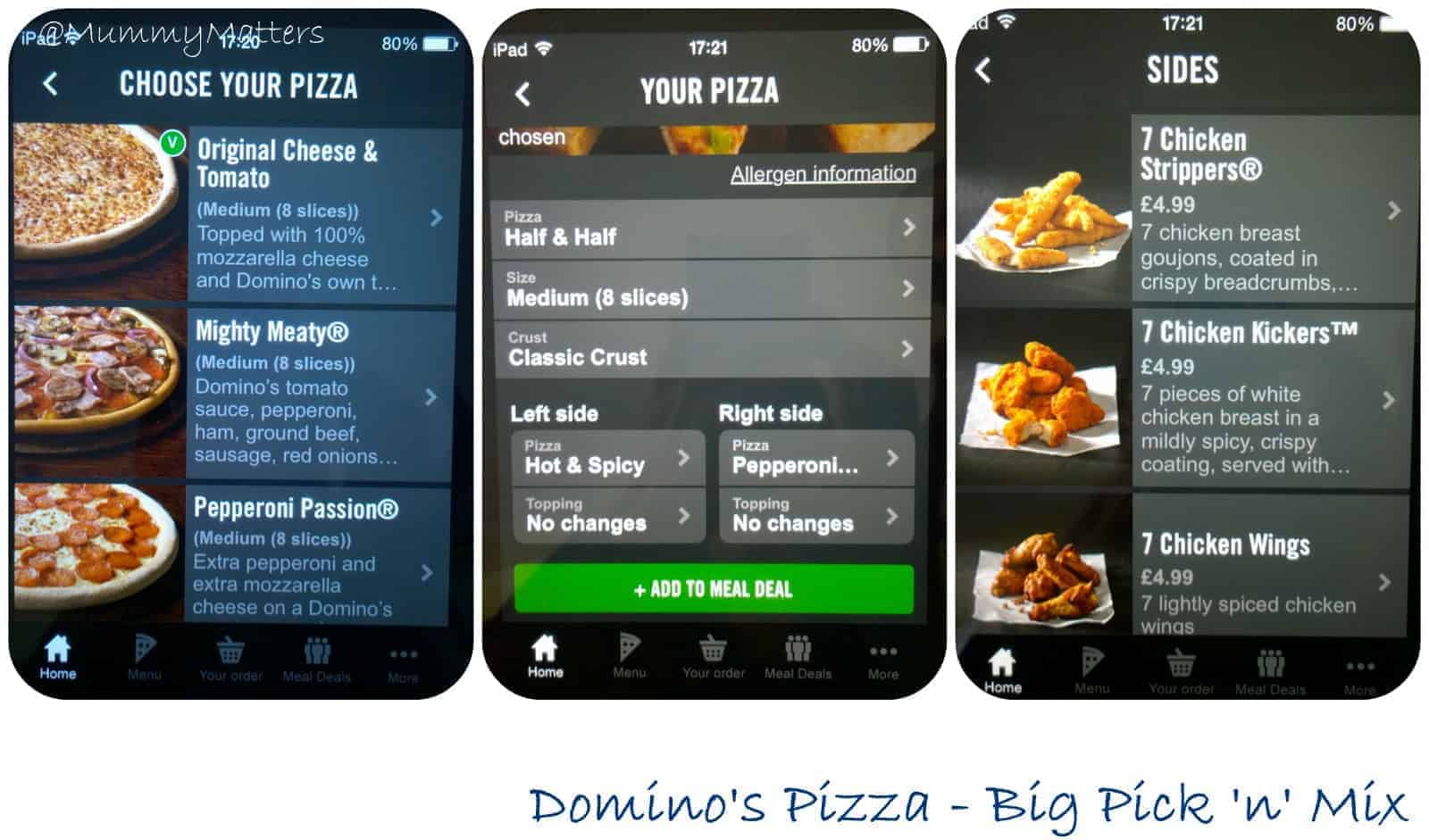 A family carpet-picnic with Domino's Pizza
It's no secret that we are fans of pizza, its the one meal that we can enjoy all together because EVERYONE loves it. Last Sunday after a busy day doing jobs, attending parties and playing outside we decided to finish off with a family carpet picnic from Domino's Pizza. I've heard of Domino's for years but have never actually tried one as we don't have one in our town. Domino's Pizza asked if we would be interested in giving them a whirl so we put them to the test using the iPad app.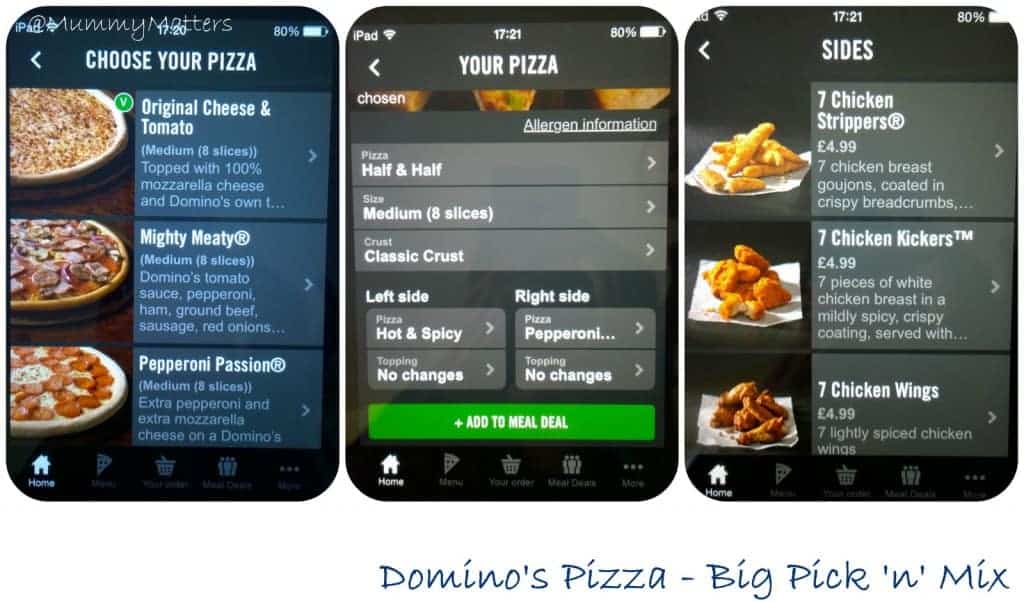 Unfortunately we are too far for delivery so our order was collect only. Placing the order on the app was SO easy, just a quick tap on each of the options you wanted and the orders was placed in the shopping basket ready for checkout. We opted for a Big Pick 'n' Mix which comes in at £24.99 and consists of:
1 Large Pizza
1 Medium Pizza
1 Chicken Side
1 Sumptuous Side
2 x 500ml bottles of drink
There are various pizza base options to choose from and we particularly liked the half and half as it means that everyone can have something they like. They also offered some yummy stuffed crusts but the Beans didn't fancy that this time. We chose 1 large Cheese and Tomato, 1 large Half and Half with Hot 'n' Spicy/Pepperoni, Chicken Strippers and a side of Nachos.
Using the app there is also a place to add any voucher codes you may have so be sure to check out on their blog for money saving vouchers. Once the order had been placed the App on the iPad told us as each stage of the process was complete which we were pleased to see started immediately after our order had been finalised. Our nearest Domino's Pizza is only a 5-10 minute drive so we set off straight away and actually received a phone call whilst on the way to say that our order was ready for collection. In short our order was placed, collected and laid out on our lounge floor within 35 minutes which I think is pretty impressive!!
The proof, they say, is in the eating . . .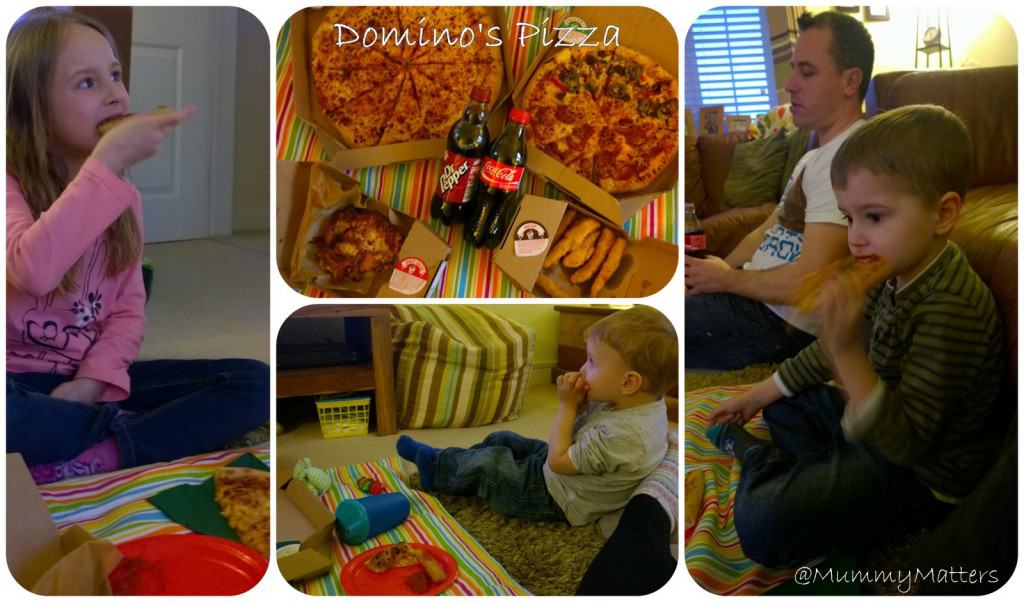 We devoured every single scrap of food and felt suitably full at the end of it. Nobody asked for dessert but they did say they could happily eat it all again and it made for a lovely experience all sitting together casually on the lounge floor. The Beans loved it that's for sure.
If I had to pick one negative from the deal I would have to say that Hubby and I were both disappointed with the size of the bottles of drink for a 'big family' pick 'n' mix. It only provided a small glass each for our family of five and it Curly had been here then we would definitely have needed to order extra food/drink. For 2 adults and 3 little people though, it was pretty spot on and we would definitely consider ordering from Domino's Pizza again as it was deliciously satisfying.
DISCLAIMER: We are being refunded for our order in exchange for an honest review of their food and service. All words, images and opinions are my own and may not be copied without my permission.