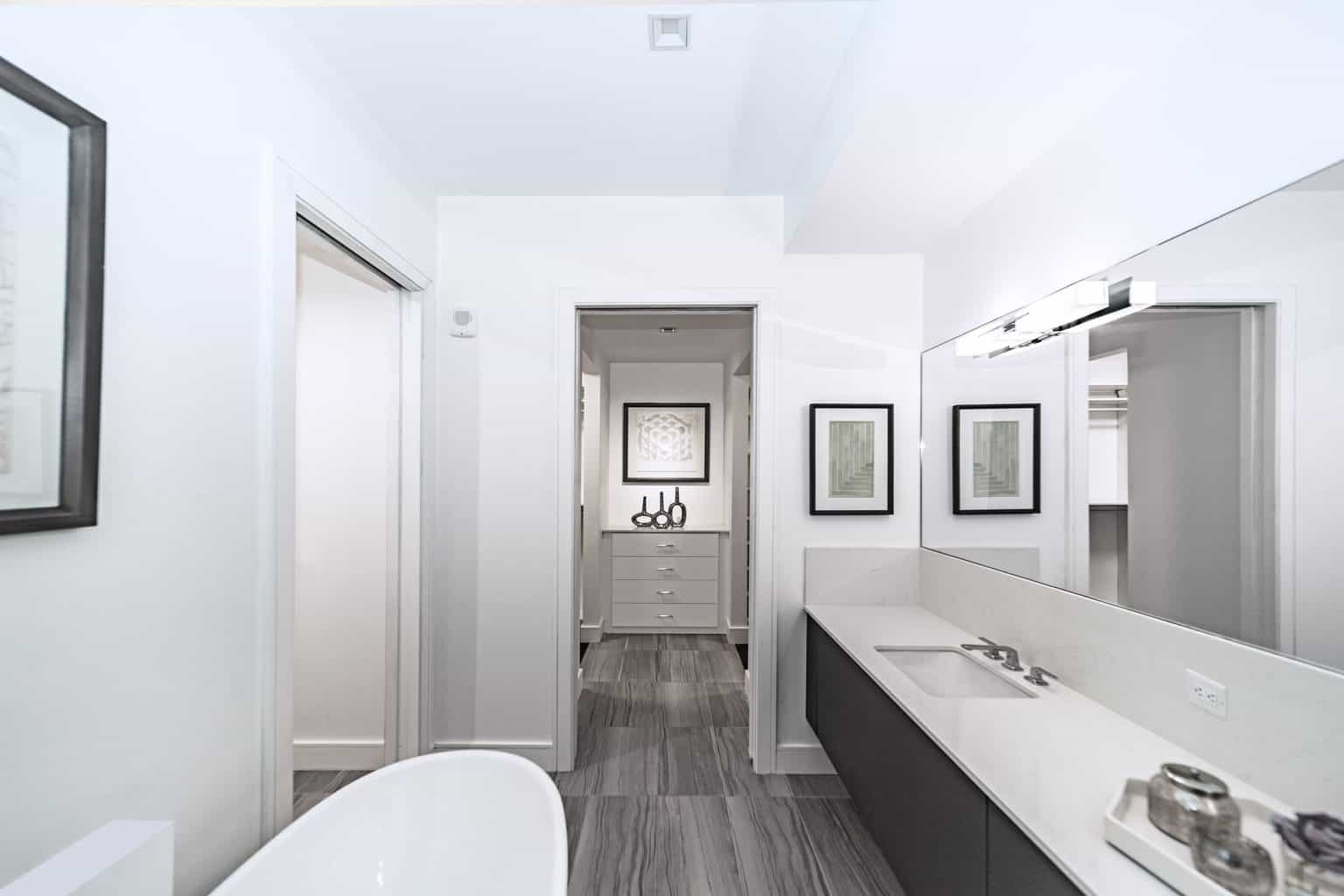 7 Tips to Add a More Glamourous Touch to Your Bathroom Design
Are you bored with your bathroom's simple look? Are you looking for a design that will impress all your friends and visitors? Do you wish to add a bit of glamour into your home? If the answer to all these questions is yes, you might be in need of a bathroom renovation. While completely redoing your bathroom usually requires a bigger budget, you can also make this space more glamourous using some easy and affordable decorating hacks. Keep on reading for some useful tips on glamorous bathroom design.
1. Change the colour palette
While we all know how fun colourful bathroom can be, the colour could also be what is taking away from the glamour of the space. Shades that are too bright and vivid often can't help us relax and this is exactly what we should do in a bathroom. So, instead of extravagant patterns and flashy greens, you should consider introducing a subdued palette. No one is saying that you need to stick only to off-white hues (even though that is an option) – you can introduce all sorts of colours and patterns, they just need to be calming and elegant. For instance, black, navy blue and deep purple can all look amazing but what you need to do is use them in moderation. Furthermore, greys, beiges and even soft pinks can all look amazing.
2. Replace the tiles and wallpaper
Changing the colour palette can be achieved by repainting the walls or introducing some coloured fixtures but you can also choose to replace the tiles in the bathroom. By getting tiles in a dark hue for your floor, you can make space look much more glamourous. You can also replace your wall tiles or choose to have only one wall – let's say, the one where your shower or bathtub is – covered in an eye-catching tile pattern. When it comes to patterns, you can also implement some cute wallpapers that will give the whole room a completely new feel, regardless of whether you opt for floral or geometrical prints with a metallic accent. What is more, wallpapers are easy to swap out so you can change the look as often as you please.
3. Opt for more luxurious looking details
We mentioned earlier that there is no need for a complete renovation when you want to add a touch of glamour into the bathroom. The best way to do so is to focus on the details. For example, with such a wide variety of elegant bathroom accessories, it's easy to replace your old ones and get something that will match your new aesthetic. From marble and charcoal toilet roll holders to soap dispensers and tumblers in a bluish hue, the accessories you can turn to are truly numerous. Then, a nice plush rug can make the space more cosy and homey while soft towels will make you feel like royalty when you get out of the shower. Finally, the finishes you go for will also play a big role in making the room more glamourous – from the handles on your cabinets through the faucets all the way to the lighting options, a nice sleek finish like brass, chrome or rose gold will really tie the room together.
In addition to cosmetic changes, consider updates to make your bathroom more efficient and functional. For example, switch to bathroom fixtures that are not only aesthetically pleasing but also water saving. If you're planning to do a bigger upgrade, like installing a new sink or shower, think about adding a high-performance greywater pump for more efficient design and use of space in the bathroom. When it comes to home updates, always remember to think of efficiency, cost-effectiveness, and the environmental impact of your upgrades to make the most of your time, money, and energy.
4. Install elegant fixtures
On the other hand, if you have a bigger budget at your disposal, you can also choose to replace all your fixtures with newer models. For instance, adding a freestanding clawfoot tub that will act as a focal point of the bathroom design is a great choice, especially seeing as how they come in all sorts of styles, materials and finishes which means that you can choose a hue that fits in perfectly with the rest of the room. Then, you can also split your bathroom into a wet area and a dry area which is all the rage now. By doing this, the whole bathroom will be much easier to clean and it will look much more sophisticated as well. Lastly, you can consider floating elements that will make the room appear much more spacious. For example, mounting the toilet and the vanity on the wall will allow you to show off your amazing flooring option.
5. Introduce stunning mirrors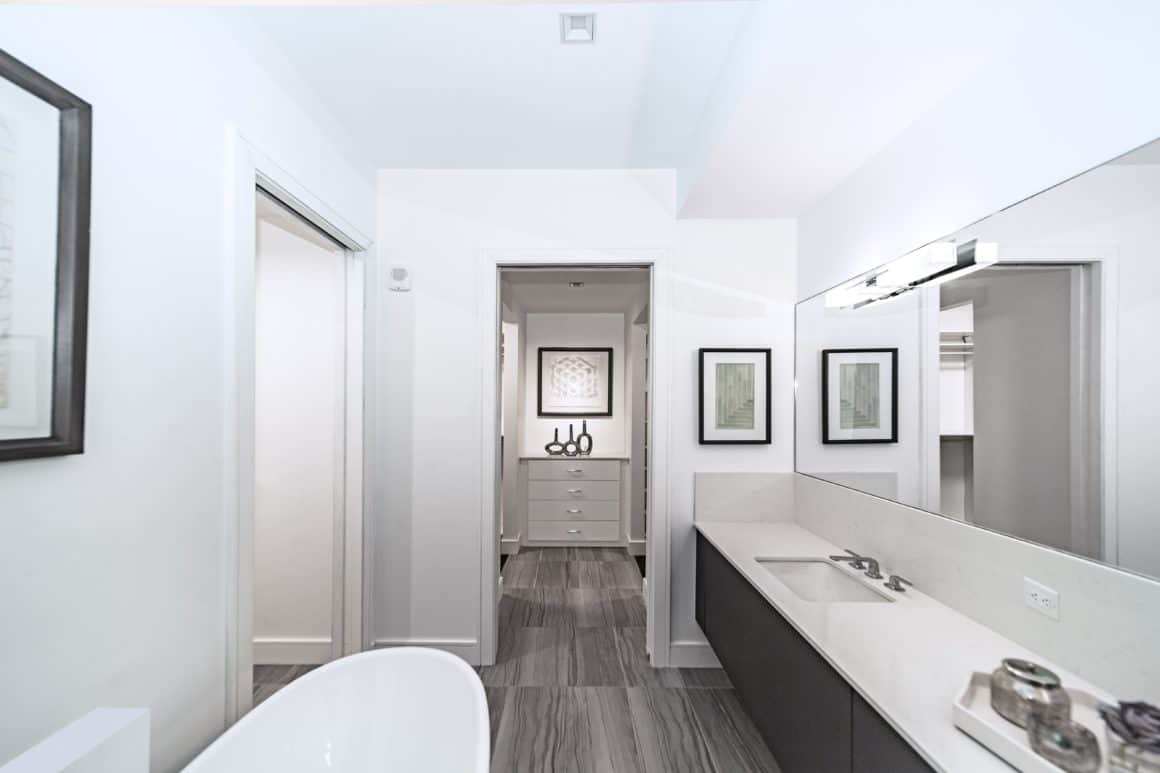 Mirrors can be considered details but they are such a crucial part of the bathroom design that you simply have to devote enough attention. First of all, think about how many you need and how big they should be. Then, the placement is also important if you have a small bathroom as that can create an illusion of a bigger space. Finally, what you need to think about is the frame. While the mirrors you add to your bathroom can be frameless, you can also opt for ornate frames that will boost the glamourous vibe of the room. So if you need a framed mirror, you can have the frames match the other details or you can turn the mirrors into a centrepiece.
6. Add interesting plants
Something else that will add a touch of glamour to your bathroom plants. The great thing here is that you can easily find plants that thrive in the bathroom environment, from the snake plant and bamboo to orchids and bromeliads. In addition to the health benefits, the way you choose to present them can also improve the overall look of the space. For example, you can use stunning planters that match the rest of your colour palette.
7. Get rid of the clutter
Finally, the most important piece of advice we can give you is that you need to get rid of the clutter in your bathroom. No room looks good when it's messy and the same goes for the bathroom. So, get rid of all the things you don't need. Go through your products and throw away those that are expired or you no longer use. Sift through your towels and toss those that are ripped or worn-out. If anything is broken or chipped, look into your options for replacing it. Lastly, clean it regularly to ensure its beauty gets to shine through.
These seven tips will surely help bring some glamour into your bathroom design. Pick those that fit your budget, needs and aesthetic and you will not make the wrong choice.