4 Bathroom Design Trends That Are Hot In 2023
In Tampa, Florida, where contemporary living meets coastal charm, many homeowners are gravitating toward cutting-edge bathroom designs that can elevate their lifestyles and property values. According to 5estimates.com, it can cost you between $6,500 and $37,500 to remodel your bathroom in Tampa, based on your requirements, with bathtubs costing around $701 to $2,944, depending on the type you choose. Similarly, a shower upgrade can cost around $3,503 to $15,988. If you opt for a shower-tub combo, it will cost more.
Bathroom Design Trends
Once you have a clear idea of the average costs of bathroom remodeling projects in Tampa, you can choose the latest trends, styles, and designs according to your budget. However, let us dig into the latest bathroom design trends in 2023 so that you can plan your project accordingly.
1. Walk-In Showers
Combine comfort with luxury with the latest trend of walk-in showers. They offer an exclusive blend of functionality and elegance. You can choose among various styles, designs, patterns, and colors according to your space and budget and hire a custom bathroom remodeling company in Tampa to ensure high-quality services. Moreover, walk-in showers allow homeowners to create space tailored to their unique needs and preferences.
Eliminating the barriers of traditional showers and introducing seamless walk-in showers enhance the bathroom's overall visual appeal and provide a sense of spaciousness. From strategically placed showerheads to sleek glass enclosures, these showers provide an oasis-like experience.
The popularity of walk-in showers will increase by 2% annually in the near future as it makes the bathroom appear 25% larger, as per a Bathroom Trends Study by Houzz.
2. Removing Oversized Bathtubs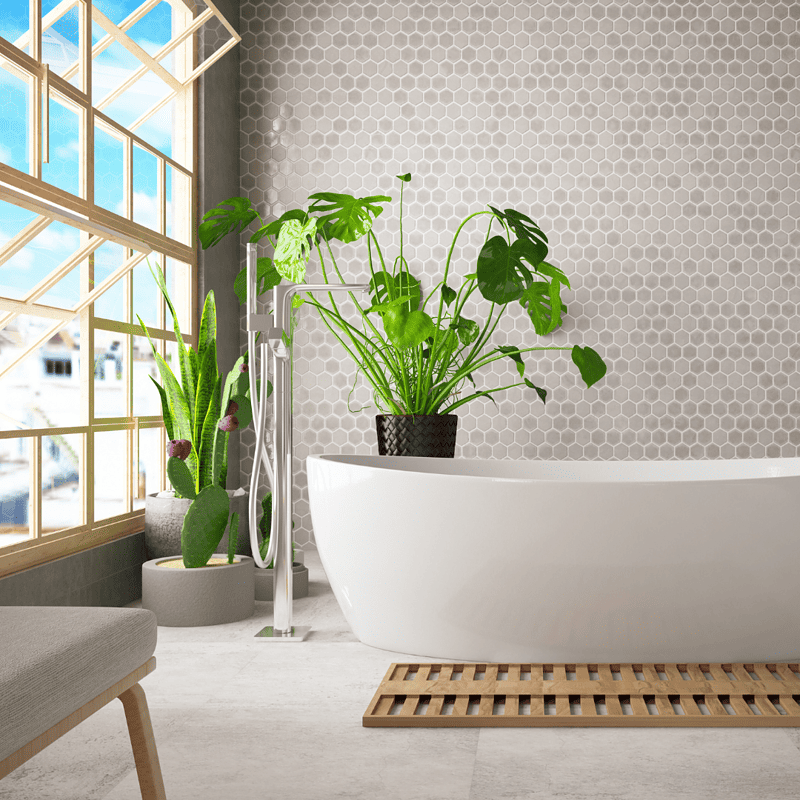 Oversized bathtubs are now a thing of the past. Homeowners in Tampa and beyond are now opting for a combination of shower and bath, expanded shower space, or bathroom linen closets.
Another reason for this trend is that homeowners with smaller homes or apartments find it hard to fit huge bathtubs, which they seldom use. A 2017 US House Bathroom Trends Study found that 27% of homeowners always decided to remove the master bathtub in their new home to make room for a bigger shower with walk-in and rain-like shower capabilities. Interestingly, 78% of the homeowners removed the master bathtub despite not having any other bathtub in the house.
Moreover, homeowners can reclaim valuable square footage, which allows them to experiment with more modern designs and functionality features and personalize their bathroom experience. With the help of a custom bathroom design company, there are many ways you can optimize the use of extra space while enhancing functionality and aesthetics.
3. Spa Inspiration
The spa-like bathroom experience is unlike any other, which is why it is an increasingly popular design trend of 2023.
This trend goes beyond mere aesthetics. It incorporates elements that promote rejuvenation, relaxation, serenity, and well-being. Using natural materials such as stone, bamboo, and wood creates a soothing and organic ambience for those who love to indulge in the charms of nature. At the same time, incorporating soft lights and calming color palettes promote a sense of tranquillity and peace.
Having a spa-like bathroom can elevate your daily routine to a whole new level. Heated towel racks with rainfall showers and a deep soaking tub surrounded by scented candles and soft music are enough to recharge you for the entire week, especially for those with high-stress work environments and challenging careers.
Moreover, steam showers with built-in benches with smart home technology features such as temperature, lighting, and music sound control create the possibility of infusing spa-like elements into your bathroom. They help you prioritize self-care and make it easy to relax by taking you into a personal sanctuary.
4. Sustainable Bathrooms
With the increasing concern about environmental hazards and carbon footprints, energy-efficient bathroom designs will be an important consideration for homeowners in 2023. By incorporating eco-friendly materials and practices, homeowners also find this a way to reduce costs while enjoying all the benefits of a modern bathroom.
However, sustainable bathrooms are about more than just energy-efficient fixtures. It is a comprehensive concept encompassing water conservation, waste reduction, energy usage, and materials sourcing. From small to substantial changes, there are many ways to upgrade your bathroom to incorporate sustainability.
Low-flow faucets, showerheads, and toilets are water-saving fixtures that can curtail water usage without sacrificing performance and functionality. They're now becoming increasingly common, especially with the rising costs of utilities. Opting for smart water monitoring systems that can optimize water usage by managing usage patterns and displaying real-time usage stats can help control the water you use.
Another element of eco-friendly sustainable bathrooms is the choice of sustainable materials. You can reduce waste while lowering the cost of the materials by choosing repurposed or recycled materials like reclaimed wood and recycled glass surfaces. Furthermore, there are also eco-friendly floor materials that you can go for, like cork or bamboo, that are biodegradable and renewable and have a minimal environmental impact.
Energy efficiency completes a sustainable bathroom. Opt for LED lighting that consumes less energy and works longer than regular lighting. Radiant floor heating systems or programmable thermostats help optimize energy usage.
Additionally, incorporating composting toilets, recycling stations and using biodegradable and non-toxic cleaning materials can further reduce waste and minimize environmental impact.
Designing a sustainable bathroom makes you environmentally conscious, saves costs, and contributes to a greener future without compromising functionality. Hence, it makes up for an innovative and vastly embracive concept.
Conclusion
The year 2023 calls for embracing the modern bathroom trends as per the changing conditions. Walk-in showers with rain-like showerheads are becoming increasingly common in 2023, with huge bathtubs out of the way. At the same time, spa-inspired bathrooms are more in demand by people with challenging careers and professional lives, providing much-needed relief and a stress-free environment to relax and rejuvenate.
Lastly, sustainable and eco-friendly bathrooms received much praise from the homeowners who incorporated them, as they contribute positively to the environment and promote sustainable living. However, it is crucial to contact a bathroom remodeling agent to design a bathroom plan that fits your needs while incorporating the latest trends.