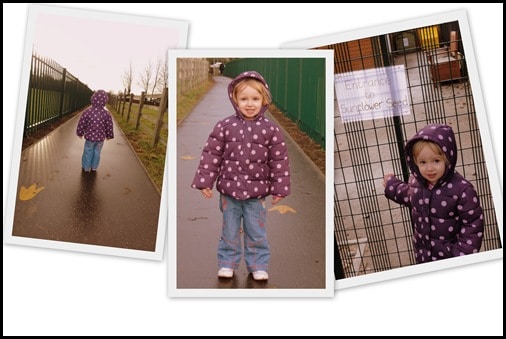 Today marked the start of Little Bean's journey to being a 'big girl' as this was her first day at Pre-school.  She has been ready for so long now, we've had lots of fun at home together but we have definitely reached the point where she needs more stimulation than I can give her – especially since Beanie Boy has arrived and our activities have become limited.
I knew that today would not be a problem for her, she has attended nursery previously for odd sessions here and there but nothing permanent.  She is a social girl and very confident in herself and our relationship.
I told her at the weekend that she would be starting pre-school this week which was a mistake as she has been badgering me every morning asking "can I go to little school today?" and then the tears would come when I told her, "no not today".  I'm sure you can picture the look on her face when this morning I finally was able to say "yes, you're going to little school today" (she didn't seem to like the name pre-school for some reason?).
As we walked to school I asked her what she thought she might be doing, she said that she would be doing "lot's of playing" which made me laugh.  She asked what I was going to do without her and I told her that me and Beanie Boy had to go and do some shopping and then we would pick her up and go home to have dinner together.  She seemed more than happy with that. 
Upon entering school we were greeted by the Manager who said "hello, you must be Little Bean" – "yep" came the reply as she walked straight through and started playing with a dolls house.  Both the Manager and myself laughed.  I was shown around and told that I could stay if I was worried about her at all, or just come back and collect her at home time as she seemed more than happy.  I asked her if she was ok for me to leave now, Little Bean turned and looked at me as if to say "are you still here?" so I took that as my cue to go, I managed to get her cheek instead of a kiss and then made my way out.
When I returned to school to collect her she was stood with her coat and shoes on by the door with a big smile on her face.  I asked her if she'd had fun and can you believe she said to me "yes, but you go home I'm going to stay here and eat my dinner".  She's such a funny little girl, I just love her so much.  Tomorrow we're back for day two and I think it will be hit again – at least I hope so.
Sabina Green began blogging in 2009 as a work at home Mum raising her young family.She loves photography, movies, music, reading and spending time outdoors with her family.
Latest posts by Sabina Green (see all)