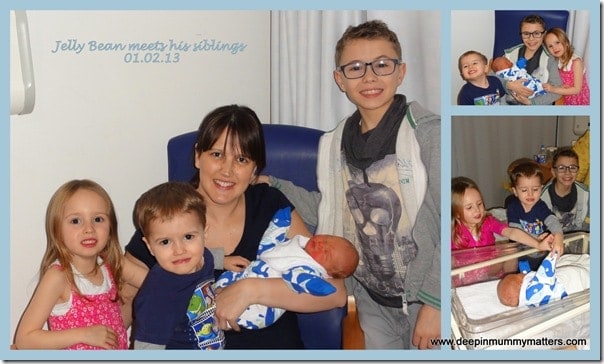 032/365-2013 – First cuddles for Curly and the Beans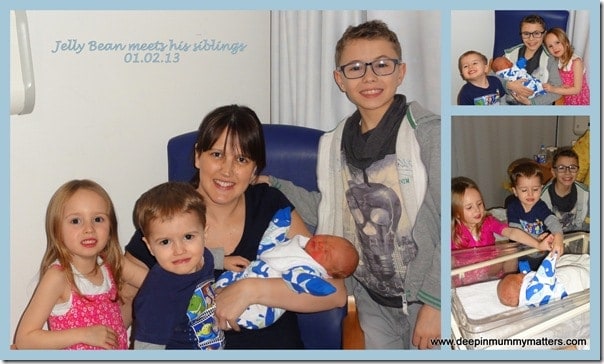 Despite Jelly Bean being born during the early hours of the 31st January, I was extremely saddened that his siblings didn't get to meet him until the following day. I had given birth on the Midwife Led Unit and was told shortly afterwards that I would probably be home by lunchtime. As the day went on it became obvious that I would not be going home quite so fast as Jelly Bean wasn't feeding. I will tell you all about his birth another day but in explanation of the situation, I had a very quick labour which resulted in Jelly Bean being full of mucus. I had been placed in a private room on the Midwife Led Unit and the only visitors allowed there were partners. Once the hospital had made the decision to keep us in it turned out that there were no beds available in the maternity ward and so my children would not be allowed to visit and neither would my Mum or Hubby's parents. I was naturally very upset because I wanted our family to meet the newest member. At 6.30pm the Midwives finally managed to secure me a bed on the maternity ward but by the time I had been moved and was able to contact my Mum the children were all in bed.
Throughout Jelly Bean's first night I tried to breastfeed him again and again but with no success, he just couldn't latch on and wanted to sleep. In the end I had to keep expressing and feeding him with syringe but still he wasn't really interested. In the morning I spent time with the Breastfeeding Consultant who offered lots of help but still he wouldn't latch on. I could see that I would be spending a further night in hospital away from my tiddlers. In a moment of inspiration I decided to give breast shields a try and it worked, Jelly Bean fed for 45 minutes!!! I told the Breastfeeding Consultant and she said straight away that I could go home if I wanted to.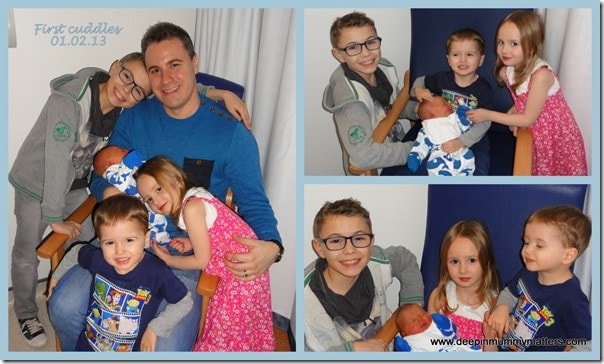 That evening Hubby brought the children in to meet their new brother and to take us home. Seeing the looks on their faces when they first saw their new brother was magical. Little Bean was smitten and declared "I love him so much Mummy", Beanie Boy greeted me with "I missed you lots Mummy" and then when he saw Jelly Bean "ah he's so cute, I want to stroke him".
We couldn't let the event pass without a few family photos so everyone had their turn at cuddles before we popped him in his car seat and made the journey home.