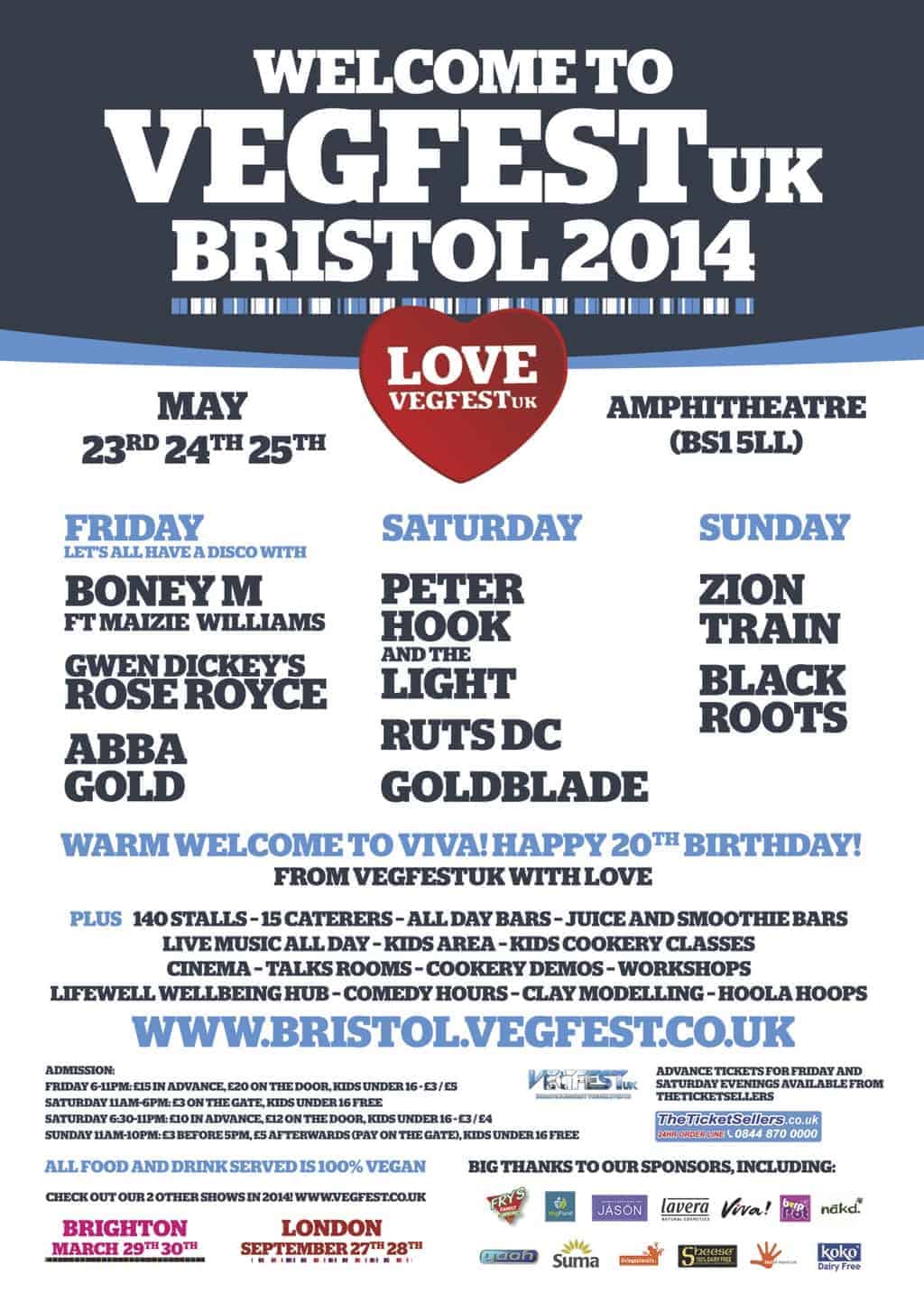 WIN Tickets to one of Europe's biggest and best veggie event VegfestUK on May 23rd 24th 25th at the Amphitheatre.
Famillies and kids alike will enjoy a top day out at one of Europe's biggest and best veggie event VegfestUK on May 23rd 24th 25th at the Amphitheatre.The festival, which enters its 12th year and is set to attract 20,000 – 25,000 visitors over the Bank Holiday weekend, aims to celebrate the best of following a plant-based lifestyle in a fun, informal and lively fashion. This year's kids activities perfectly epitomise this spirit – the following entertainment is suitable for all ages and set to capture the imagination of both kids, adolescents and parents:
kids cookery classes – hosted by dedicated kids entertainer Pirate of the Carob Bean Captain James Tea Cook, these classes are always a thrill and work like a treat in getting the kids to learn about healthy eating. Sessions include pancake tossing, energy balls, rainbow picnic snack, acid and alkali balance, etc.
smoothie bikes – make your favourite fruit and vegetable smoothie with pedal power
pirate treasure trail – design the perfect plte to replace the NHS Eat-well plate, plus rainbow hands and a bit of impromptu singing and dancing
art and craft 'Junkfish' tent – 'make and take' activities from designing a mask to making your own juggling balls or fairy wings! Also features playdough kitchen, a huge box of duplo, dressing up and more!
clay modelling workshops – create your favourite items with clay in groups
hoola hoops – learn hoola-hoop skills from the amazing Amy HoopLovin and be mesmerised by her incredible talent
These awesome activities dovetail nicely with the rest of the event which includes 140 caterers and stalls with special offers galore, plus dozens of talks, cookery demos, workshops and short films on the virtues of a plant-based lifestyle, and not to mention lots of entertainment from comedians and musicians both during the day and in the evenings. This year's evening headliners are: Boney M ft. Maizie Williams, Gwen Dickey's Rose Royce, Abba Gold, Peter Hook and the Light, Ruts DC, Goldblade, Zion Train and Black Roots.
Admission from 11am-6pm on Saturday and Sunday is £3 (on the gate) and free for kids under 16 so do bring your kids along! Full admission info and advance tickets for the evening events on Friday, Saturday and Sunday is available at www.bristol.vegfest.co.uk/ticket-information, with a BUY ONE GET ONE HALF PRICE offer running till April 30th.
The VegfestUK organisers are kindly giving us 2 Friday and 2 Saturday evening tickets to their amazing festival.