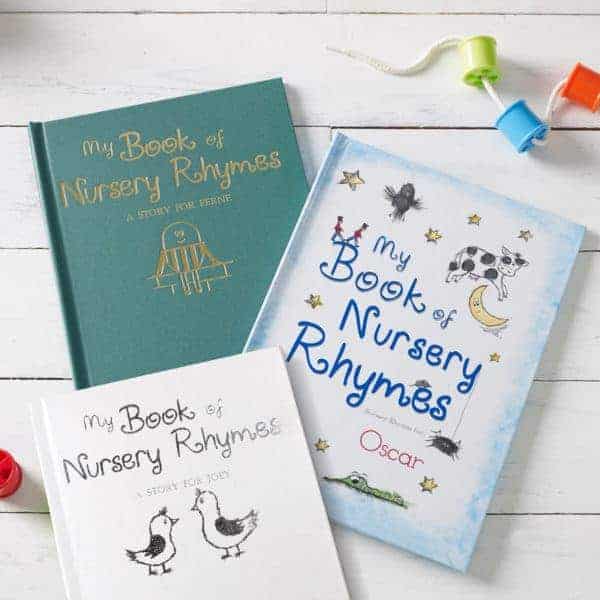 WIN Personalised Children's Nursery Rhyme Book
As a child, I would have my Mum read my Nursery Rhyme book to me repeatedly at bedtimes. I couldn't get enough of them. Even as I grew up, I couldn't bring myself to give it away, so I kept it for my own children, and they have loved it as much as I did.
An extra special nursery rhyme book
Nursery rhymes are educational and infectious! Repeating the words through a catchy tune makes learning much more fun and interactive for kids. With this personalised nursery rhymes book, you can give your child their very own collection of popular nursery rhymes where their name will appear on the cover, throughout the book and drawn into the illustrations.
What's in the book?
The book is packed full of all the old-time favourite nursery rhymes;
Little Miss Muffet
Incy Wincy Spider
Polly Put The Kettle On
Row, Row, Row Your Boat
Sing a Song of Sixpence
It's Raining, It's Pouring
The Grand Old Duke of York
Goosey Goosey Gander
Twinkle, Twinkle, Little Star
Rock-a-Bye Baby
The Wheels on the Bus
Hickory Dickory Dock
Seesaw Margery Daw
Round and Round the Garden
Hey Diddle Diddle
Jack and Jill
Humpty Dumpty
Ring-a-Ring o'Roses
This Little Piggy
Pussy cat Pussy cat
One Two Buckle My Shoe
Two Little Dicky Birds
Little Bo Peep
Personalisation Options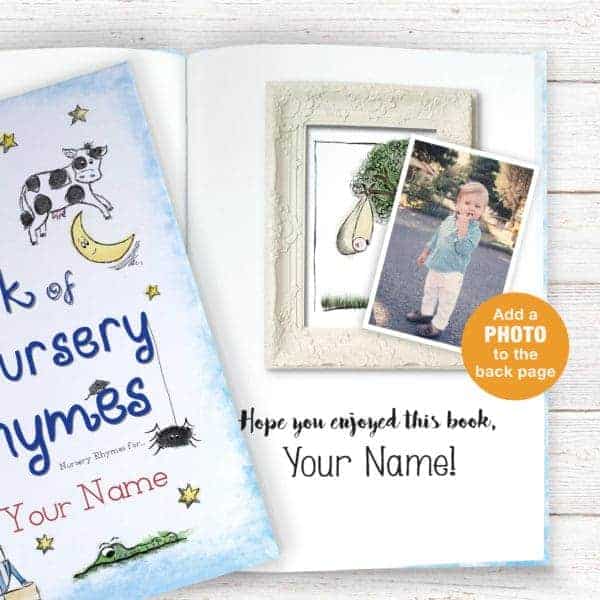 When designing your book online you not only get the option to add the name of your choice but you can also choose your own book cover from 4 styles: softback, A4 hardback, and the classic hardback in green or white hardcover. Add foil lettering, a personal message and a photograph on the back page so there is no mistaking whose book it really is. This can be a book your little ones can treasure forever.
Finishing Touches
When gifting the book, you can choose to add a luxury gift box to keep the book in perfect condition. This would make a beautiful newborn, Christening or First Birthday gift.
Your chance to win!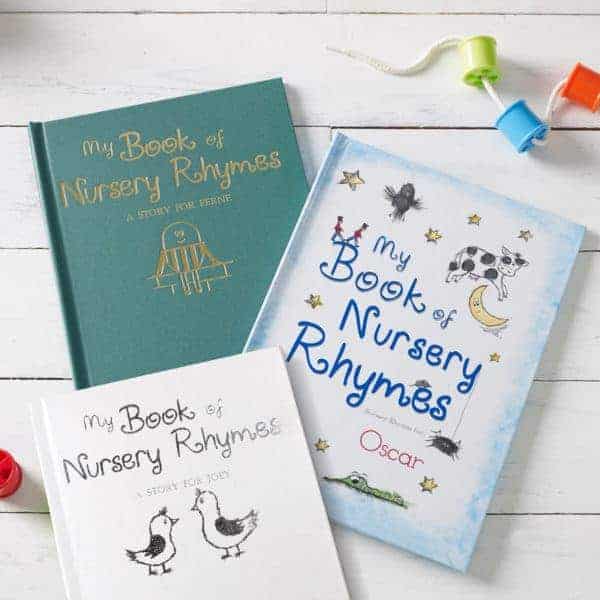 Enter our competition below for a chance to win a personalised version of the nursery rhymes book, and enjoy a magical sing-a-long with your child! Just complete the Gleam Form to register your entries.