My Little Pony first came into my life when I was a child, Applejack being my favourite. Fast forward thirty-something years and now I am enjoying them all over again through Lillie. Lillie is a completely girly girl who LOVES My Little Pony as much as I did, she knows the finest details about all of the ponies and their friends so I'm sure you can imagine the screams of delight which she emitted when she opened the surprise package from Egmont Publishing.
My Little Pony The Movie Book Collection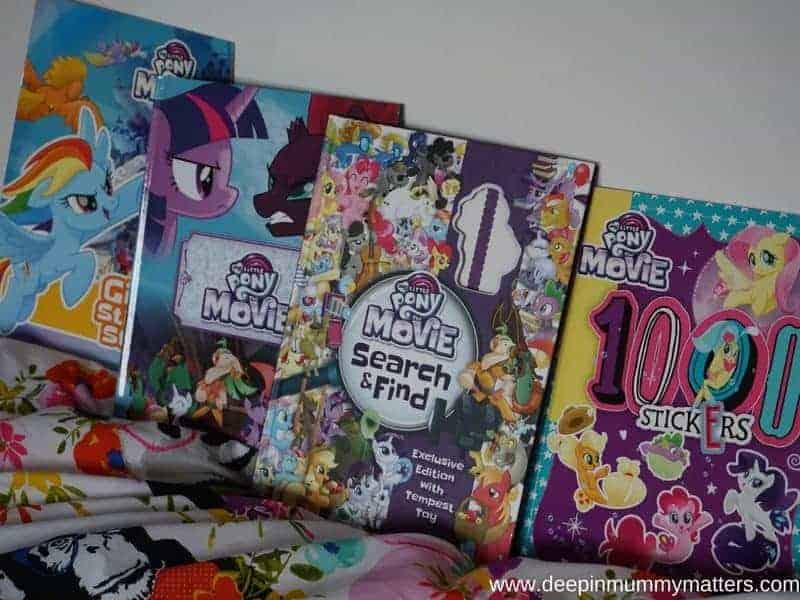 Lillie received four My Little Pony books; Search & Find (exclusive edition with Tempest toy), Storybook, Giant Sticker Story book and 1000 Stickers book.
My Little Pony The Movie: Search & Find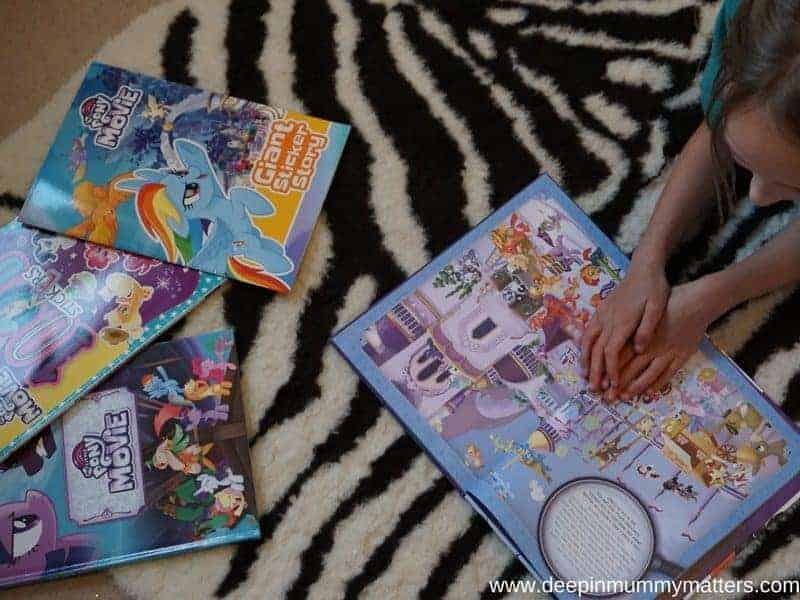 Say "yes" to adventure and immerse yourself in the amazing world of My Little Pony: The Movie. Go on an exciting journey together with Princess Twilight Sparkle and her friends, read the story and dare to discover everything that waits for you on the pages of this colourfully illustrated search and find book!
Each page features scenes from the movie and a narrative about what is happening as well as a challenge to find certain items within the picture. Search & Find books are great for bringing the story to life and really getting them involved in the story within the illustrations too. This is Lillie's favourite of the four books, she has always enjoyed 'Search & Find' books, they are great for when she wants to relax and take her mind off things. The Tempest Toy which comes with the book was definitely the icing on the cake for her.
Available from Amazon RRP £8.99
My Little Pony The Movie: Storybook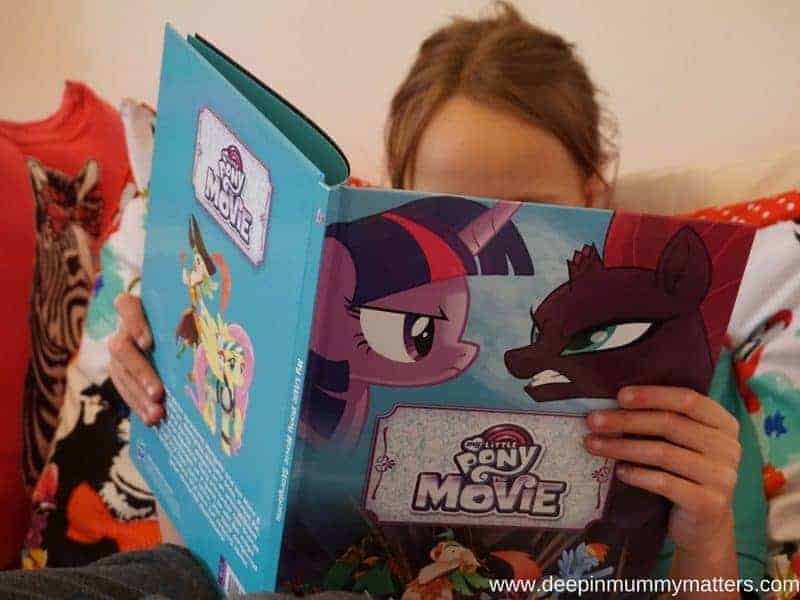 A new dark force threatens ponyville and the Mane 6 – Twilight Sparkle, Applejack, Rainbow Dash, Pinkie Pie, Fluttershy and Rarity – embark on an unforgettable journey beyond Equestria. They encounter new friends and exciting challenges on a quest to use the magic of friendship and save their home. Join their dangerous yet thrilling mission and have fun reading about your favourite characters!
Lillie and I went to the see the movie along with one of Lillie's best friend's a couple of weeks ago and we all loved it. The Storybook is a beautifully illustrated storybook version of the movie which Lillie has enjoyed reading to herself and with me or Daddy at bedtime.
Available from Amazon RRP £7.99
My Little Pony The Movie: Giant Sticker Story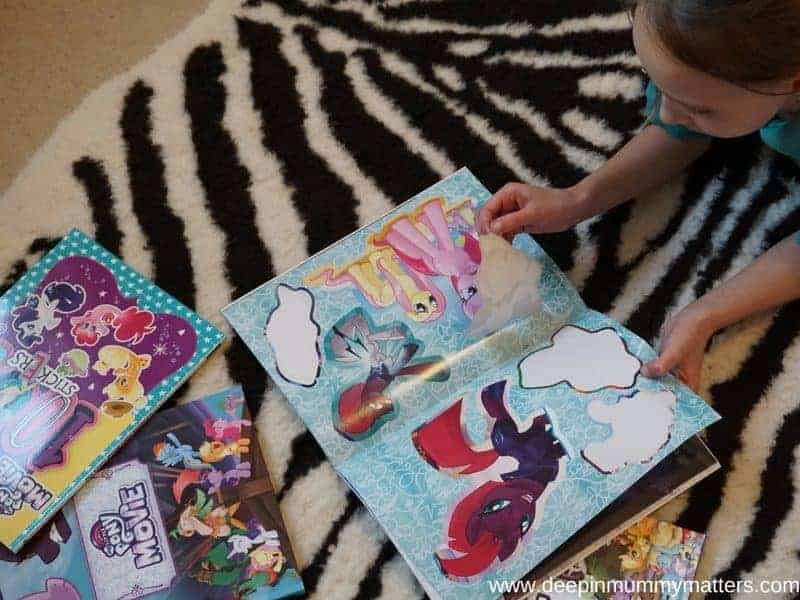 Read about the incredible adventures of Twilight Sparkle and her friends, colour your favourite characters or find them in the sticker sheet. Add colour to this wonderful story – all you need is your imagination and this book. Have fun!
This is a fun book for those who love to do colouring and add their personal touch. This would make the ideal travelling companion and stocking filler for your My Little Pony fan.
Available from Amazon RRP £4.99
My Little Pony The Movie: 1000 Stickers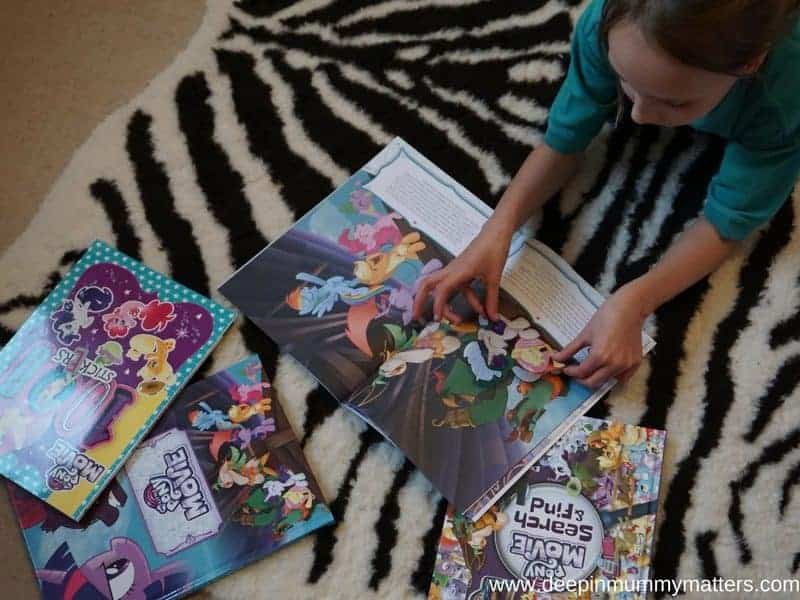 1000 fabulous stickers and tons of great movie puzzles wait for you in this book! So, take your seat, grab your pen and have fun with your favourite pony characters. Good luck!
This is the perfect activity book for My Little Pony fans, it is packed with stickers of all shapes and sizes as well as puzzles and games designed around the movie. Children spend so much time engrossed in technology these days, it's good to have some downtime with arts, crafts and puzzles to work their brains.
Available from Amazon RRP £6.99
What Lillie thought?
"When Mummy gave me the parcel to open, I had no idea what was inside, then I saw Rainbow Dash and the other ponies peeking through and I felt so excited. I love books and I love My Little Pony so I couldn't wait to open them to see what was inside. My favourites are the Search and Find book and the Storybook. I like the Search and Find because sometimes when I get a bit stressed out with homework or with my brothers I use Search and Find books to take my mind off everything and to calm down. I love the Storybook because Mummy took me and my friend K to the cinema to see the film which was brilliant so now I can read the story to myself or with Mummy whenever I want to".
Win this collection of four My Little Pony Books
Egmont Publishing are offering this collection of four My Little Pony Books as a prize to one lucky Mummy Matters reader. All you have to do is complete the Gleam entry form below, entry can be as simple as a free entry or you can complete the tasks to have more chances to win.
Good luck xx
My Little Pony The Movie Book Collection