What will we be playing on the Wii this Christmas?
Despite my Mum never playing board games with me growing up (she hates board games) I have still developed a fairly healthy love for them, what better way to have fun with your friends and family than to get together for a bit of friendly competitiveness? Playing on the Wii is so much easier, no scrambling around in the back of a cupboard to find all the pieces which have dropped out, no sorting of the cards, cash and houses, just put the disc in the machine and away you go.
Monopoly Collection gives you two games in one value-priced package for twice the gaming fun:
Classic Monopoly: With a game that has been around for over 70 years I don't think this needs much explanation, the aim is to make money by buying property, building more and charging your friends rent when they land on your property, oh yeah and trying to avoid being sent to jail! The Wii version works exactly the same as the physical version only without all the mess.
Monopoly Streets: In Monopoly Streets you get to swap your Avatar for your very own Mii and cruise around the bustling City streets each time you take a turn, keep your eyes open for a few famous faces popping up here and there, so far we have bumped into Darth Vader and Albert Einstein. In Monopoly Streets you get to see your investments grow into buildings and hotels, its a little more involved than just a flat board game so this one hold more interest for likes of Little Bean and Curly.
We have only played the game a few times up to now but we will definitely be playing this game over Christmas because it is so easy the whole family can play it – well obviously not Beanie Boy but you know what I mean!
HASBRO Monopoly Deluxe RRP £29.99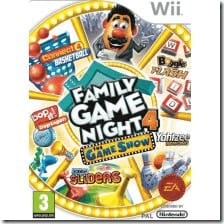 No word of a lie, this game has four of my favourite board games so without opening the case I was pretty sure it was going to be a winner for me. In Family Game Night 4 you get to be the star of your own Family Game Show hosted by Mr Potato Head himself. Play alone or with friends/family for more fun. There are five separate games which you or your team need to master in order to be declared the winners: Connect Four Basketball, Bop-It Boptagon, Boggle Flash, Sorry! Sliders and Yahtzee Bowling.
Sorry! Sliders is the only game I hadn't heard of before but here's a quick breakdown:
Connect Four Basketball – just dropping the coloured tokens into the slots is far too easy so in this game you need to shoot your basketballs at the Connect 4 board and get four balls of matching colour in a row. Too easy? No worries, your opponent will be there to try to stop you from reaching your goal.
Bop-It Boptagon – Just like the handheld version of the game you need to pull, twist, bop and kick your way through the game by following the instructions. Get it wrong before your opponent and they win the points. First team to two points wins the round.
Boggle Flash – make as many words as you can using the same 5 letters. You can't use a word that your opponent has already received points on. The longer the word the more points you get – simples!
Sorry! Sliders – ever heard of shuffleboard like they play on the cruise ships or curling like at the Olympics? Well this is a similar concept – each team has two sliders and the aim is to shoot their sliders into the scoring zone to get the points but beware your opponent might knock them out of the way.
Yahtzee Bowling – one of my all-time favourite board games as a child now has a new twist. Take it in turns to knock over the bowling pins to reveal numbers. When you have uncovered five numbers you can choose to keep them all, none of them or some of them. You then have one last chance to get more numbers. The player with the highest number (full house, flush or straight) wins the game.
I particularly like this game because it is one that we can pretty much all play, although of course Little Bean needs help with Boggle Flash and Yahtzee but she has lots of fun with Connect 4 Bowling, Boptagon and Sorry! Sliders.
Family Game Night 4 RRP £49.99
Available on Xbox 360 (with Kinect functionality), PS3 (with Move functionality) and Wii
Stockist details:
All titles are available nationwide or through www.ea.com
DISCLAIMER: We were sent these two games for review purposes. All words and opinions are my own and may not be copied without my express permission.