What the Beans are watching #2 – Shaun the Sheep Picture Perfect
Just in time for the Bank Holiday weekend you can get your hands on the latest Shaun the Sheep Picture Perfect DVD featuring 10 episodes of the popular children's TV show. The DVD releases on 30th March so don't forget to grab your copy.
Shaun the Sheep first graced screens as the sheep in Award Winning film Wallace & Gromit: A Close Shave but he was such a hit he got his own show and has been entertaining children across 170 countries ever since.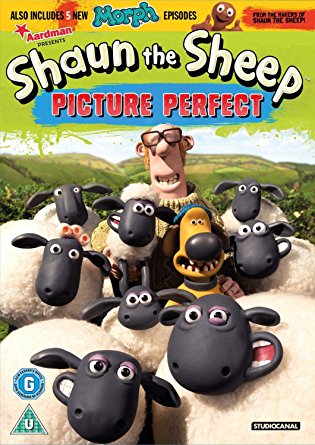 Shaun the Sheep Picture Perfect
Shaun is a sheep who doesn't follow the flock – in fact, he leads them into all sorts of scrapes, turning the peaceful Mossy Bottom Farm into mayhem in the meadow! Shaun and his pals run rings around their poor sheepdog Bitzer, as he tries to stop the Farmer finding out what's going on behind his back.
PICTURE PERFECT continues with enormously popular series 4, available to own on DVD for the first time since their TV airing; fans of Shaun, Bitzer and the gang can enjoy their new adventures at home with the following brand new episodes:
Duck • Bitzer for a Day • Bitzer's Secret • The Stare •Ping Pong Poacher
Save the Dump • Picture Perfect • Hidden Talents • Fruit and Nuts • The Intruder
The DVD bonus content also contains a huge treat from Aardman Animations –
a further 5 brand new Morph episodes, from the makers of Shaun the Sheep!
Cert. U | Combined Running Time: 70 mins approx. | RRP: £9.99
What the Beans thought . . .
Well if I tell you that there were lots of giggles and rolling around on the floor then I think you can assume that they enjoyed it. The Beans really loved Morph too which made me happy because Morph takes me right back to my youth as I was a big Tony Hart fan. Beanie Boy's faavourite episode was Fruit and Nuts, whilst Little Bean loved Picture Perfect. When I asked Jelly Bean what he thought to Shaun the Sheep he simply said "Sheep funny!". If you have a Shaun the Sheep fan then they definitely will not be disappointed with the latest instalment.
DISCLAIMER: We were sent a check disc of Shaun the Sheep Picture Perfect for the purpose of this post. All words and opinions are my own and may not be copied without my permission.