What Is A Pocket Tee?
T-shirts might be humble, but they are one of the most popular garments in the world, and probably every single guy has been wearing them since he's five years old.
Monochrome, printed, with graphics or logos, crewneck or V-neck – there are endless styles for any season and occasion.
One of the most popular tee styles is a pocket tee that's just as simple as a plain t-shirt yet a little bit quirky and more fun.
But what is a pocket tee, and how did it come to find its way into everyone's closets? Let's investigate!
A quick history of t-shirts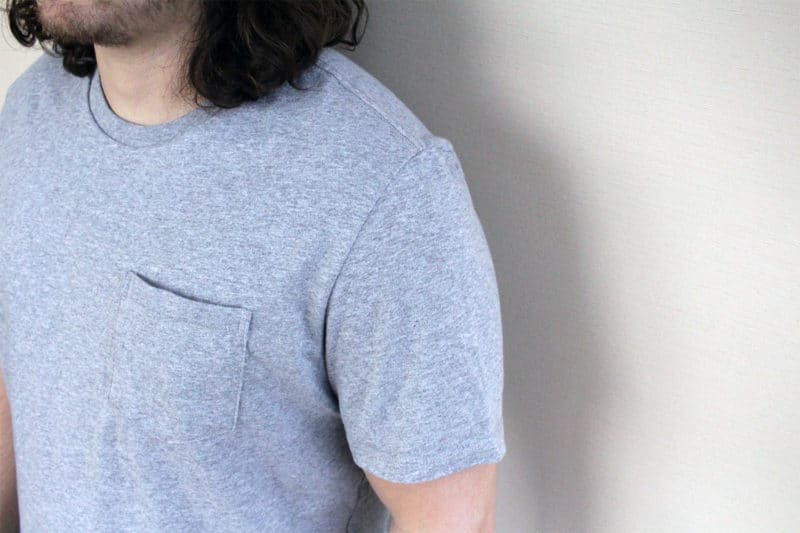 While it may seem that t-shirts have been around since the middle ages, they actually are a relatively new clothing piece, and their history of being more than an undergarment is barely over 60 years old!
The first t-shirts that appeared in the late 19th century were long, and people wore them to protect their outerwear from bodily grime.
With time they underwent a transformation, firstly becoming part of the military and then sports uniforms and finally arriving at where they are now – a comfortable and simple piece to be worn with pretty much anything from jeans to suits.
Pocket history
Doesn't it feel weird when clothing doesn't have pockets? Where should we keep our keys, phone, and hands when waiting in line?
While pockets have been a part of clothing for a few centuries, they looked very different until the 19th century. A pocket was instead a small pouch attached to clothing or hung around the waist. Later, to keep those pouches safe from pickpockets, people started making cuts in their pants and shirts where they'd hide them.
However, with men's clothing undergoing a transformation and becoming more fitted, soon there was nowhere to keep the pouches. Tailors solved the problem and started sowing the pockets into the seams. In the 20th century, you could find all kinds of pockets (for watches, tickets etc.) in pants and coats.
Chest pockets
Around the mid 20th century, fever and fever people wore waistcoats or jackets, so the tailors started adding a chest pocket onto shirts and t-shirts to keep small items like cigarettes or small cash handy.
Men's t-shirts had larger pockets than women's and were overall more common. That's why the chest pocket became a sign of a male garment, and women turned to purses and bags to carry their belongings.
With time pockets were also added just as a mere style element and an original way to make the humble t-shirt more exciting.
Some people love pockets, and some prefer their tees plain and without any details. Don't overthink it and choose whatever works for you; only make sure you pick high-quality t-shirts from such brands as the pocket t-shirts by Fresh Clean Tees to look as stylish and smooth as possible.
When to wear a pocket tee? We recommend leaving it to casual occasions and opting for a pocketless t-shirt to go with your blazer or suit.
The t-shirt pocket types
While each brand creates its own pocket designs, three main chest pocket types are most often used on the majority of shirts and tees.
The shirt pocket combines style and function and is usually a little larger and often has pointed corners. Tees with such pockets offer a more laid-back look.
Rounded pocket is the most common t-shirt pocket and is usually placed on the left side. The main difference from the shirt pocket is that it usually has rounded corners.
Utility pockets are standard on pants or jackets but now are also often seen on t-shirts too. They usually are made from a different type of fabric and add edginess to the t-shirt style.
A tiny pocket is just what the name says – a small pocket added for pure style purposes.