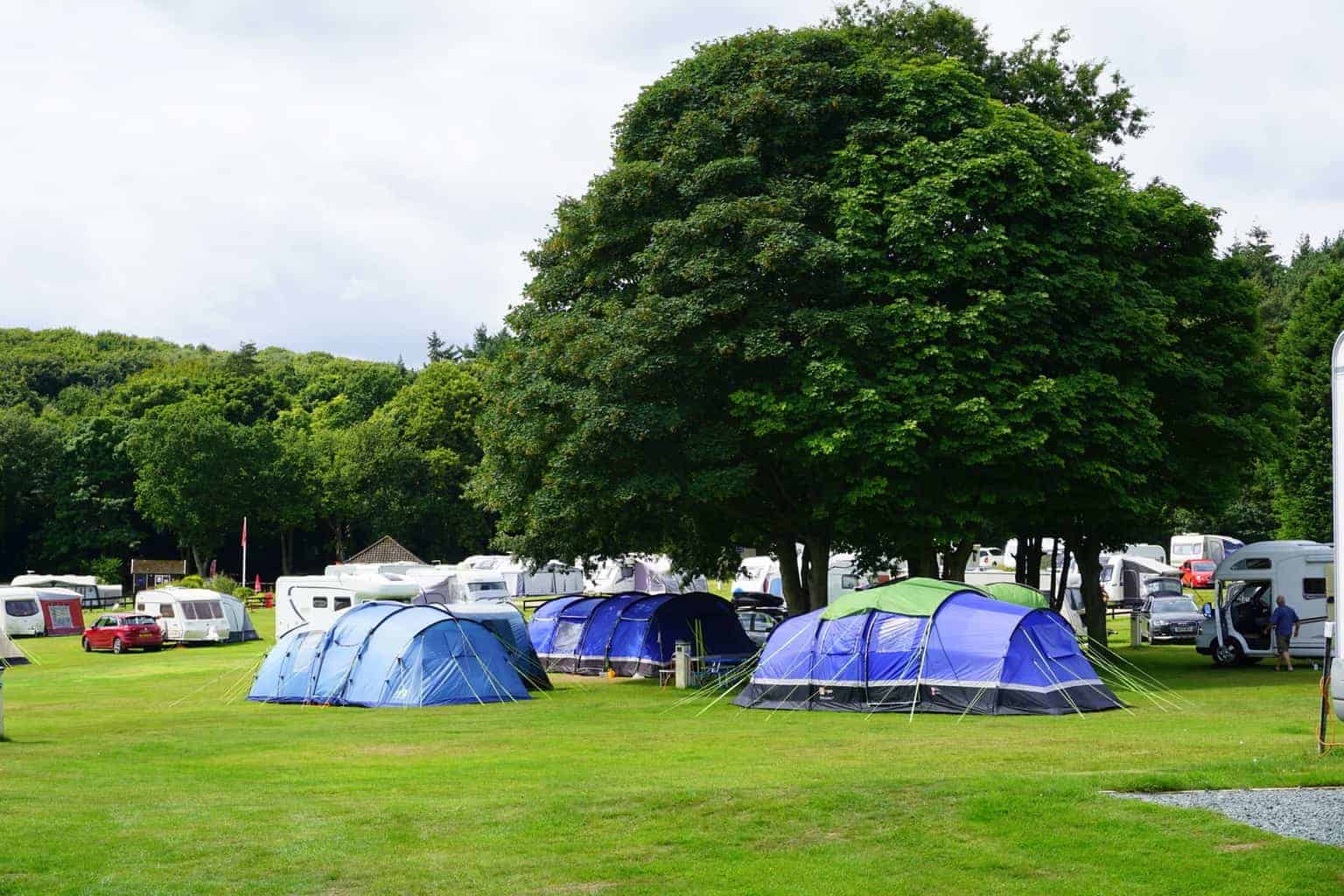 West Runton Camping and Caravanning Club Site
We kicked off our Summer holidays this year with a trip to West Runton Camping and Caravanning Club Site in Norfolk near to Cromer. The children love to be beside the seaside and I had remembered staying in the area camping before the children were born so I was keen to go back.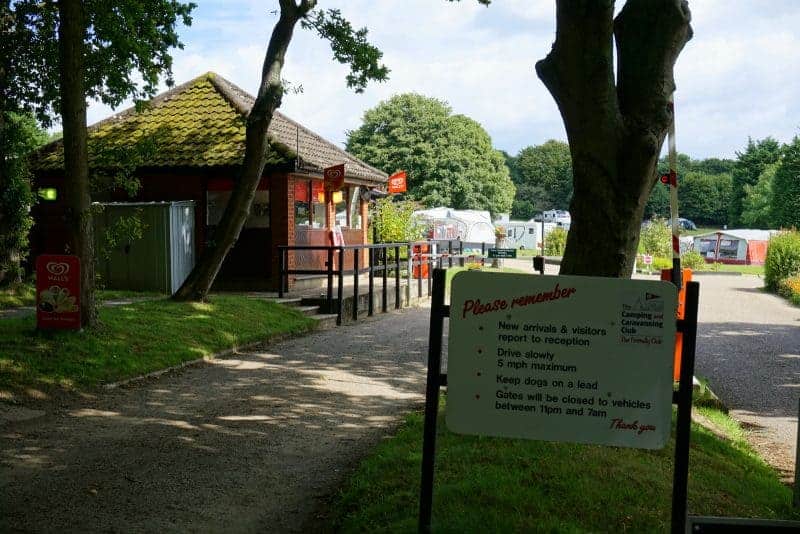 FINDING THE SITE
West Runton campsite is situated just off the A148 Kings Lynn to Cromer road opposite the Roman Camp Inn. This takes you onto a one-way system along Sandy Lane, at the crest of the hill you see a Camping and Caravanning Club Site sign and turn right down a narrow, bumpy track (1/2 mile) between the trees with lots of passing places. You need to drive very slowly down the track as visibility is short and it can throw you around a little too. At the end of the track you will see the campsite before you with parking to the left and right of the gates to park up whilst you book in.
CHECKING IN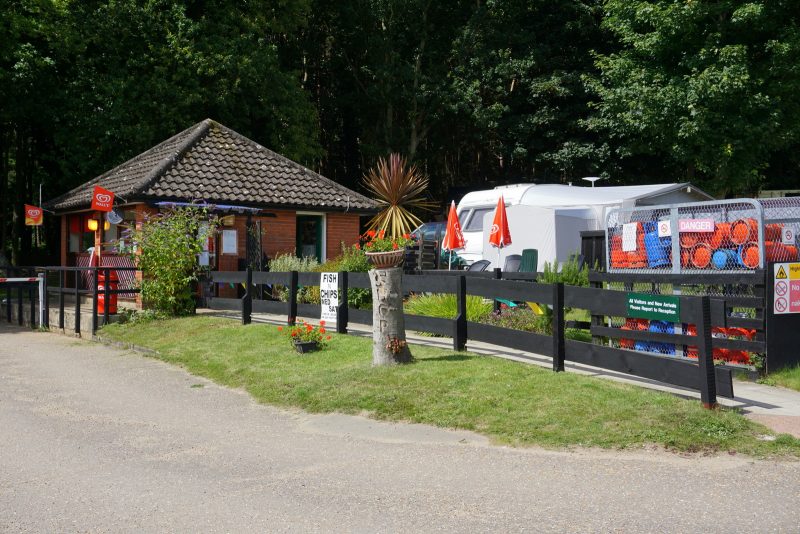 I was warmly greeted by the West Runton team on arrival who quickly processed our check-in details and gave me the access code for the barrier as well as the information sheet for the site before handing me over to Mark who would show us to our pitch. The team will always try to accommodate any preferences you have for a pitch provided the pitch is available and fits within the size of the pitch you have booked. I asked if we could have a pitch overlooking the park so that we could see the children playing, of course this also means it can be a little noisy but at least I can relax being able to watch them.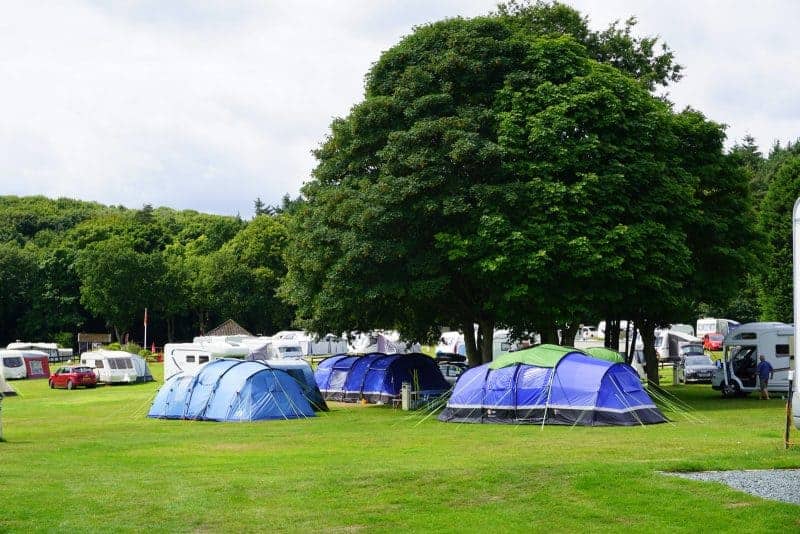 It's worth noting that the West Runton campsite is on a slope so the pitches are all sloped too. We had to change the direction of our airbeds otherwise we felt like we were rolling out of bed. Provided you sleep with your feet downhill you'll be just fine. Caravans and Motorhomes will require chocks.
FACILITIES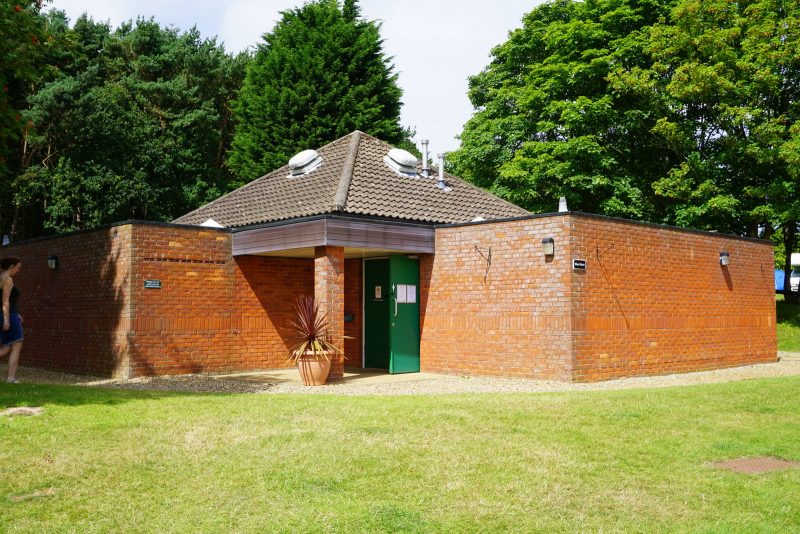 Amenities Block – there are two amenities blocks on site, the East Block and the West Block which provided ample amenities for the people on site. Throughout our entire break we never had to queue for the toilets or showers even once. They were always clean, warm and 90% bug-free!! The shower cubicles were the biggest that we have encountered on a camping trip, plenty big enough for parents and children to use together although there is also a separate  Family Room with a baby bath, changing area, sink, shower and toilet if needed for younger children.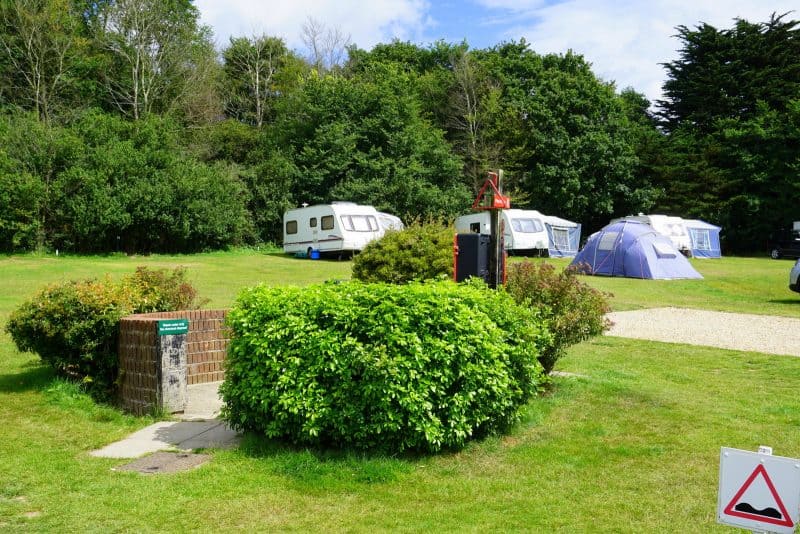 Water Points – the water points are regularly spaced, I think we counted 5 altogether. We were situated just 200 yards from our nearest point which was perfect and at night-time they were well-lit up.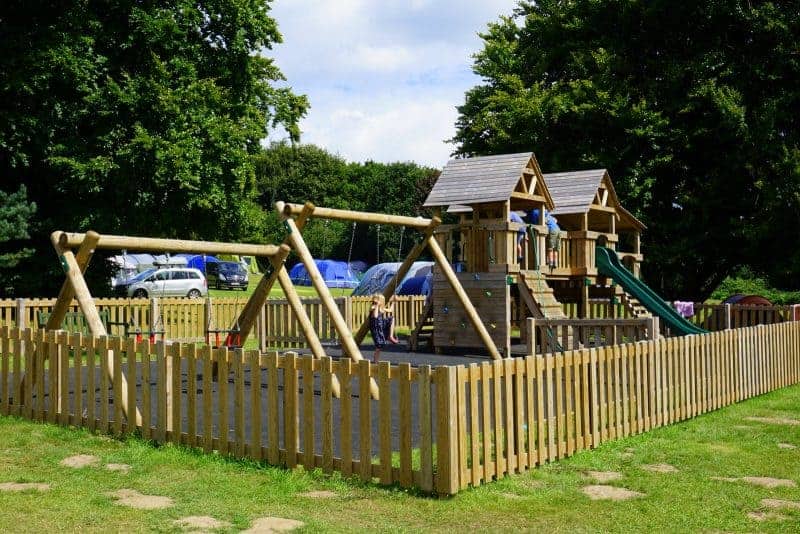 Play Area – there is a large play area situated close to the West Block amenities and Ready Camp avenue on the far side of the site away from the entrance. It is fenced in and has gates though the children pretty much always left these open. There is a large climbing frame, slide, play table, climbing wall, ladders and swings. The children also had lots of fun climbing in the nearby trees and making 'dens'. To the rear of the play area behind the Ready Camp units there is also a ball play area since Ball Games are not permitted elsewhere on the site.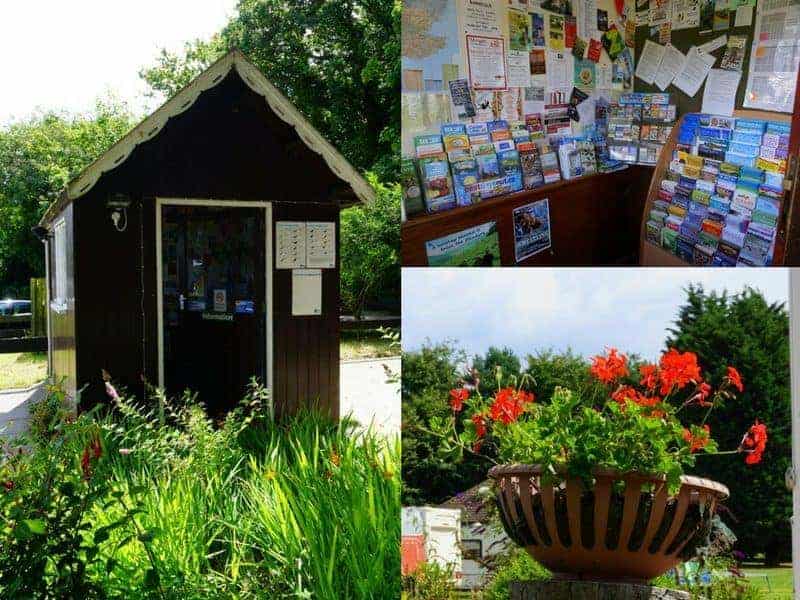 Lending Library and Information – to the right hand side of the entrance there is a separate wooden building which is dedicated to extensive local information and a lending library. There is also a picnic table and chairs outside so that you can enjoy the sunshine whilst reading up on where to visit next.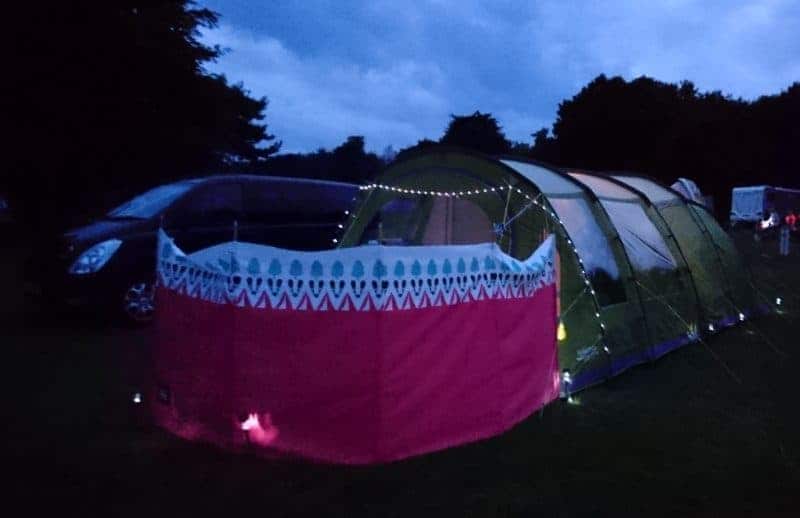 Night Lights – the Amenities block was well illuminated at night along with the electricity points but we found the rest of the site to be quite dark so used torches to move about the site after dark.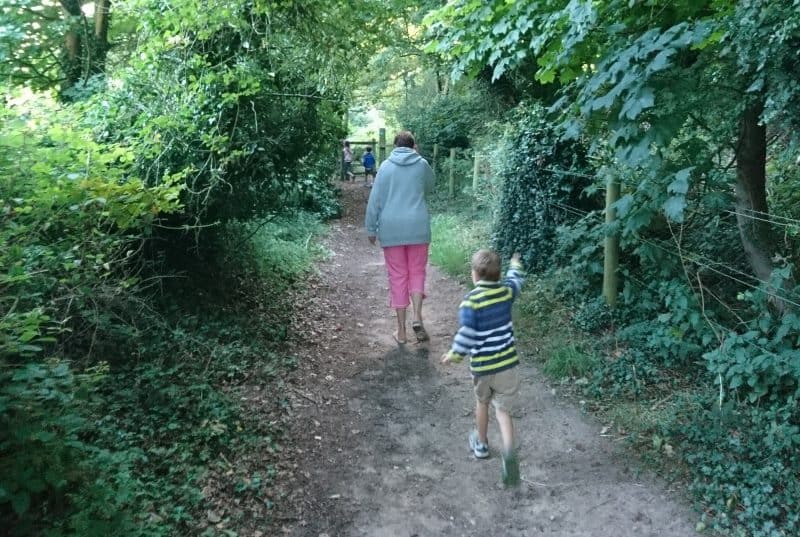 Dog Walking Area – there are numerous paths surrounding the camp site which are part of the West Runton Circular Walk, some of which were truly beautiful. On recommendation by a fellow camper we followed a path up through the forest on the East side high up onto a hill each evening and looked out to sea to watch the sun setting over Sheringham. It was a popular area with dog walkers and due to the steepness of the hill it was quite taxing but definitely worth it.
Refuse Disposal – Large bins are situated near to the amenities blocks. The area was always kept clean and tidy.
Disabled Facilities/Pot Washing/Chemical Toilet Disposal – both amenities blocks had a large pot washing room, disabled facilities, laundry room and sluice room.
GENERAL THOUGHTS

Without doubt, West Runton was one of our favourite campsites so far although I probably say that each time we find a new site. The surrounding area is just beautiful and even with poor weather on odd days, we still thoroughly enjoyed our stay.
NOISE LEVEL
For a very busy site, the only sounds that could be heard were mainly my own children in the play area (seriously they are SO LOUD). The site is a long way from the roads so there is no road noise at all by 10pm at night most people had closed up and gone to bed so it was very peaceful. We were woken on a couple of occasions by a noise I hadn't heard before, upon speaking to one of the members of staff the next day I was assured it was the Muntjac Deer that reside in the surrounding forest.
STAFF/CLEANLINESS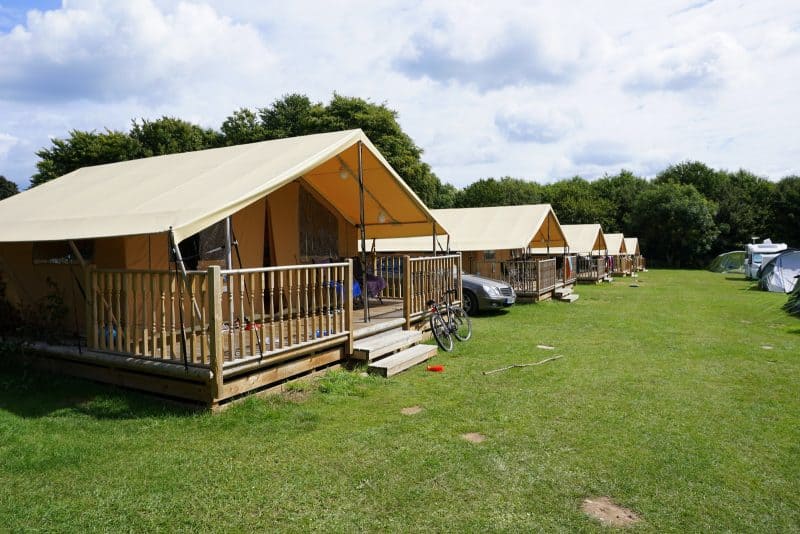 The site was beautifully maintained with lots of pretty flowers, trees and bushes. The pitches were well spaced to give everyone ample room to relax. We did have an issue where someone pitched their tent less than 6 metres away from the back of our tent and the staff noted this and asked them to move. It was nice to see that the staff walked around the site each evening to check that all was well. They were all very friendly, approachable and helpful. We really enjoyed our stay here.
LOCAL AREA
The area around the campsite is beautiful, you must walk through trees to get 'out' but are rewarded with pretty walks and vistas when you do. The campsite is situated between the villages of West Runton and East Runton close to Sheringham and Cromer.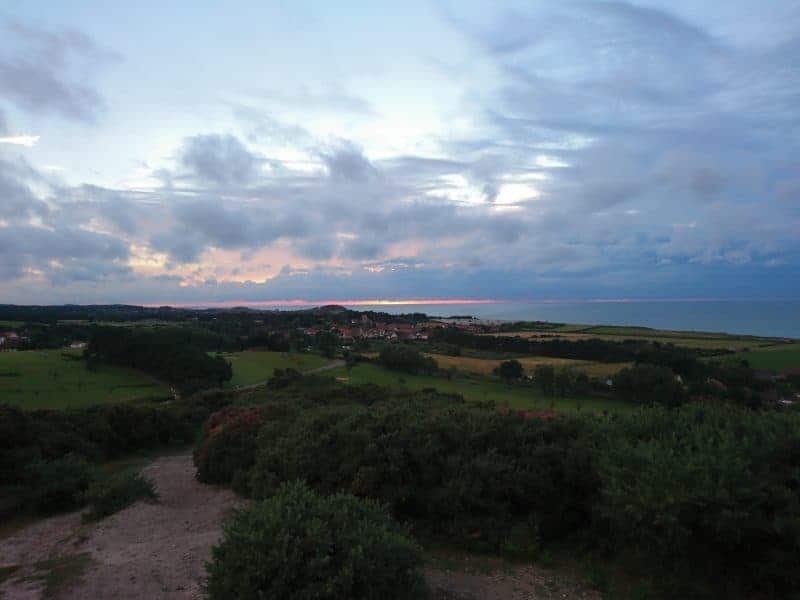 We drove into Cromer for shops, the beach and the pier. Cromer has a large Morrisons Supermarket, Lidl, Co-op all as you drive down the hill into town as well as stores like Argos, Homebase and Halfords – perfect if you forget any camping essentials like I did! In Cromer there is a large car park situated right next to West Runton Tourist Information, we paid £6.30 for 5 hours parking.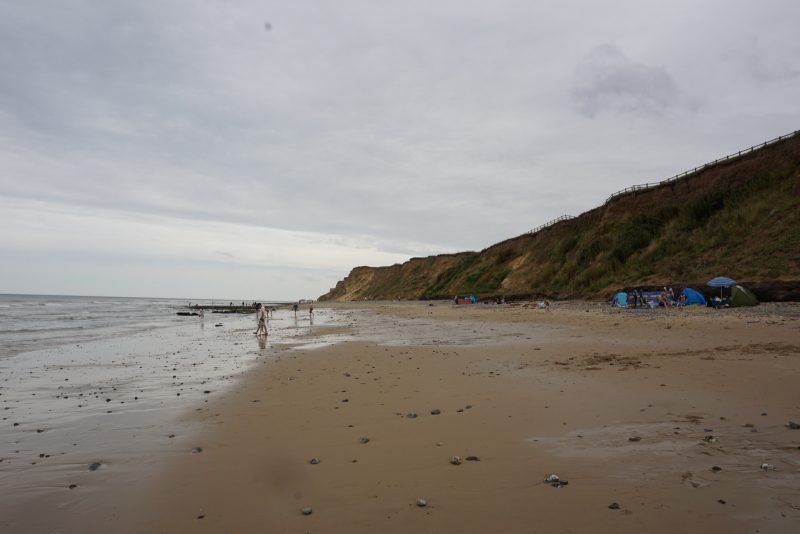 We also walked to the beach at West Runton which has a lovely cafe, clean toilets, car parking and lifeguards. The walk took us around 30 minutes walking at Albie's pace from the campsite, through a golf course and the village of West Runton. The lane is narrow so you need to be wary of passing cars.
NEARBY ATTRACTIONS
RNLI Lifeboat Station Cromer Pier
Amazona Zoo
Blickling Hall
Cromer Beach
Sheringham Beach
Regal Movieplex Cinema
Splash Sheringham Swimming Pool
Pensthorpe Nature Reserve
Bewilderwood
The Muckleburgh Military Collection