VW New Touran – The Flexible Family Car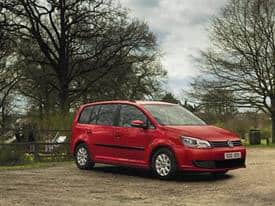 It's no secret I'm a fan of German cars, they just ooze quality and style. I had a good fortune recently to drive and review the New Volkswagen Touran 1.6 TDi SE courtesy of Cooks Volkswagen in Peterborough.
Myself, Karin (Cafebebe) and our 3 children were attending the Fisher-Price bloggers event being held at Earls Court to link in with the Baby Show so we thought this would be the perfect opportunity for a test drive.
The problem with travelling by car with 3 children under 3 years of age is that you have 3 rather bulky car seats to wrestle into the car. In the Touran, the rear seat has 3 individual seats as opposed to a single and a double which meant that all car seats would fit comfortably. However, I didn't fancy having Beanie Boy sandwiched between the girls as they would probably kill him with kindness, so Karin sat in the back with Little Miss and Beanie Boy, and Little Bean sat in the front with me. (From a safety point, I was able to switch off the passenger seat airbag). In most cars, this seating arrangement would have caused a problem but in the Touran, everyone was comfortable – even Karin.
The Touran comes with 7 seats as a standard option (though you can opt for a 5 seat option with no change in cost). The two extra seats in the boot fold flat into the floor leaving you a very spacious boot at 1913 litres (695 litres with the seats up). We carried a double pushchair, a single pushchair, two large changing bags and still had more than enough space for shopping!!! There are also some 39 storage compartments within the vehicle to store all your knick-knacks.

From the driver's point of view, I found the car responded well to the demands I put on it, if I'm going to test a car, I test it – there's no driving Miss Daisy here! It moved (very quickly) when I needed it too and the brakes were keen which came in handy when I was cut up by a Mini. I like how you sit up high and have a good vision of the road, the driver's cabin is well-spaced so you don't feel crammed in. It feels stable and steers beautifully. Cosmetically, improvements have been made with a 3 spoke sporty steering wheel, chrome highlighted centre console with new climate controls, stereo functions and snazzy new instrument dials with white backlighting.
The new model is actually more of a "facelift" than a new model to fit it with the design features of the new VW Polo, Golf, Touareg and Sharan, but it does look better with redesigned front wings, grille, bonnet, front bumper, new wing mirrors, rear lights with LED bulbs and new style tailgate and bumper. Finally, new alloy wheels and chrome edged rubbing strips running along the side of the vehicle add to the style.
The Touran is often slated for being "boring" and "boxy", ok so it's not the sexiest thing on four wheels but its a totally practical family car that more than stands up to the job, it will basically take anything you throw at it and, in my opinion, is worthy of a better score than Top Gear's 8/20.
Engine-wise the new Touran is available in entry-level 1.2 TSi petrol engine which produces 105bhp with claims of returning 44.1mpg on the combined cycle and emitting 149g/km of CO2. The 1.2 TSi Bluemotion with start/stop technology and battery regeneration claims the engine is capable of 47.9mpg and emitting 139g/km of CO2. Also available are the 1.4 TSi 140bhp, 1.6 TDi 90bhp or 105bhp (replacing the 1.9 TDi) and a 2.0 TDi with either 140bhp or 170bhp.