When I was pregnant . . .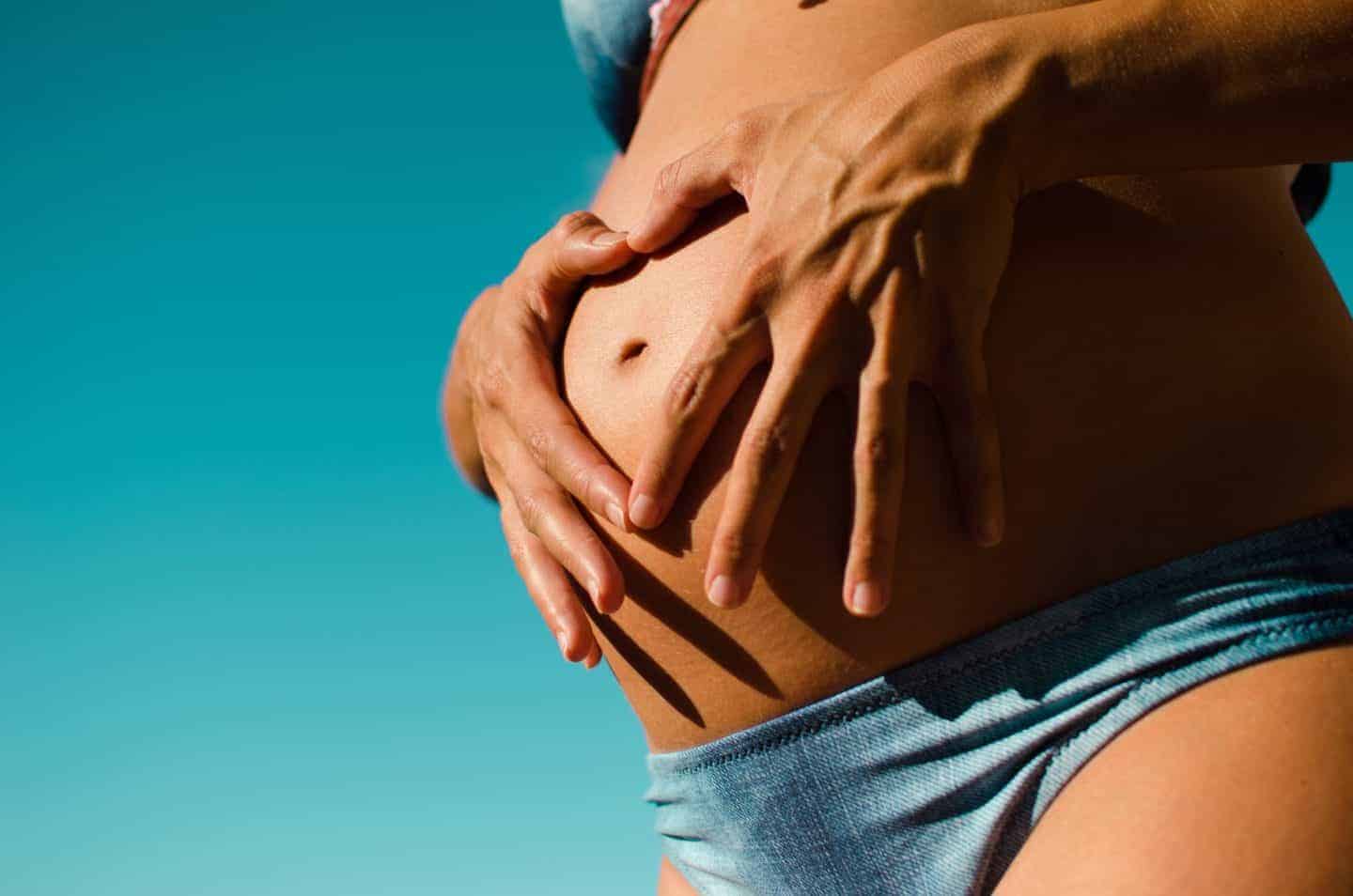 I kept a pregnancy journal in which I wrote all my thoughts and feelings and Daddy wrote his. Hubby and I married in June 2007 and went on a lovely long honeymoon. On return, we decided to start trying for a family straight away – to our shock and pleasure we fell within the first two months. This is my pregnancy journal . . .
2010 – here we go again – a compare and contrast as we travel through our next pregnancy journey . . .
2012 – hello, haven't we been here before? Time to complete my tale of three pregnancies!

Pregnancy Journal – First feelings . . .
FANTASTIC NEWS!!!! This is what I have waited so long for, finally the time is right and I couldn't be happier. I just really hope that I can do as well as everyone seems to think I will!! I am very excited but nervous at the same time. We have told our close family but will wait until the 12-week scan to tell our friends. (Weight: 139lbs).  
DADDY says: Really happy. So pleased that we have conceived quickly as we both wanted to start a family together soon after being married. Can't wait to get through the first few weeks until the 1st scan so we can actually see our baby. This will make it all real for me.
Baby No 2: I'm nervous this time as this is actually my fourth pregnancy. As you can see from this journal my pregnancy with Baby Bean went relatively smoothly but after she was born in June 2008 I had an ectopic pregnancy in January 2009 and a missed miscarriage in October 2009. All pregnancies were planned so obviously we were very upset that the others didn't work out. We are really excited to be pregnant again but this time it's a different feeling as we feel that until the baby is safely happy and healthy in our arms, we will always be worried that things will go wrong.
Baby No. 3 – I know I said that Baby No. 2 would definitely be the last one for us but it's funny how these little tiddlers have a way of working themselves into your heart and making you think "maybe just one more" but honestly THIS IS THE LAST ONE!!! After a few chats about whether to try for one more baby, it turns out Mother Nature had already made the decision for us, it turns out my pill hadn't quite worked and we were already on our journey to parenthood again. A VERY happy surprise!
Week 5



Baby No. 3: T.I.R.E.D. This was the first inkling I had that perhaps I had a stowaway on board, there was no reason at all why I should be feeling so tired. I had been going to the gym, feeling really good but suddenly instead of losing inches and feeling great I was more than exhausted and there was definitely a bit of a spread around my tummy – could I really be pregnant again?
Week 6
Baby No. 3: After a positive pregnancy test confirmed my thoughts, a new feeling set in – nausea! I had nausea pretty bad with Little Bean, I was never actually sick I just felt it. This time around things feel much worse which I tell myself is a good thing but that's not helping. Despite Hubby and I initially said that we would keep our little secret to ourselves for a few more weeks (who were we kidding?) after a weekend away for our 5th Wedding Anniversary we decided to tell our parents. After the heartbreak of miscarriages in the past, we take the stance that if things do go wrong then we will have the support of our family to ease the pain. Mum was initially surprised but then said: "I know you'll be fine". Hubby's Mum was over the moon, I think she would happily have a whole tribe of grandchildren given the opportunity, Hubby's Dad thinks we're mad 😉  But upon talking to Hubby's Mum about the circumstances and explaining that I had still been on the pill, she asked if it was safe, something we hadn't really considered. A quick search on my pill on the internet told me that it increased the chances of an ectopic pregnancy – we've been there before so I set to and made an appointment to have a scan at the hospital.
Week 7
Baby No. 3: We didn't really know how many weeks pregnant we were at this stage, we estimated probably around 5 weeks but when we attended the scan, the Sonographer happily told us that the pregnancy was not ectopic and that we were indeed 7 weeks along and our little tadpole already had a heartbeat – it's true we're pregnant!!
Week 8
I have NEVER felt so tired in my life, I have no energy to do anything – I hope this phase doesn't last long. To make matters worse, I can't sleep when I get to bed! My moods are very changeable (probably because I'm so tired) – one minute I'm deliriously happy, the next down and blue or agitated (though that could easily be work!). I haven't developed any cravings yet but I'm STARVING, I just want to eat, eat, eat. I have slight nausea in the morning but thankfully so far haven't actually been sick.
Baby No 2: Oh I remember this feeling so well, I'm exhausted. I guess the good thing this time around is that as I'm a stay at home Mum with Baby Bean still having 2, 2-hour naps a day I'm taking the opportunity to sleep when she does. Funny how I never did this when she was a baby though? Sickness is kicking in big style, I don't remember feeling this bad with Baby Bean? Have been sick a couple of times now.
Baby No. 3: The nausea is still with me and so is the exhaustion, unfortunately, I don't have time to sleep in the daytime but I am trying to get to bed at least an hour earlier when I can. I attended BritMums Live this week and couldn't help telling a few of my friends there about our news, it feels good to be telling people, it makes it feel so much more real – it was also a surprise when a few of them responded with "me too".

Week 9
Thankfully not feeling as tired this week – we have booked a holiday to Fuerteventura, so I'm really looking forward to this. I can't believe my appetite, before falling pregnant I used to just take an average size lunch box to work, I'm now taking a carrier bag full of food – and very often still going to the supermarket at dinner for more. I have developed a craving for milk, I just can't get enough of it – especially Friij milkshakes!!
Baby No 2: still shattered and now being sick too. I'm feeling sick pretty much all of the time and generally just feel blurghhhhh!!! Can't wait for this to pass.
Baby No. 3:  U-oh, the Friij milkshakes have made their way back into my fridge, I can't help it I love it and it helps my nausea, that and bananas seem to be doing the trick at the moment.
Week 10
Went to my first Midwife appointment and had to complete heaps of forms. She talked me through how to ensure that I was taking the best care of myself and baby, asked if there were any hereditary conditions which I was aware of.  I have grown up knowing only my Mum's side of the family so I couldn't give any responses to the paternal side.  In these instances, it's good to be able to check your genetic health information which also highlights nutritional deficiencies. She says that I appear very fit and healthy – phew! 
We're now on holiday in Fuerteventura – gutted, this is the first holiday I've been on an all-inclusive and I'm pregnant. Everyone in my party is enjoying the free alcohol and I'm stuck on orange juice! I already have a tiny little bump showing which in my bikini looks like I've eaten too much. Acid indigestion has kicked in with a vengeance this week, it's awful – really hope this doesn't last. Also feeling very emotional!!!!
Baby No 2: Scary times! I've had a show of blood and we feel like our world is falling apart yet again. We called the hospital straight away but they can't see me for 4 days!!!!!!! Called my Midwife who spoke to my Doctor. He said that the hospital isn't being fair so has told me to go straight to A&E. Hubby takes me to A&E where they are really good, they do blood tests and explain that I will need to go back again in 48 hours for more – I know this procedure well now. The Doctor calls me early the next morning to say that the hormone levels in my blood are since he would expect for my stage of pregnancy which gives us some hope. He still wants to see me the following day for more tests. When we get there a Consultant is available who says that he can do me a scan to see what's happening. He remains quiet for probably only 30 seconds but it feels like 10 minutes before he announces, well that all looks absolutely perfect, there is baby and baby's heartbeat. I tell him I love him and go home very happy!
Baby No. 3: We are due to go on holiday this week so I decide that we should tell the children, more so for Curly than the others. My tummy is extremely noticeable now and I don't want to spend all week trying to hide it. Also, Curly's Mum is due to have twins in the next few weeks so I don't want to be telling him just as they arrive. The reaction isn't quite what we expected, they aren't jumping with joy, more shocked and dumbstruck I guess. As the week goes on they become more excited at the prospect of another little Green!
Week 11 – Acupuncture
I have always been a sufferer of migraines and have managed to keep them under control (sort of) with medication, of course now that I'm pregnant I can't do that anymore so my Doctor has suggested that I try acupuncture. I was really surprised to find out that I could get this FREE at my local surgery so I decided to give it a go. I had three needles in my head (one on my forehead and one in either temple), one in my hand and one on each foot. They were left in for about 15 minutes whilst I sat quietly in a room and read a magazine (a difficult task when the needle on my forehead was right between my eyes – slightly offputting!). It was not painful at all – I'm not totally happy with needles at the best of times – and I have been told that I should only need to go for three to six sessions.
Baby No 2: I'm still sooooo tired and my headaches are back with a vengeance. Reading this has reminded me perhaps I should get acupuncture again!! My sickness has finally gone. 
Baby No. 3: The headaches have returned just as the nausea is starting to ease a little. I still feel really tired but a blood test has confirmed that I am anaemic so the Doctor has provided me with some iron tablets, hopefully, they will kick in soon. I had my first appointment with my Midwife today who is a different one from my previous pregnancies, she seems really nice and a little more thorough than my previous one – fingers crossed!
Week 12 – FIRST SCAN
Feelings before the scan – excited but very nervous. My mind is racing back to my friend who discovered at her first scan that her baby had died. I have already become so attached to this little person inside me, I just want everything to be ok.
We arrived early to our appointment and didn't get taken in until 15 minutes after our time so the wait felt like forever – especially with a full bladder! The sonographer was less than pleasant and didn't make the experience feel "special" at all. I'm fully aware that they look at scans every day but this is the first time we will get to look at our first baby together. However, when the image came on the screen of our little "bean" I went all warm and mushy inside, there is a little person growing and moving around inside me – this is amazing, the best feeling in the world.
 DADDY says: Cool, amazing to see the baby and its tiny heart beating away. Feel really paternal already. Can't wait for 4th January to see the next scan and the development. Bina's bump is showing now, she looks really mumsy – it's lovely x
(Can't say that I was too happy with the "mumsy" comment – Daddy got put straight on that one – but I loved the rest of his comment).
 OMG have just spoken to one of my best friends who lives an hours journey from me and she is pregnant too and we cannot believe this but we have the same due date – 25th May 2008!!!!
Baby No 2: So far so good, the sickness has all gone and the problems that we had at 9 weeks seem to be behind us. I'm getting really excited about going for the scan next week but I've also started awaking in the night lots because of bad dreams. I keep dreaming that we are at the scan and they can't find the heartbeat – really hoping this is just my mind being cruel to me and not a "vision".
Baby No. 3: I know we have already seen the little tiddler on the big screen but I am still so nervous when we go for our dating scan. These first few weeks when you don't feel anything other than rough are always quite nerve-wracking, you know that you are pregnant but you can't feel any movements, you just feel fat and rubbish. The sonographer is probably the nicest sonographer we have ever had, she greets us warmly and invites us in, not hesitating to get started on the scan and telling us exactly what she is doing and what she can see. Hubby and I have a little nervous giggle as she says "blimey this one is a mover, it's not sitting still long enough for me to get the measurements". None of our children so far sit down long enough to catch a breath so I don't see why this one should be any different – no rest for the wicked springs to mind!
Week 13
I'm feeling much less tired now and am sleeping well at night. I'm also not wanting to eat everything in sight – thank goodness. I'm still craving lots of milk but I also really want savoury foods and Chinese – lots of it!
We have now told pretty much everyone about the baby and they are all really happy for us, though shocked at how quickly we have fallen pregnant. We have told, "big brother" that we are going to have a baby. Not sure on Daddy's method of telling him though. We sat him down and Daddy said: "What would you really really like to have?" – so his head is obviously spinning with Dr Who and all the lego creatures in the world when I said "Daddy doesn't mean toys or anything like that – we're talking about family" suddenly his face lit up and he said "A baby brother or sister?". He was soooo excited, he wants to name the baby James for a boy or Eleanor for a girl. He was so excited he told all his friends and teachers at school.
 On the downside, my sister-in-law has been diagnosed with breast cancer (she is the same age as me) so this has come as a huge shock and emotions are running very high. We feel bad for being happy when something so terrible is happening.
Baby No 2: FIRST SCAN!! Things have changed since we had Baby Bean. You now have your scan slightly later so that they can measure the fold of skin at the back of baby's neck. The thickness of the skin can indicate a baby with Down's Syndrome – this is called the Nuchal Fold Scan. The appointment is longer because they do all your blood tests at the same time instead of at 14 weeks.
The scan is amazing and we were so happy to see baby's heartbeat. It was a little wriggler just like their big sister and barely stayed still long enough for the sonographer to measure the skin but she said straight away that she was happy with the thickness of the skin. The baby was just like Baby Bean in that it measured a week smaller than its dates so we are actually only 12 weeks 3 days now. I would have said that Baby's picture looked exactly the same as Baby Bean's scan picture too?!?!?
Week 15
We bought our pram this week, it still feels so funny buying baby stuff – that may sound daft as obviously, we are pregnant but it still feels like I'm pretending. Even though I have a bump growing, it still doesn't feel real – maybe when I start to feel movements it will feel more like a baby in there than just me getting fat!
 Anyway, as I was saying we bought our pram this week. It's a Graco Mosaic Travel System, we didn't really know what we wanted but our local Baby Megastore was closing down so there were big savings to be had. I think we saved about £100 on the initial sale price, I always love a bargain!! So off we went with our new travel system and stored in at the in-laws as I'm very superstitious and there was no way that it was coming home before the baby!
Baby No 2: Arrghhhh!! Why am I still so tired, surely I should be starting to perk up a bit now? My skin and hair are really dried out, I feel like I look really under the weather all the time – I need a lift! We have now told Curly that he is going to be a big brother again and he was soooo excited. See my blog post (           ). I could have sworn I felt the "bubbles" this week when laid in bed reading a book or am I just hoping that I did?!?!?
Baby No. 3: How hot?!?!?! The English weather cannot make up its mind at the moment, one minute it's raining the next we are melting in the sunshine which I find particularly hard to cope with. It is especially hot at night which isn't helping my exhaustion as I'm finding it really hard to sleep. Nausea has finally gone but despite being on iron tablets I still have no energy at all and I am sooooo thirsty!
Week 16
OMG, I have started to feel the baby move. It only happens when I'm settling down in bed at night, it feels like someone is "tickling" my tummy or like there are "bubbles" running under the skin – NO I haven't got wind, I definitely know the difference on that one. This is so exciting, though I think hubby feels a little left out as obviously he can't feel anything yet.
 My energy levels are right back up again, yippee and all nausea has gone. I'm feeling fantastic at the moment – gone are the days when I can't drag myself out of bed and gone too is the urge to eat everything in sight. Still can't give up the Friij milkshakes through – YUM YUM!!!
 My acupuncture has now finished and I am happy to say that I am already migraine free, I used to have migraines at least once a week but I haven't had them for 2 weeks now. Fingers crossed it will stay this way!!
Baby No 2: Headache, headache go away! I STILL haven't remembered to book for more acupuncture, only got myself to blame. I've been "working" again back at my old job for the odd days to help out and have amazed myself that even with "baby brain" well in force I remembered how to do a job I hadn't done in over 2 years!! I'm still feeling tired and falling asleep in the afternoons, maybe I'm anaemic – really must get to the Doctors. Back at the midwife next week so will speak to her and see what she says. I felt a kick this week and it was amazing! I forgot how wonderful this feeling is, can't wait until Daddy gets to feel it too. My baby bump is showing now and seems to go up and down by the day. Been on holiday this week, had a lovely time but have had a terrible cold which wasn't nice.
Baby No. 3: Right on queue with when I felt Little Bean first move, I have been feeling the bubbles with Baby No. 3 which is AMAZING, I don't feel it often mostly when I am settling down at night but it's so nice to feel the movements again. Nothing feels so special as a baby moving in your tummy.
Week 18
Booo, I have a stinking cold that just doesn't want to shift and of course, thanks to my bump I can't take anything for it other than paracetamol, I might as well chew a hanky for all the good that does. Thanks to my cold I have zero concentration at work which is getting me down. I'm a control freak and hate to feel like I can't cope, or worse still, that my colleagues think I can't cope! 
Gave in to the cold and have taken 2 days of work and slept both days.
 Worrying lots about my sister-in-law too, these are difficult times. Because of my cold, I'm not allowed to visit which makes me feel even more useless.
Baby No 2: Since having Baby Bean I walk quite a bit, it's a good way to keep fit and it gives her lots of fresh air! But I have to say I'm struggling with the walks now, I get breathless really quickly and lightheaded? I could understand this if I was 35 weeks pregnant but I'm only 18 weeks and I feel SOOOO UNHEALTHY!? I'm not feeling quite so tired so hopefully that phase has passed. Only two weeks until the next scan and we really can't wait, we are going to find out the sex this time!! We've been talking names a lot this week as up until now we have only been able to find girl names that we like but this week we THINK we have finally found a boy's name that we both like? I guess in a couple of weeks we'll know if there was a reason we could only think of girl names!?!?!?
Week 19 – nearly scan time!! To discover the sex, that is the question . . .
We're only a week away from the 20-week scan and getting so excited. People keep asking if we're going to discover baby's gender or not. Right from the beginning we have both said that we definitely don't want to find out until the birth but the closer we're getting to the scan, the more I'm wondering if I can wait that long. What's making it a more difficult decision is that my close friend is having a baby too and has just found out that she is having a girl. I keep saying that I don't mind what we have as long as it's healthy but deep down I know that I really want a girl. Because Hubby has been married before and already has a son I want to give him the one thing he hasn't got, and I also think it will be harder for people to compare the two children if they are a different sex.
 On the plus side to discovering the sex you can buy "gender-specific" baby stuff, instead of having to stick to lemon, lilac or white. But on the downside, we can't help but feel that some of the "magic" will be taken away. The decision has been made, we are NOT going to discover the sex – well, maybe not!?!?
Baby No. 2 – This time we are going with practicality and have decided that we are going to find out the sex of the baby. We have soooo much girlie stuff in the garage and the loft which Little Bean has grown out of and we are moving house this week and again in a couple of months so we really need to sell off all that is not needed if bump happens to be a boy. All will be revealed shortly?!?! Curly has said from the beginning he wants a brother this time and Little Bean says she would like a "Boy Sister" so I think she'll be pretty happy either way.
Baby No. 3 – I'm starting to feel nervous about the scan next week, we will definitely be finding out the sex because Little Bean wants a baby sister so much, yet Curly really wants a brother because his Mum is about to have twin girls. Whichever way the scan goes, I fear we are going to have at least one upset sibling.
Week 20 – SCAN TIME!!
What a difference a sonographer makes! This time we had a lovely lady who really made this feel special. We took Big Brother with us so that he could see his baby brother/sister on the screen. We were all really excited but then the moment you dread happening happened! The sonographer went very quiet, frowned and kept flicking from screen to screen. I looked at Hubby and without speaking, we both knew that something wasn't right. Hubby asked the sonographer if there was a problem, to our relief she said that the baby was absolutely fine but that I had a low-lying placenta (placenta praevia). It was covering my cervix (the babies "exit") and that it could lead to me bleeding or having to have a c-section but that basically it was nothing to worry about, this is very common in pregnancy. After that, she showed us images of our baby moving around and gave us some pictures to bring home. They were amazing, you could see every detail so clearly, our baby looked so delicate.
We went home and got straight onto the internet and looked up placenta praevia, which is probably the worst thing we could have done as there are all sorts of scare stories. We then spoke to a few friends and it turned out they too had placenta praevia in previous, and might I add, successful pregnancies. Everything will be fine, I know it!
Baby No 2 – the night before the scan I'm really nervous as it has suddenly dawned on me that the scan isn't all about finding out the sex of our little bump. It's actually a really important scan to make sure that everything is ok with the baby. Bump is a real mover and a shaker so fingers crossed that means all is ok but you never can tell!
So the bump is . . . . a boy! I was really surprised as I was really feeling that we were having another girl but I guess this just goes to show how wrong you can be. The scan went really well and the Sonographer said that everything looked exactly as it should do so that was a relief. Curly is now wanting to know if the baby will look like him! Children are never satisfied, are they? We have decided to call the bump "Algie" as this is one of Curly's favourite names – though we have made it clear that only the bump is being called Algie, once the baby is out he will have a different name which I and OH have chosen. Curly seems quite happy with this.
Baby No. 3: And the Sonographer says . . . . . It's another baby boy!!! I have such mixed feelings, Little Bean was so upset she actually cried when they told us and again when she told Curly. I felt like I had let her down. No matter how much we tried to tell her that being the only girl was a good thing, she wasn't having any of it.
From my own point of view, I was initially looking forward to the idea of doing all the girlie clothes again but I feel really pleased with the thought of another mini Beanie Boy running around. Having Beanie Boy at home I think it will be nice to have the two boys together and having girlie days means that it will always be just me and Little Bean. The future is looking good!
Week 22
The baby has now started kicking, which is the best feeling in the world. It's a lovely but odd feeling. I felt the first really faint kicks on 13th January 2008 but since then I have been feeling it more and more. The movements are still mainly at night when I'm relaxing or just thinking about going to sleep – little monkey! Daddy has managed to feel a few of the kicks but often as he puts his hand on my tummy baby stops – I bet the baby is doing it on purpose. I've had one sleepless night because the baby was riffling and turning all night, that is the strangest sensation in the world and actually made me feel sick. All the movements are really making me feel "connected" to baby now. It has also just dawned on me that I am now over halfway through, this time has flown by, I can't believe in a couple of months our lives will never be the same again!! Arghhh, so nervous now!!!
Baby No. 2 – I look like I've swallowed a football, I cannot believe how differently I'm carrying Algie to Little Bean. With Little Bean I was HUGE! All over, I had big arms, legs, bum – everything. But with Algie I'm all bump, my legs are still slim, as are my arms and I'm pleased to say that bum doesn't take up two seats on the sofa this time around.
I'm finding this pregnancy much easier now, maybe its because I've done it all before? It's not like I had a bad pregnancy with Little Bean but I just feel so much better in myself.
Baby No. 3: I am feeling awful! For the past couple of weeks I have had a horrible cold, I thought it was the change in weather but the Doctor has just confirmed that I have whooping cough and it could last up to 3 months!!! Sleeping is a problem because I keep waking up choking and am almost sick, nothing makes it feel better so I just have to get on with it.
On the plus side, Jelly Bean is kicking like mad and I love this feeling so much. I talk to him and place my hands on my tummy and he responds with kicks to my hand, so special!!
Week 24
Baby No. 3: What a rubbish couple of weeks it has been. Somehow I have managed to catch whooping cough and it's awful. During the day I have coughing fits where I end up being sick or just cannot breathe which is really frightening. At night I am not sleeping well because I suddenly wake up choking so I am absolutely exhausted. On top of that, I have really been suffering from acid indigestion and then three nights ago the leg cramps started.
Week 26
My energy levels have hit a major low, I'm totally shattered. Am sleeping lots and have been very poorly – also feeling very low. On the plus side, I'm craving chocolate by the bucket loads. I read an article in the paper that said some study has revealed that mother's eating chocolate during pregnancy produces happier babies who smile more often, now what more encouragement do I need!?! Have been eating Cadbury's Cream Eggs by the bucket load and decided it was far cheaper to buy them in multipacks, the only problem is I'm always tempted to eat all 12 eggs!
Have started playing Baby Classical CD to my bump in the hope that when the baby is born it will recognise the music and settle well when I play the same music. Only time will tell but at the moment the baby moves to where the headphones are when I turn the music on.
Baby No. 2 – I LOVE my hair! All of sudden my hair has taken on a new life and is full of shine and vitality. I feel like I look really healthy and people keep telling me that I'm looking really well. Maybe it is true what they say, a girl steals her mother's looks, a boy accentuates them. I certainly feel more attractive this time around and I'm definitely not complaining.
I flew to Frankfurt this week for an overnight stay. This is the first time I have flown in established pregnancy, I think I was about 10 weeks when I flew whilst pregnant with Little Bean. I felt ok apart from having to wear the super sexy flight socks from the minute I woke up to the minute the plane landed. At the end of the day, I figured it was worth it when faced with the alternative of blood clots!
Baby No. 3 – The whooping cough is still making my life a misery and now Hubby has caught it too. We aren't able to see Curly because his Mum has just had twins 5 weeks premature so we can't take the risk of passing it to him and them. I would love to get a decent night's sleep!
Week 28 – CRAMP!!!!!
OMG, what is it with cramp in my legs!? In the middle of the night when I have finally managed to fall asleep I am woken by horrendous cramp in my legs, trouble is I scream out and Hubby nearly falls out of the bed in shock – actually its quite funny from my point of view, if I wasn't so tired I would do it just for fun but I need sleeeeeep!!
 Have arranged with work that I will go down to a four day week soon and it can't come soon enough. Work is sooo stressful, having to interview my potential replacements. Strange feeling trying to find someone to do my job when I am intending on returning to it.
Really can't wait to meet baby now, though I'm having odd worries about whether I will be a good mum and how it might change my relationship with Hubby.
Baby is such a wriggler – I LOVE IT! I have to laugh when the Midwife asks if I get at least 10 movements a day, my response is generally "try 10 movements a minute!".
Baby No 2: OMG the heat is draining me!! I always remember saying I would rather be pregnant through the summer than have a baby through the summer as its much is easier to cool yourself down and know how you really feel than it is a tiny baby. But seriously I'm struggling!! Sleep is pretty much non-existent unless I can have a fan blowing a force 9 gale on me and walking around I feel like an old woman.
My midwife says I'm suffering from low blood pressure too, which doesn't help as I'm feeling very light-headed. I have to make sure I don't stand up too quickly or stand still for too long. Thank goodness I haven't got too much longer to go.
Baby No. 3: Well could things get much worse? Hubby has been admitted to hospital with severe pneumonia, I am still struggling with whooping cough myself and I am home alone with the tiddlers who are both poorly too. I am feeling really low now, I really wanted to make the most of this pregnancy with it being my last but it's just miserable.
On a positive note, Jelly Bean is wriggling around like a crazy and it always puts a smile on my face to feel him moving and kicking.
Week 29
Seriously starting to slow down, I feel so unfit and get out of breath really quickly. I can't believe how much pregnancy takes is out of you. Took Hubby for a romantic weekend away, we normally love walking everywhere and I'm a total shopaholic so Hubby knew something was wrong when he suggested going to a local shopping village to be told, I'm too tired!!
 Blood tests say I'm lacking in iron so have been put on iron tablets – great that will really help with constipation!!!
Baby No 2: Having blood tests again today – boo!! I hate having needles stuck in my arm but its a necessity so I just have to put up and shut up.
Went clothes shopping yesterday as my bump has already outgrown all my maternity trousers (eeek that means I'm bigger than I was last time). I tried on a pair of black maternity leggings today and had to laugh at how far my bump sticks out. Last time I had the weight on my legs and bum too so the bump didn't notice as much. This time I look like I've swallowed a sports departments football selection. Really hoping I don't get loads of stretch marks but I can't see me escaping them at this rate!
Week 30
Baby No 2: The heat that we are having is sapping the energy right out of me and my low blood pressure feels like it's at an all-time low. When standing up I have to move as slowly as possible or else I will just fall flat on my face. Queuing in shops is unbearable because if I stand still for more than a minute I feel like I'm going to pass out. I'm starting to feel like a totally pathetic pregnant person that moans for moaning's sake but this is really horrible as I'm normally a very active person. I've been told to get out and exercise to increase my blood pressure but just the shortest of walks has me wiped out for the rest of the day.
I'm also starting to get really nervous about birth now. I didn't have easy labour with Little Bean and now all the memories of that which I had hidden away are coming back to the surface. People keep telling me it's easier second time around but I'm also fearful that this little boy is going to be much bigger than his big sister. He seems to fill every inch of my already enormous bump and I still have 10 weeks to go!!
Baby No. 3 – At my appointment with the midwife this week she said that Jelly Bean is transverse. We have to see if he has moved at my next appointment and if not then I will need to be scanned because there is a possibility that I would need a c-section. I feel really sad by this because I have managed two natural births so far and hope to again with Jelly Bean. Reading up on my Thyroid medication it turns out that low thyroid levels can cause complications in birth and make it difficult for a baby to get into position.
Week 31
Sleeping terrible as have the worst pain ever in my hips and dead legs. I have taken to sleeping on a row of 4 cushions in bed, not the best thing when you're not very stable already.
Am starting to hate how useless I feel at the moment. I'm a really independent person and want to keep doing things as I always have done but it's just not possible. I feel like I have turned into one of those whingeing pregnant women. Have always wanted to be pregnant and have lots of babies but I'm sad to say I'm not enjoying the whole "fat" thing. I always used to say to other women "you're not fat, you're pregnant" but now I can totally sympathise with how they feel!!
Baby No 2: Pleased to say on reading back with my last pregnancy that I'm not having the pains in my hips that I had before. I'm not sleeping well at all but that is mainly due to my half-hourly trips to the loo. I've tried cutting down my drinks in the evening but it's still so warm that I need them. Little Bean is really interested in a bump at the moment, she wants to kiss it and talk to it all of the time. I really do wonder how much of it she actually understands and how she will feel about the baby once he is here?
Baby No. 3: Just when we thought we were all on the mend we have now been struck down with norovirus, it started with Beanie Boy, then Little Bean and now me. I feel like I could sleep for a week, even the simplest of tasks seem like too much to do and I'm trying to get ready for Christmas.
Week 33
I'm really looking forward to finishing work, just a few more weeks to go – it really can't come soon enough. My brain has totally left the building and I'm getting fed up with the "haven't you had that baby yet" comments! I'm the size of a whale now too. Went to dinner with my friend yesterday who is having her baby by c-section at the end of the week. The woman who served us said that I was obviously further on that my friend, was gutted to tell her that actually no, her baby was due now and mine still had nearly 2 months to go!
Baby No 2: Oh flippin' heck! Have had to go back to the hospital again because of more bleeding. I didn't have any warning signs at all, just an innocent trip to the toilet and I had a nice big pool of dark brown blood staring back at me. Went to the hospital where they monitored the baby's heartbeat for about half an hour and did an internal examination. Turns out I have a Cervical Polyp – at the time they said there was nothing to worry about but after I left the hospital and made the daft mistake of looking it up on google, I was extremely worried as it mentioned the dreaded "Cancer" word – only at the very bottom in "rare" cases but enough to get me anxious. I shall be bringing it up at my appointment with the midwife next week.
Week 34 – Acid Indigestion Sucks!!!!! 
I think my pregnancy should be sponsored by Gaviscon! For the past week or so I have developed awful acid indigestion and am getting through a giant-sized bottle of Gaviscon in about 4 days!!!! 
Getting excited as am having another scan in a couple of weeks to determine which way around the baby is (it keeps staying breach) and also to see what is happening with my low-lying placenta. The Midwife keeps saying "fingers crossed the placenta will have grown upwards" but I keep secretly hoping that it won't have moved so that I can have a baby out through the "sun-roof" – I'm really starting to get scared about the big push! Baby got in there and it's got to come out but I keep hoping they will invent a pain-free method before my due date! I think I can keep hoping!!!!
Baby No 2: How low can you go? I'm convinced that the baby's head is beginning to engage as he feels so low down. Last night I had 4 hours sleep – yes that's right 4 HOURS! The baby was wriggling around so much and felt so low down he was actually causing me some pain around my pubic bone. I felt like if I put my hand between my legs I could have shaken baby's hand!! Off to the midwife today so we'll see what she has to say.
Baby No. 3 – oooh yay finally we all seem to be feeling a lot better. My energy levels have increased a little and I have been trying to get to bed earlier which is helping. The acid indigestion is back again. I have seen the midwife and she said that baby has finally gone head down which is great news, only trouble is I'm pretty sure that by the time I got home he had gone transverse again – little monkey!!
Week 37 – NO WORK FOR A YEAR – YIPPEE!!!!!!
Finally, I have finished work and not a moment too soon. Got lots of lovely presents from work and had a night out on the town, everyone thought it was great that I still wanted to go out. My baby loves music so why not!
Oh-oh baby's head is engaged and so we're apparently ready for lift-off!! Time to PANIC!!!! Is it too late to change my mind about giving birth?
Baby No. 2: We're finally in our new house and I'm now feeling more anxious than ever. I just want to get the house into a "home" as quickly as possible so that if I do happen to go into labour I won't be worrying about all that's left to do at home when I return. I know in the grand scheme of things I will have other things on my mind during labour, like "OUCH" but after that when I have my baby in my arms I don't want to be rushing to get home to get all the jobs done. I also want Hubby to spend his paternity leave WITH the family not running around the house doing DIY.
My period pains are getting worse and worse, my tummy, back and legs are constantly hurting but the paracetamol doesn't seem to make any difference. Please don't be a late baby!
Week 38 – PUPP in Pregnancy
I'm totally shattered, hardly sleeping at all as I have developed a rash on my bump which is known as PUPP (Pruritic urticarial papules and plaques). In short, it means that my DNA is having an allergic reaction to my baby's DNA 🙁  It is driving me mad as it itches like crazy, I have taken to having 3-4 showers a day to keep my skin cool (its really really hot weather) and I take my Nintendo DS Lite to bed with me to play Madagascar as this is the only way I can stop myself from scratching. Apparently this is a common rash in pregnancy and when I looked online I had to thank my lucky stars as most women get it from 22 weeks!!! I have been told that it will spread from my tummy and move to my bum, hips, legs, arms and eventually hands and feet! Oh, what joys await me!!
Baby No. 2: I'm going to say this quietly but I seem to have escaped the dreaded PUPP this time – yippee!!! Home is very stressful, I think everyone is feeling the effects of the move and we're all a bit on the snappy side. Hopefully, we're nearly there now. The period pains are still the same with no sign of turning into anything more productive. I'm drinking lots of raspberry leaf tea but I'm not bothering with the rest of the "get baby out schemes" this time, they DON'T work!!
Baby No. 3 – At my midwife appointment today she said that baby's head is still down and sitting in the brim. He is not engaged but at least he is still in the right position. I mentioned to the midwife that I was a little concerned because I haven't felt Jelly Bean moving around so much in the last couple of days since my GP increased my Thyroxine medication. She sent me to Antenatal Day Unit to be monitored. Thankfully his heartbeat was absolutely fine and initially, I was hardly having any contractions then all of a sudden I had some big contractions start to kick in. The midwife examined me and said that I was only 1cm dilated but gave me a sweep to see if it would move things along. By the time I came home, everything had stopped so it's back to the waiting game again.
Week 39
The Doctor has prescribed me a higher dose of Steroid Cream which is safe for baby but has thankfully started to work on my rash – phew! Thanks to scratching though I have now got the dreaded stretch marks! Gutted, I have worked so hard on my tummy to keep it moisturised in the hope that I won't get them and getting this far assumed I was going to be lucky but NO, they're here!!!
Quick update on the migraines – STILL NOT HAVING ANY – fantastic, I would highly recommend acupuncture.
Baby No. 2: I think the "blooming" stage of pregnancy has definitely passed! I now have dried out hair and skin, I resemble moby dick on a bad day and I promise I will never moan about period pains again if this baby would just hurry and come out this week. Instead of his head engaging he seems to prefer to be up by my rib cage somewhere, I'm tried talking him down but just like his big sister, he isn't listening to his Mummy! A good sign of things to come? On the bright side only 3 more weeks at the most!!!
Week 40 – Oh come on baby!
My horrible rash has all but gone, thank goodness, really couldn't have taken that much longer.
Baby doesn't seem to be in a hurry to arrive. I am eating pineapples till they come out of my ears, am drinking Raspberry Leaf Tea but the bucket load, Hubby thinks his birthdays and Christmases have come at once as we're at it like rabbits determined to get this baby out. We've travelled down every bumpy road we can find and I'm eating so much curry I'm thinking of changing religion!! Is nothing going to shift this baby? I have a feeling my baby could be very strong-willed, going to be like me then – fast forward 15 years and oh the arguments we're going to have! Eeeeek!!!
My friend's baby who was due the same day is apparently not in a hurry to make a show yet either – feels like we're now in a race!
Baby No. 3 – Thoughts are back to my pregnancy with Little Bean as my due date has been and gone and now we are playing the waiting game. At 40+3 days I have been given another sweep. Rather annoyingly I began really heavy contractions during the afternoon but then at around 9 pm, everything stopped so we are back to waiting again.
Week 41 – Hellooooo anybody seen a baby?
I'm so fed up with being pregnant now. Am getting lots of pains in my tummy and back but they don't seem to be amounting to anything. I'm going for a sweep at the end of this week, not sure I like the sound of that!
DADDY says: I'm really excited but getting impatient. I want to meet my new daughter or son. Everything is done and ready now, just waiting for that phone call saying "get home now!". I'm worried about how Bina will cope with labour and making sure I am as supportive as possible to do everything I can to make it run smoothly and help her through it.
Full-term plus 10 days
Been for a sweep today! Got a little worried when the woman in front of me in the queue had hers and started screaming, I really thought she must have gone to the torture chamber. HOWEVER, mine really wasn't that bad, uncomfortable a bit like going for a smear but not painful. Now got to go home and see what happens!? If nothing happens, then I'm booked in to be induced in 48 hours!
My friend who was due the same day as I am going into hospital to be induced tonight – looks like she's going to win the race, I'm gutted that we are both so late and she is now going to have her baby first. I was really beginning to think we were going to give birth on the same day! Oh well, c'est la vie!
Full-term plus 11 days
At 5.30 am I woke to the fear that I had wet myself – not lots but enough to freak me out – I haven't wet myself since I was a tot and I'm not about to start again now! I phoned the hospital and they said it sounds like my hind waters (I think) had broke. I didn't even know I had 2 bags of water in there!! They told me to get myself showered and have some breakfast then head over to the hospital when I was ready so they could check me over. At about 8.00 am we made our way to the hospital where they did a test to confirm that my waters had broken. I was then hooked up to monitors so they could see what the baby was up to and the heartbeat was manic – they couldn't believe how strong and fast the heartbeat was but I was still not having contractions. After being monitored for an hour the Midwife suggested that as I and Hubby wouldn't have some "us" time for a while to come, my Hubby should take me out to lunch. So we went out for a lovely pub lunch and whilst eating I started to feel some mild contractions – not that they were going to stop me eating!!!! When we got home I received a call from my friend's husband to say that she had given birth to a happy healthy boy at 9.30 am – so now it was up to me, come on baby show your face!!
As the day wore on contractions kept coming and going, by 10.00 pm we decided nothing was really going to happen so we might as well go to bed and make the most of sleep whilst we could. But at 10.30 pm my contractions started in earnest. Hubby quickly hooked me up to my TENS machine, which didn't really take away the pain but it did give me something else to focus on. Hubby lay in bed and watched Step Up on DVD (great film) whilst I paced around the house trying to keep myself busy. Each time I bent down my TENS machine would cut out as it obviously had a dodgy connection so I did the sensible thing and asked Hubby to take a look at it. NOT SENSIBLE AT ALL, Hubby was clearly not paying attention as he just pulled one of the connectors out of the TENS machine making it "short" out and send burning pains up my back. Boy did I scream at him!! I guess it helped to take my mind off my contraction though. At about 1.00 am we decided to head on over to the hospital and see if we could get this baby out. When I arrived at the hospital they took me through to the Midwife LED unit which was really nice and calming, they checked me over and said that I was only 3cm dilated so I had a way to go yet. I had decided that I really wanted to try for a water birth but within 5 minutes of sitting in the bath, I had to get out as I hated the feeling. I tried walking around but my contractions kept coming down my thighs and so I found it really difficult to stand up. I ended up kneeling on mats on the floor. For the first few hours, I managed to get by on just gas and air but after a while, I decided I would try Pethidine – I HATED IT! I immediately felt sick and felt like someone had put lead weights in my head, it didn't ease the pain it just made me feel out of control so I couldn't wait for it to wear off.
I began pushing at 6.30 am but after 2 hours was still not getting anywhere except for extremely exhausted. If I had any energy left in me I would have jumped for joy when the Midwife said that they were going to take me through for the Doctor to assist me. Initially, the Doctor tried using Ventouse but this just flew off baby's head and covered everyone in blood. At the time I remember asking Hubby why they were wiping my face, the Midwife said it was just a little blood, Hubby said it was more like Platoon! Finally, they decided on the big shiny "salad servers" and our baby was born with forceps. Sadly it meant I had to be cut but I have to say, I really didn't care – I'd had enough and just really wanted to see our baby. We had written in our birth plan that Hubby wanted to cut the cord and discover the sex of our baby. Because of the assisted birth, the Doctor cut baby's cord but as they placed the baby on my chest, Hubby looked to see "who" we had – so he declared "it's a girl, oh it's a boy, no it's a girl" to which I said "well what is it?" and finally he decided yes we have a beautiful baby girl. I would have been happy either way but as I said previously I so wanted a little girl and finally, here she was laying on my chest and she was perfect! Baby Girl was born at 8.38 am, just 23 hours after my friend's little boy – amazing!
DADDY says: Fantastic, I am so happy and emotional at the birth of Baby Bean. A little girl, my own little princess I love her to bits. I am so proud of Bina and love her more than ever. So pleased that both my favourite girls have come through birth so well and are making such good progress.
We're home . . . .
I'm so pleased to be home and surprisingly relaxed. I stayed in the hospital for 2 nights following the birth and was so pleased that I did. The Midwives gave me great support and instilled me with the confidence that I could care for my baby. They assisted me in getting started with breastfeeding. I really wanted to breastfeed but although on her first-day feeding went well, on our second day in hospital Baby Bean just wouldn't latch on and I was becoming more and more anxious. She was also slightly jaundiced and had to have a heel prick test, I hated seeing her so upset by that – maternal instincts kicked right in! I had a lovely Midwife who stayed with me until the early hours on the second night and finally at 1.45 am Baby Bean latched on and fed for 45 minutes – OUCH!!!! I really missed Hubby and Big Brother but now we're all home and one big happy family. This is just the best feeling in the world, finally, I'm a mum!!!
DADDY says: I missed "Mummy" so much when she was in the hospital and was really emotional when it came to not being able to be there and help when she was having problems feeding etc. Now they are both home and its great. I am amazed at how chilled and relaxed "Mummy" is and how well we are both adapting to our new addition and family life. We are both tired but coping really well. I don't think I could be happier and what a 1st anniversary present. "Mummy", Baby Bean I love you xxx
(Baby Bean was born 3 days before our first Wedding Anniversary – what more could we ask for – well actually I asked for an eternity ring, and got it!).