Unlock the Magic of Personalised Gifts: Your Ultimate Christmas Gift Guide for the Whole Family
The holiday season is just around the corner, and it's the perfect time to spread joy and love with thoughtful gifts that show you care. If you're searching for unique Christmas presents for family members, personalised gifts are the way to go. They add that extra touch of thoughtfulness and sentiment that can't be found in mass-produced items. In this Christmas gift guide, we've curated a selection of handpicked personalised gifts for the whole family, ensuring you'll find something special for everyone on your list. Plus, we'll also suggest five additional products that make fantastic presents during the festive season.
Personalised Photo Advent Calendar with Poster from CEWE
Kickstart the Christmas countdown with a personalised twist! The CEWE Photo Advent Calendar with Poster is a delightful way to bring a daily dose of joy to your loved ones. Featuring a stunning poster that can be customised with your favourite family photos, this advent calendar is a visual treat.
Each day, your family can open a numbered door to reveal a hidden surprise, making the anticipation of Christmas even more exciting. Whether you fill it with chocolates, small trinkets, or heartfelt notes, this personalised advent calendar is a cherished keepsake that can be used year after year.
Personalised Desk Calendar from CEWE
For a gift that keeps on giving all year round, consider the CEWE Personalised Desk Calendar. This compact calendar is perfect for home offices, workspaces, or even the kitchen counter. You can customise it with your family's favourite photos, turning it into a daily reminder of cherished memories.
Each month presents a new opportunity to display a special picture and jot down important dates and events. It's a thoughtful way to stay organised while adding a personal touch to your workspace. Plus, it's a fantastic conversation starter during video calls or meetings!
Custom-Made Ordnance Survey Map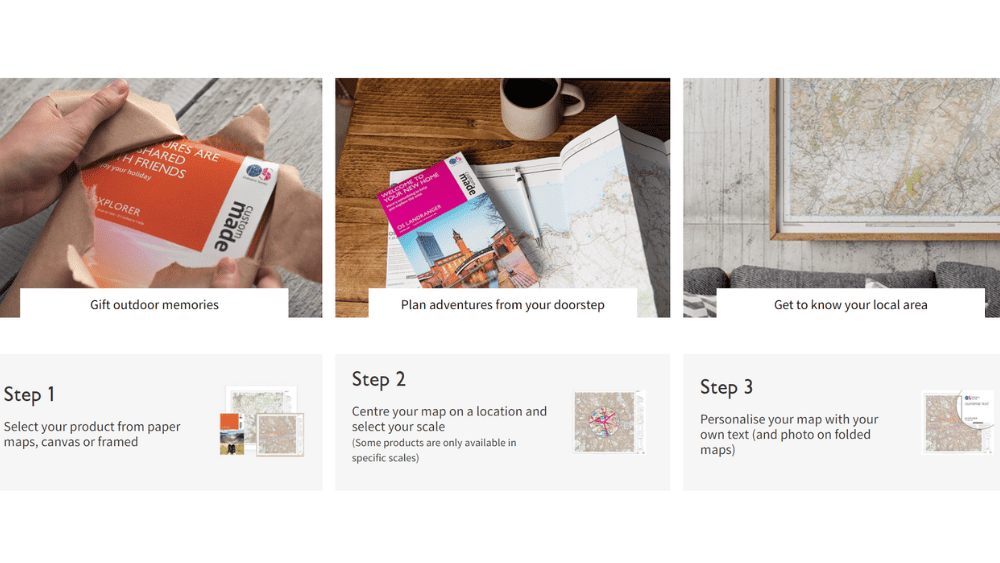 For the adventurers and nature lovers in your family, a custom-made Ordnance Survey Map is an extraordinary gift. Choose a location that holds sentimental value, whether it's a childhood home, a memorable hiking trail, or a favourite vacation spot.
The map can be customised with details like names, dates, and special markers, making it a truly unique piece of art. It's a fantastic way to commemorate family trips, special occasions, or the places where your family's story began.
Personalised Astrology Powerful Edition Book from Wonderbly
Astrology enthusiasts will be delighted by the Personalised Astrology Powerful Edition Book from Wonderbly. This beautifully crafted book explores the zodiac signs and offers personalised insights based on your loved one's birth date and name.
The book takes your family member on a journey through the stars, revealing the attributes and virtues of their Sun sign. It provides valuable guidance on their strengths, challenges, and opportunities. With customisable cover options and a heartfelt inscription, this book is a unique and meaningful gift that celebrates individuality and self-discovery.
Customised Photo Book from Popsa
Capture the essence of your family's most cherished moments in a Customised Photo Book from Popsa. Gather your favourite photos and create a personalised keepsake that tells your family's story. From holidays to birthdays and weddings to everyday adventures, this photo book is a beautiful way to preserve memories.
Popsa offers easy-to-use templates and customisation options, allowing you to design a book that truly reflects your family's personality. Whether you choose a classic hardcover or a stylish softcover, this gift is a treasure trove of memories that your family will revisit time and time again.
Personalised Coasters from VistaPrint
Elevate your family's daily coffee or tea routine with personalised photo coasters from Vistaprint. These customisable photo coasters offer a practical yet stylish way to add a personal touch to your home decor. Whether you feature snapshots of cherished moments or opt for artistic designs, these coasters protect your tabletops while adding a touch of nostalgia. They're not just functional; they're also a fantastic conversation starter for guests, making them a delightful addition to any family gathering or social occasion. With VistaPrint's easy customisation options, you can effortlessly transform your favourite family photos into functional pieces of art that your loved ones will appreciate daily.
Additional Personalised Gift Suggestions
Now that you've explored some of the best-personalised gifts for the whole family, here are five more product recommendations to consider for your Christmas gift guide:
Custom Family Portrait
Commission a talented artist to create a custom family portrait that captures the unique essence of your loved ones. It's a timeless and artistic gift that will be cherished for generations.
Personalised Recipe Book
Gather your family's favourite recipes and create a personalised recipe book. Add anecdotes, photos, and cooking tips to make it even more special.
Monogrammed Family Blankets
Cosy up during the holidays with monogrammed family blankets. Each family member can have their own, and they're perfect for movie nights or staying warm by the fireplace.
Customised Family Tree Art
Celebrate your family's heritage with a customised family tree art piece. Include the names and birthdates of family members to create a beautiful and sentimental artwork.
Engraved Family Jewellery
Gift your family members with personalised jewellery featuring their names or birthstones. It's a stylish and meaningful way to carry your loved ones close to your heart.
In conclusion, personalised gifts are a fantastic way to show love and appreciation during the holiday season. Whether you opt for a custom calendar, an astrology book, or any other unique gift ideas, the thought and effort you put into personalising these presents will surely make this Christmas memorable for the whole family. Give the gift of meaning, sentiment, and cherished memories this year, and watch as your loved ones' faces light up with joy. Happy gifting!