Unlock Summer Learning Fun with Engaging Kids' Activity Books!
The Summer holidays are here, and parents everywhere seek engaging and educational activities to keep their young ones entertained and learning. Look no further than these fantastic kids' activity books that blend fun with skill-building. In this blog post, we'll introduce you to the You Are Awesome Workbooks: Times Tables & Maths Made Easy collection by Matthew Syed and a few of our favourites from Books2Door. Packed with interactive exercises and colourful illustrations, these books are the perfect companions for a summer filled with learning and excitement.
The Power of Playful Learning: You Are Awesome Workbooks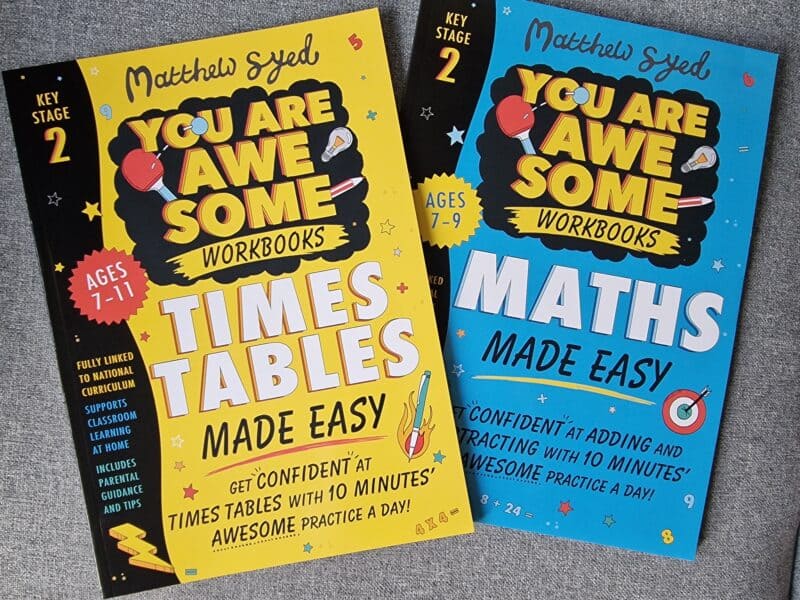 As parents, we know that learning is most effective when it is enjoyable. Matthew Syed's You Are Awesome Workbooks takes this concept to heart, transforming potentially daunting subjects like times tables and math into a journey of discovery and fun. These workbooks, designed for ages 7-11, are carefully crafted to make learning a joyous adventure.
Times Tables Made Easy: Building Strong Foundations
Times tables are the building blocks of mathematics, and mastering them sets the stage for future success. With the You Are Awesome Workbooks, kids can dive into the world of multiplication in an engaging format. The books include a variety of puzzles, games, and activities that reinforce times tables enjoyably.
Making Math Easy and Fun: Exploring Mathematical Concepts
Mathematics can sometimes be perceived as challenging, but Matthew Syed's workbooks prove it can be both easy and enjoyable. These workbooks introduce mathematical concepts through relatable examples and interactive exercises. Through step-by-step guidance, kids will learn how to confidently approach problems, transforming math into a subject they love to explore.
Benefits Beyond the Classroom
The benefits of engaging with these activity books extend far beyond the summer months.
Critical thinking skills
Problem-solving abilities
Maths Confidence
Christopher Edge 3-Book Collection
Summer is the perfect time for kids to unleash their creativity and embark on exciting journeys of imagination. And what better way to fuel their young minds than with a set of captivating books by Christopher Edge? In this blog post, we'll dive into the world of How to Write Your Best Story Ever and its accompanying companions, the Write Your Best Story Ever! Notebook series. These titles are packed with inspiration and designed to provide hours of engaging fun for kids during their summer break.
How to Write Your Best Story Ever
Looking for an activity that combines learning and entertainment? Look no further! How to Write Your Best Story Ever is an exceptional book designed to ignite the creative spark in young minds. As kids explore its pages, they'll discover a treasure trove of writing tips, story prompts, and exciting exercises to guide them through crafting captivating stories. Christopher Edge's engaging writing style ensures kids stay hooked while absorbing valuable storytelling techniques.
Write, Create and Imagine with Write Your Best Story Ever! Notebook
Complementing the book is the Write Your Best Story Ever! Notebook series, a set of interactive notebooks that provides the perfect canvas for kids to bring their stories to life. These notebooks are beautifully designed and strategically structured to encourage brainstorming, planning, and writing. These notebooks are a budding author's best friend, with sections dedicated to character development, plot outlines, and even space for illustrations. They make a fantastic addition to any summer activity kit, ensuring kids stay engaged and inspired.
Why Choose Christopher Edge?
Christopher Edge is a renowned author known for his ability to blend education with entertainment seamlessly. With years of experience crafting captivating stories for young readers, Edge deeply understands what engages and motivates them. His books are thoughtfully curated to spark creativity, enhance storytelling skills, and boost confidence in young writers. By choosing his titles, you're not just investing in summer activities but also your child's literary and imaginative growth.
Benefits of Summer Writing Activities
Engaging in creative writing and storytelling during the summer offers a plethora of benefits for kids:
Enhanced Creativity
Improved Communication Skills
Confidence Boost
Critical Thinking
Screen-Free Entertainment
Brain Training Puzzle Books for Kids
Summer is the perfect time to keep young minds engaged and active, and what better way to achieve that than with the Bond Brain Training Puzzles for Kids collection? Developed by Oxford's finest educational experts, these brain-teasing books are designed to entertain and challenge kids while nurturing their cognitive development. In this blog post, we'll explore the exciting world of Bond Brain Training Puzzles and how they can make this summer a season of growth and fun for your child.
Why Choose Bond Brain Training Puzzles?
Bond Brain Training Puzzles for Kids offers a unique blend of entertainment and education, making them an ideal companion for your child's summer adventures. Each book in the collection is crafted to foster essential skills such as critical thinking, problem-solving, logical reasoning, and concentration – all while your child enjoys the thrill of solving captivating puzzles.
The Ultimate 3-Book Collection
This summer, your children can dive into the world of Bond Brain Training Puzzles through the exclusive 3-book collection.
Bond Brain Training Puzzles for Kids: Logic Puzzles
I am always looking for ways to stimulate my child's mind, and the Bond Brain Training for Kids Logic Puzzles book is on my list of favourites. It offers excellent brain-teasing puzzles for children aged 7-9. What I love most about this book is how it encourages critical thinking in such a fun and interactive way. My child spends hours engrossed in solving each puzzle, improving their logical reasoning skills with every page turned.
Bond Brain Training Puzzles for Kids: Number Puzzles
The puzzles are well-designed with just the right difficulty level to challenge young minds without overwhelming them. They cover various mathematical concepts such as addition, subtraction, multiplication, and more. The clear instructions and engaging visuals make it easy for kids to grasp each concept while having fun solving puzzles simultaneously.
Bond Brain Training Puzzles for Kids: Word Puzzles
The Bond Brain Training Puzzles for Kids: Word Puzzles is precisely what I was searching for! The variety of word puzzles keeps Albie excited and motivated to solve them. Not only does it help them expand his vocabulary and improve his critical thinking skills, but it will also be useful for his SATS.
Benefits Beyond Fun
While the Bond Brain Training Puzzles for Kids collection guarantees hours of amusement, it also provides invaluable developmental benefits. Engaging in these puzzles fosters the following:
Improved problem-solving abilities
Enhanced critical thinking skills
Boosted memory and concentration
Sharper logical reasoning
Increased self-confidence in tackling challenges
Grab Your Copies Today: Ignite a Summer of Learning!
Ready to make this summer a season of growth and excitement? Head to Books2Door and explore the You Are Awesome Workbooks, Christopher Edge collection and Bond Brain Training books. These thoughtfully designed workbooks will captivate your child's imagination, nurture their love for learning, and equip them with essential skills.
Conclusion: Embrace a Summer of Learning and Fun
This summer, don't let the learning momentum fade away. With these activity books in hand, your child will embark on a journey of self-discovery, problem-solving, and growth while enjoying the sunny days. Embrace the magic of learning this season and set your child up for success!
Get ready to make this summer unforgettable. Order your copies today from Books2Door and watch your child shine as they explores the world of numbers with enthusiasm and confidence.