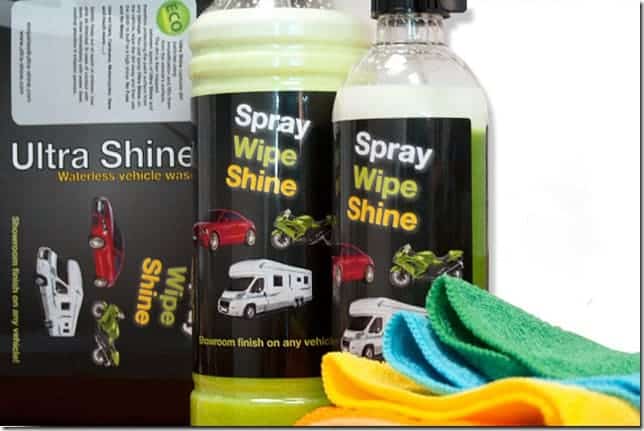 Ultra Shine – The Waterless Vehicle Wash Solution
Men are notoriously difficult to buy presents for aren't they, well the men in my life are! When it comes to buying gifts for my Hubby, it's a choice of books, aftershave, music and clothes but even opting for clothes can be a tough one because he is very particular about what he does and doesn't like. Sometimes practical presents are the way forward and if you have a man in your life who takes pride in his vehicle then Ultra-Shine is a great product to make life a little easier for him.
How it works
Ultra a special blend of waxes, surfactants, and wetting agents which not only deep cleans the surface but also leaves the vehicle with an anti-static finish and long lasting, water repelling wax lustre.
Easy to use
Step 1 – Simply Spray the Ultra Shine solution on one panel at a time. In seconds the dirt has been lifted from the surface using the process of emulsification…
Step 2 – The dirt is now ready to be taken off. Simply wipe the panel with your first microfibre cloth in a lifting motion sweeping the dirt away…
Step 3 – Once the dirt has been removed take your second clean microfibre cloth and buff the area to a high finish…
We were given a bottle of Ultra Shine and a pack of microfibre cloths to give it a whirl and see what we thought. Now I wouldn't want to take the fun away from Hubby so I handed it all over to him to put it through its' paces. This is what he had to say . . .
Verdict
Hands down this has got to be the best and most easiest to use car wash I have ever used. I work in a Motor Dealership so I am used to seeing shiny cars, I have high expectations and want our car to always look it's best too. I worked on a panel at a time as instructed and worked my way around the car spraying it on, wiping it off and then buffing to a high shine. The end results were brilliant and what amazed me even more was how little of the product I actually had to use.
Since I didn't have to use it took me half the time because I didn't have to keep walking backwards and forwards with buckets of water from the house, I didn't slop it all over the kitchen floor and get told off by Sabina and I saved a bucket load (or two – ha ha) on our water bill. I also didn't need to spend further time on waxing the car and cleaning it all of to get the same glorious shine.

So if you want the man in your life to spend a little less time outside giving TLC to your car and more time driving you somewhere special in an Ultra Shine-y car then this is the Christmas present for him and with prices starting at just £4.99 for a 500ml bottle you'd be daft not to!
DISCLAIMER: I was sent a bottle of Ultra Shine and Microfibre cleaning cloths free of charge for the purpose of this post. All words and opinions are my own (well, my Husband's) and may not be copied without my permission. I have not been instructed what to write.